Super Cute and Fun!
For someone like me, who enjoys double entendre and surprising people with my silly side, the S&M necklace from the Sex and Mischief line is a must. Paired with a sleek Domme outfit or worn with a cute baby doll top, it points out that you are a person for whom the letters S&M mean something.
Published:
Pros:
Cute little bling necklace, contrasts well with any skin tone.
Cons:
Base metals may tarnish, chain twists in short hair at neck line.
The Letters S&M floating on a silver tone bar against your skin, showing off your glow. What could it mean? DO your and your partner's names begin with the letters? Do you like Sadomasochism? No, silly - it stands for Sex and Mischief....or all of the above if you are lucky enough!
I have to admit when I was asked to review this necklace, I was tickled pink because I love jewelry that is a bit off beat. I knew it wasn't going to be high enough quality to wear all the time, but then again my name doesn't start with an S so it's not something I would wear all the time anyhow. It is just a cute little piece that I can wear when I am feeling a bit naughty and want to pull out the bondage gear, or when I am feeling a bit sexy and want a little sex and mischief. You know, when I am shopping for groceries with my Ami tucked up inside and wearing sexy panties under my casual clothing. Besides, I knew it would get a rise out of both guys who know my sense of wickedness and get all flustered by me. It's fun!
This necklace is made of chrome plated copper, so if your body chemistry is like mine the silver tone isn't going to last. My skin eats plated materials like they are yummy. I get around this by coating my silver tone jewelry with clear fingernail polish frequently. This keeps it from turning my skin lovely but unnatural colors. With this necklace, I also changed the chain for a better type of chain for my skin, though the pictures presented here are of the necklace as it arrived. The chain connects to the pendant by large jeweler's rings rather than by a single bevel, meaning the necklace is less likely to travel around your neck until the clasp is by the pendant. It does pose a bit of a problem if your chain should break or you need to replace it. I simply left the two large jeweler's loops and attached a higher quality chain to them, rather than try anything more fancy.
The pendant, itself, is 1.5 inches long by 0.5 inches wide. The letters S&M float on a flat, thin bar, so there is movement as it shifts. The letters and symbol are paved with what looks like crystals, but I suspect they are glass. Either way, they shimmer and sparkle in the light beautifully. The chain is 20 inches long and rests on the collar bone.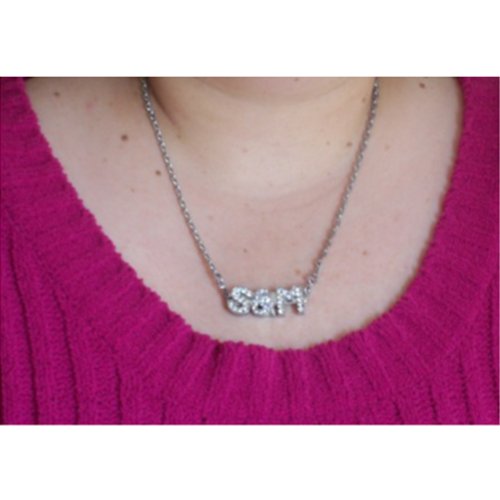 As you can see, it is easily seen with even a modest neckline. It looks amazing with a turtleneck as well.
The packaging is very minimal and consists of a black organdy drawstring bag. I normally hang my necklaces in a jewelry stand, but it could easily be stored in the bag it comes in. The bag will prevent the necklace from tangling with other necklaces and retard tarnishing slightly.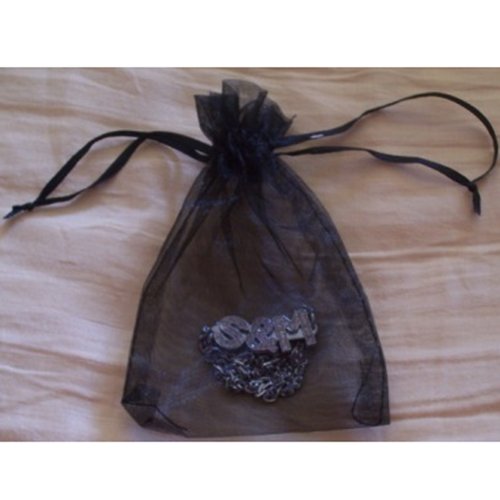 Experience
This is a cute and flirty piece of jewelry. I happen to love the Sex&Mischief line and look forward to seeing what they come out with next!
This product was provided free of charge to the reviewer. This review is in compliance with the FTC guidelines.

Thank you for viewing
Sex and Mischief necklace
– body jewelry review page!