Sweet Scents & Soft Skin
As winter approaches, dry skin is often right there with it. This set from Cake Beauty lets you combat the effects of the cold, dry air with sweet scents that are a fun change from the standard lotion scents you see in every store.
Published:
Pros:
Great texture, moisturizing, scents are fun and unique.
Cons:
Price, individual tubes could be cuter, scents may trigger allergies.
I am pretty into cosmetics and beauty products, but I had never heard of Cake Beauty (the company that makes this set) before their products started showing up on EdenFantasys. A little research taught me that this is a Canadian-based company that was started in the founder's kitchen. They try to focus on using natural ingredients, and the products are 100% paraben free. They also do their part to be environmentally friendly: the packaging is minimal and recyclable, most of the manufacturing process is "cold processed", which uses less energy, and 95% of the ingredients are natural, renewable resources. Their full line includes body lotions, bath and shower products, hair products, lip glosses, body scrubs, lots of cute gift sets and more. The set I am reviewing is from their limited edition Winter Wonderland collection.
This holiday/winter themed set includes three tubes of hand cream, each of which is 3.4 ounces (100 ml). If you are like me and totally unable to visualize how big a product is by its volume, each tube measures about 6.5" tall and 3.5" wide at the top. Given that these are larger than 3 ounces, they may not be ideal for travel since (at the time of this review) you can only have products less than 3 oz in your carry-on. If you do put them in your checked luggage, I suggest putting them inside a zip-lock plastic bag first, as changes in altitude can sometimes cause lotions to leak.
These are hand creams, but technically you could use them anywhere you would normally apply body lotion. I wouldn't recommend them for the face, since you should only use a product specifically made for that area- hand creams are too heavy and will most likely clog your pores, and may not be safe for use around the eyes.
I tried Milk Made first, which is described as "whole vanilla milk and baked raspberry". I find it amusing that they describe it as "whole vanilla milk", you know, as opposed to 2% vanilla milk, I guess? I think the description fits this well, it is a mix of creamy and berry scent. I found the scent to be really strong when I first applied it, even though I only put on a tiny dab. I'm sensitive to scented products, and this made my nose stuff up pretty quickly, so I'll be passing this on to someone else. That said, I find the scent to be pleasant, so if I was able to use it, I would. A hint of scent lingered even after washing my hands, so although my allergies prevented me from keeping the lotion on for several hours to test the stamina of the scent, I'm pretty confident it will stick around as you go about your day.
Unsweet is described simply as uncolored and unscented. As someone that is allergic to a lot of scented things, I was actually pretty excited about this, since I figured that even if I ended up unable to use the other two in the set, I was all set with this one! There is no fragrance, but it does smell like lotion, a tiny bit chemically (totally a word). The scent doesn't travel like Milk Made did, but if I get my nose within about 6" of where I applied the cream, I can definitely smell that it's there.
Vanilla Snow Woman is described as "sweet vanilla cream". This is my favorite of the scents, it reminds me a little bit of red velvet cupcakes. Unlike Milk Made, this one didn't make me sneeze at all, hooray! I found the scent of this one to be a little more subtle than Milk Made, it left my skin with a soft sweet scent. While the other two creams are white, this one has a slight dusty pink color, but it is still invisible once you rub it into your skin. If you want to tone down either scent, you can mix a little blob of either scent with a bit of the Unsweet for a little less scent.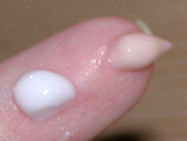 Unsweet on the left, Vanilla Snow Woman on the right.
The hand cream goes on smoothly, and has a nice creamy texture that is neither oily nor runny. A small amount easily spreads to cover quite a bit of skin. I could definitely feel a different between the skin where I had applied the lotion and my bare skin, the lotioned skin was a bit softer, but it was a subtle difference. The lotion dried quickly, leaving behind no stickiness.
Experience
(continued)
I am admittedly a little confused by the ingredients. The brand's website talks about using almost all natural ingredients (which definitely are there, including shea butter, mango seed butter, and water) , but there are also a lot of multisyllable ingredients that don't sound natural at all. (See the product info page for the full list of ingredients in each scent, copy/pasting it all here seems a bit redundant.) The ingredients are listed on the back of each tube, with the ingredient list for all three printed on the box.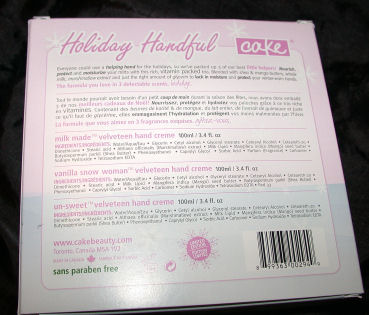 Back of the gift box.
The packaging for this set is really cute, decorated with snowmen and mittens. The set would make a great holiday gift, or you could individually wrap each tube for three smaller gifts. Perfect for those who want to use their EdenPoints to do some Christmas shopping, but don't exactly want to give Grandma a strap-on! The outer box of my set got a little bumped around by shipping. Not a big deal since I ordered this for myself, but I would have felt bad giving it as a gift with a kinda crumpled lid.
I was a little surprised to see that the design of the individual tubes was not as cute as I expected. All 3 look exactly as they look on the front of the box, I guess I didn't pay that much attention. The print on the Milk Made tube maintains the pink/white/green color theme, but it looks a little utilitarian, and having so much text on the front looks kind of cluttered. Unsweet is less cluttered, but still very basic looking. The Vanilla Snow Woman tube is a bit cuter, with snowflakes on a pale pink background. Given that this is a limited edition holiday set, I wish they had done a cuter design on the tubes themselves, so they could be decorative as well as functional.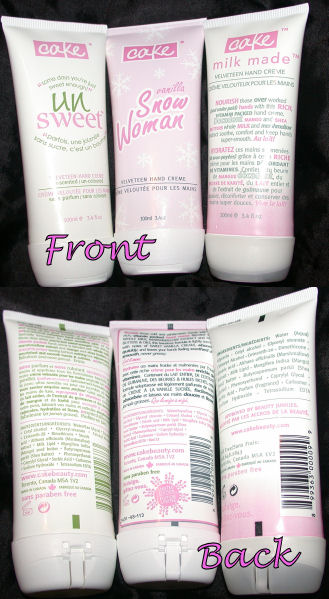 Each tube has a plastic flip-top lid, which is pretty easy to open and close, and sturdy enough to prevent leaks.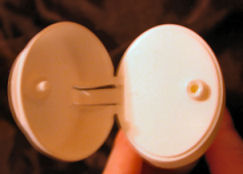 This set serves as a great introduction to the brand, letting you check out three different scents before investing in larger sizes of the products. A full-sized version of the Milk Made hand cream is currently available on EF, while you will find Unsweet scented body mousse and a whole Vanilla Snow Woman gift set. The main con to the set is the price, which breaks down to $12 per tube. I wouldn't mind paying that much for something really special, but I feel like the set would be more appropriately priced around $20-25. It's a nice set, but for $36 I expect something more. Since this is a gift set, I really wish they had gone that one extra step to make it special.
This product was provided free of charge to the reviewer. This review is in compliance with the FTC guidelines.

Thank you for viewing
Holiday handful trio
– hand cream review page!