The Pheromone Diaries...
You know how you feel when you think of an apple orchard in full bloom just after a rain? That is the thought that pops into my head every time I spray this body spray on me. With this spray, I've noticed I am more easier to smile, and those around me are more ready to smile as well. As for a sexual attractant? I'm not interested in male college students! And those are the males that seemed to be most attracted to the scent.
Published:
Pros:
Light, fresh and a summery scent
Cons:
Too "girly" of a scent not a "womanly" scent
Gentle Readers:
I sit here in my cheesy lounge chair wearing a very ugly smoking jacket and pretending to smoke a chopstick while I bring to you my chronicle of the
"Simply Sensual pomegranate ginger refreshe body mist with pheromones"
Is that a typo? Refreshe?
(Ingredients: SD Alcohol 40-B, Water, Fragrance, Carnellia Sinensis (White Tea) Leaf Extract, Copulandrone, Copuline-alike, Reconstituted Andronone and is a liquid body spray no different in consistency than Calgon's body sprays)
Join me as I attempt remark on the reactions to the passerby's and my students and co-workers, friends, and random strangers as I go about my days wearing this product.
Did I get stared at? Did I get pointed at? Did they attempt to bun me at the stake? Did I get frowned at? Was I ignored? Was I smiled at? Read on gentle reader and find out!
Disclaimer: No Chinese people and no Canadians were hurt during this documentary.
Day 1:
The parcel arrived. The product was in a plastic baggie contained within a brown shipping box with my name and address on the top of the box. I sprayed some on the back of my hand secretively in class. My students lifted their heads and I saw their nostrils flare. The furthest student was over five metres away. Initial impressions? Light, fruity, brightens a room, when you first spray it it is very noticeable in a room. As I stepped out of the elevator, I did hear lots of students comment "good smell" and "I wonder where she bought it?" and I got stared at and also had one student scream at me.
But I live in China. And this is normal. So I do not know if the screaming and staring today was a result of the spray or just me being a foreigner.
My taxi driver attempted to make small talk. But this is usual. I ignored him.
My neighbours dog wrinkled his nose when he saw me. So maybe the dog does not like it.
Day 2:
Left the house in the morning, I did notice on my walk to the taxi stop almost all the people I usually pass by each morning comment on the new scent and how they liked it. Unfortunately, all the people I pass in the morning are women. And I am not interested in women in a sexual way, so I wasn't paying too much attention to their physical reactions.
My taxi driver smiled more than most drivers do and tried to catch my eye in the mirror. Thank god for sun glasses.
The gate guards commented on my new scent and claimed it was too sweet for me and this scent needs something floral not just fruity to make it "a real man attractor". Students thought I smelt like heaven and the girls want to know where they could buy it.
Walking through the grocery store, I did get stared at more than usual, and I had more people than usual rifling through my cart wondering what the foreigner was buying.
The wives of some friends at dinner looked at me more than they usually do, and their husbands commented that they enjoyed the scent of my new perfume and thought it was very summerishy.
I know gentle reader... I am a bad influence on the English language here in China. After dinner, the wives did ask where I bought my new scent.
Before I went to sleep, I sprayed some on my pillow.
Day 3:
Upon waking, I did notice a residual sweetness to my pillows which made me smile and think happy thoughts.
All day long, I noticed that the people around me were in better spirits and easier to laugh with. During my open lesson, I did have many additional male students attend more than usual.
Day 5:
While standing on the street corner, a biker stared at me and ended up falling over the guard rail into the flower garden. Now, I feel honourbound to inform you, it is common for bikers to stare at a foreigner in small town China and fall or get into accidents from staring. It's funny as hell!!!
Day 6:
I took my lunch outside by the fountain with some students and we had many students come and sit around us.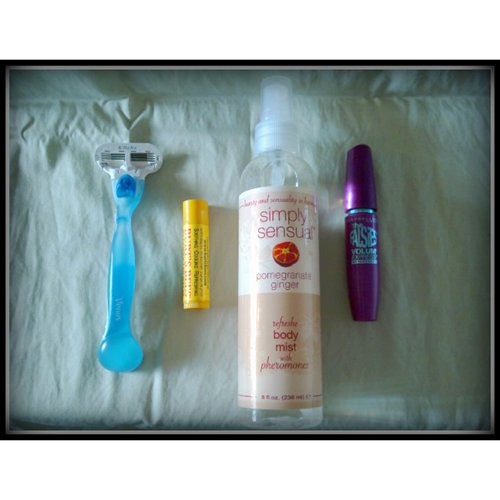 I also took this photo to demonstrate the size. A Venuse regular head razor, a tube of Burt's Bees Lip Balm, Simply Sensual Body Spray, tube of Maybelline's Falsies mascara.
Experience
In conclusion: (cause I ran out of room)
It is very common for me to be stared at and pointed at, and to have my cart rifled through at the grocery store. This is one of the things you learn when you are one of twentyish foreigners living in a small city of 2.5million Chinese and Mongolians in China. But this seemed to happen a little more than usual, and those who happened to be near me, were much quicker to smile. I did notice additional stares and not the usual stares I get. These new stares were more curious-wonder in nature. I had many people complimenting the scent and asking where did I buy it. I might get one or two usually per week from strangers, but this week well over thirty people inquired.
I do think that in some ways the pheromones work. Not so much in a sexual way, but more the scent is fresh, light and sweet making people think summer happy thoughts and putting them in a good mood way.
I do agree with my gate guards (five middle aged men), it is a little on the sweet side. But not "overly" sweet. I feel that it needs a floral under-tone or a little musk tone in the scent to make it more of a "womanly" scent as it is more of a "girly" scent. Which is fine if you are wearing jeans and such, but if you want a night out in the summer time, this is not something you'd reach for. And by the way? This is a summer scent, and not something you'd really want wear in the winter months.
After it being on my skin for many hours, I notice a lack of pomme- ginger scent, but it seems to remind me of cranberry candles at Christmas time.
My skin feels no different than usual; even though the product claims that the white tea leaves help to nourish and moisturise skin.
Simply Sensual is made in the USA and has not been tested on animals.
Just so you can compare the size with some other bottles or products you might have around the home...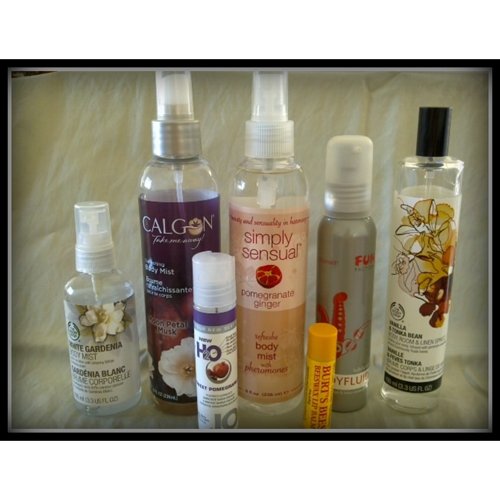 Follow-up commentary
16 days after original review
I don't like it anymore.

I don't mind the body spray when there is a light wind, but I noticed I started getting a headache, and it was from the body spray. I found it overly sweet. I am planning on re-bottling this and giving it to my little neice. It is not a "womanly" or an adult scent. Much more of a "girlie" scent.

So... bottom line... I found on my skin it lasted for quite a long time, but the scent is just way too sweet.
This product was provided at a discounted price in exchange for an unbiased review. This review is in compliance with the FTC guidelines.

Thank you for viewing
Refreshe body mist with pheromones
review page!