To infinity and beyond why not take the Rocket!!!
Great addition for every Toy Box, as organic as you are going to get (save for the preservative bht), body safe, and the only limit to the Rocket Balm and your imagination is penetration!!!
Published:
Pros:
Great for sensory play! Can be hot and cold at the same time!
Cons:
It doesn't come in a bigger container!
Made from a beeswax base, almond, coconut oils, peppermint, and some other yummy goodness that you would find in almost any organic lip balm.
Pro's: it is a unisex item for men and women, it does make my clit very sensitive, and is nice to be used on all parts of the body; nipples, breasts, clit, labia, back, lips as well!!! And on a man, kiss his nipples with this on your lips, massage it into his shaft, tickle his anus and watch him sigh, the head of his cock etc…. even a foot massage. A man I was with loved it when I gave him a hand job using this as a lube.
Con's: not safe for vaginal penetration you run the risk of irritation or infections as it will change the ph balance of your vagina. It is oil based and it is not all that safe for most toys made from jellies as the oils can get in the pours of many types of toys. Be careful with latex condoms as the natural oils will break down the condom. I find that it does leave an oily residue that takes a few washes to get off my sheets. Another con I discovered about the Rocket Balm is "double dipping", the oils and the other goodies get absorbed into the skin making the need to apply more. You have to be so very careful not to get bodily fluids into the balm in the tin. I did find that if any of the balm got onto my sheets, it took three washes to get out.
Application: I find it best if the balm is left at room temperature so you can get a fair dollop on your fingers. Massage into the desired area till it is absorbed.
Use: designed for external use to enhance sensitivity. From time to time I use it as a lip balm. I used to use Burt's Bees Original Lip Balm on my lips when giving a man a blow job, now I use this. Cheaper!!!!
Experience: I love to use this during sensory play, blind folding him and just massaging it into his cock. The two men I've used it on, both say the same thing that the balm provides them with a warming sensation, and heightened sensitivity. When it is used on me, I find that yes it is warming and heightened sensitivity but that if you blow lightly upon the balm applied to my body parts, the peppermint takes over and the area cools off and you get all tingly.
Scent/Texture: It's minty!!! I've had my tub of Rocket Balm for over nine months now, and the balm still remains as fresh as it did the first day I opened it. Only that there is much less there now!!!! When you open it, it looks creamy and waxy. When you apply it, it massages in clean, not chunky or clumpy. When applied into the skin, it leaves the skin feeling smooth with a minty scent. I have combination skin, and I don't find it a problem on my skin. I applied it to my hands at the start of this review, and no oily residue after half an hour.
Packaging: The silver tin is encased in a black/blue box. The Tin itself has a rocket looking cartoon, and "Rocket Balm For His Pleasure" on it. I leave mine out all the time on the table and my maids don't think anything about it.
Level of play: beginners to advanced
Would I recommend it?
Hell yes!!!!!
A little ditty I wrote about how I like to use Rocket Balm on a man. But as with all lotions and potions and sexual arousers... if you develop an itch, a rash or any other form of nasty, you should stop using it.
Experience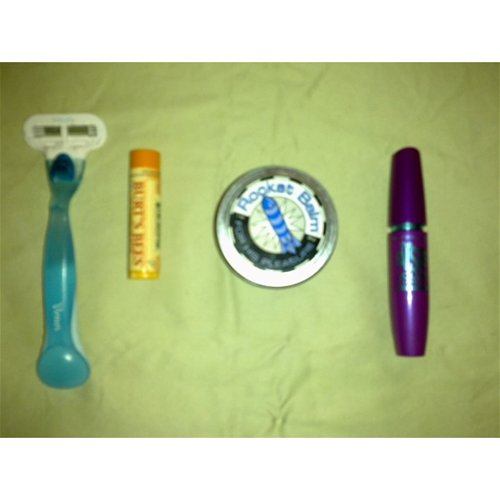 Tips for use:
a) blindfold play, it helps to heighten sensations especially used with the light touch of a feather tickler, or gentle blowing
b) apply to your lips and kiss the head of his penis, wrap them around her clit, nipple play
c) apply a generous amount to your thumbs and give your partner a deep tissue glut massage and if you like some minor anal play, massage it around your partner's anus
d) I have had this used on me for a foot massage and a breast massage as well, when it is used like this, I am reminded of Vick's Vapour rub used in the same manor.
Follow-up commentary
1 day after original review
My tin of Rocket Balm lasted me for nine months and we used up the last of it last night. I had him watch me as I applied it to my nipples and my clit and then had him apply some to his nipples and sac.

I hit the jackpot when I first ordered this Balm. I've looked at others since I've ordered it and now that my tin is empty, I need to buy something more. Hands down, I shall be ordering another tin of Rocket Balm. Because the bottom line is ... why buy something new when you know something works perfectly? Don't they say, "Don't mess with a good thing".

I really want a new tin of Rocket Balm as I want to melt a little and see how well the melted oils and wax would work differently as a massage oil compared to when it is in its firm state.
This content is the opinion of the submitting contributor and is not endorsed by EdenFantasys.com

Thank you for viewing
Rocket body balm
– cream review page!