Use at your own risk.
This kit could be great for beginners or even as a bridal gift/gag gift. The practicality of this kit on the other hand is very low. I didn't like any of the products, well the ones I was able to try. I believe this kit has no real Pros but it's all a personal preference. Not at all worth the money.
Published:
Pros:
Minty scent. Could be fun for beginners.
Cons:
Allergic reaction. Contains Glycerin. Damaged packaging.
This kit includes:
1 1 oz mint flavored GoodHead oral gel
1 pack of 4 tingling GoodHead oral sex mints
1 vibrating love ring(cock ring)
1 flavored GoodHead lip balm
1 GoodHead tips card
Ingredients: (as listed on products)
GoodHead oral gel: Water, glycerin, cellulose gum, Rubus idaeus (Raspberry) fruit extract, fragaria chiloensis (strawberry) fruit extract, vaccinium angustifolium (blueberry) fruit extract,butylene gycol, alcohol denatured, sodium saccharin, citric acid, diazolidinyl urea, sodium benzoate, potassium sorbate, (may contain) caramel, red 40, red 33, blue 1, yellow 5.
I'd just like to say if you're going to list the ingredients please don't just put 'natural and artificial flavors' I'm allergic to Raspberries, and on no review did I see that listed. Also I know people who are allergic to the food dyes that are included in things. That is why they list the 'red 33' and such. Those things are also important to include.
GoodHead tingling mints: sorbitol, peppermint oil, spearmint oil,natural flavors, calcium stearate. It also lists a number for nutritional information on the package.
Vibrating love ring: Nothing was listed on the make but I found that it is made of TPE, a rubber blend. According to EF it is more porous than silicone but less than cyberskin. It has a material safety rating of 6.
GoodHead flavored lip balm: Again, nothing listed. I couldn't find anything on the ingredients in it.
Packaging: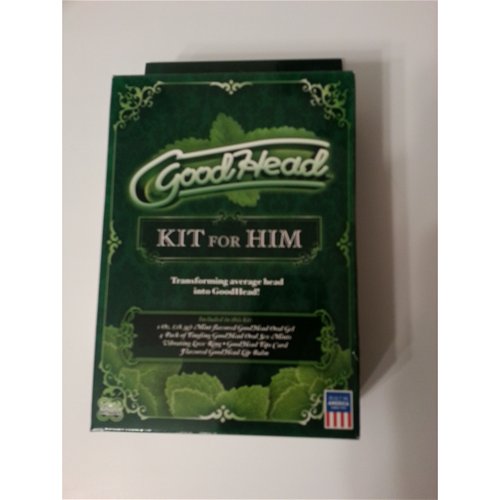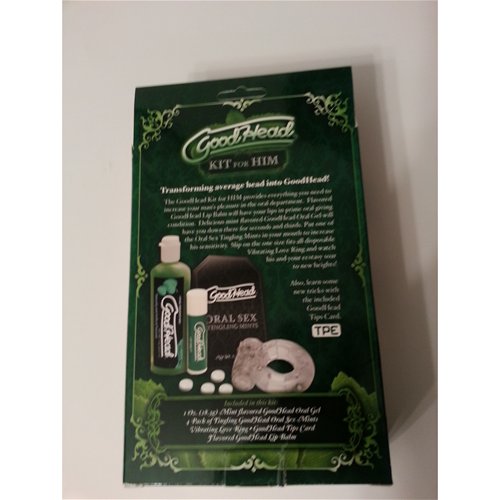 The kit comes in a small green box with "GoodHead" printed largely over the front, back, sides, and top. I wouldn't consider that discreet. The front includes a list of the contents and the phrase "Turn average head into GoodHead!" The back shows a photo of the products and a small paragraph about the products. "The GoodHead kit for HIM provides everything you need to increase your man's pleasure in the oral department. Flavored GoodHead lip balm will have your lips in prime oral giving condition. Delicious mint flavored GoodHead oral gel will have you down there for seconds and thirds. Put one of the oral sex tingling mints in your mouth to increase his sensitivity. Slip on the one size fits all disposable vibrating love ring and watch his and your ecstasy soar to new heights!" The reason I included the paragraph is to show how well they sell this product. Even though I don't like the products I think their advertising is fantastic and for that they get points from me, but I will be more careful when ordering other products from them.
When you open the box everything is in a small bag. The vibrating love ring is packaged in its own package. The mints are in a paper sleeve like what you could get the single dosage of Advil in at a gas station. My package was damaged and my mints crushed, so sadly I will not be able to review those. The oral gel and the lip balm both have their own seals. Also in the bag is a 'tips card' describing how to give a blow job. I think that really shows where this kit is intended to go to inexperienced couples. I think this would be a great starter kit to maybe get someone more into oral, but that's about it. Each item other than the vibrating ring has the GoodHead branding largely placed on it. I figured even if this kit failed I could use the lip balm on a daily basis, but sadly with the labeling I doubt that I will.
Experience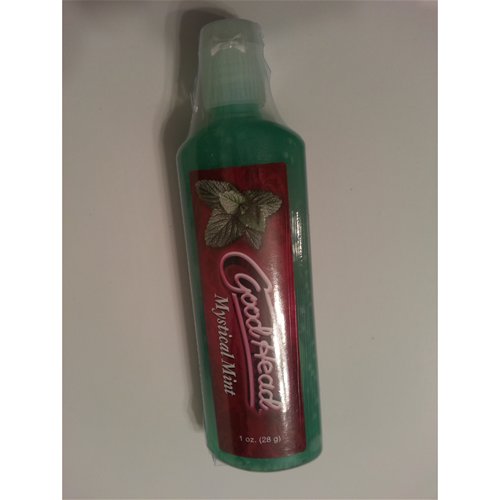 GoodHead Oral gel: Sadly when I looked at the reviews for this product no where did I see that Raspberry was included in the ingredients, which I am allergic to. Regardless I still did a patch test on my skin. The gel has a mild minty smell to it. It's not too strong or too faint. It's not thick at all and rubs into the skin easily. I did break out in the area that I tested the product so I was unable to taste this product to see how it tasted. I think that with how watery the product is it'd be easy to make a mess while using it and that you'd have to apply a large amount for it to actually do its job.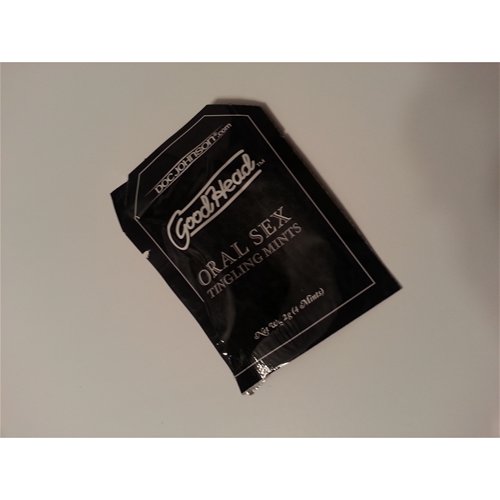 GoodHead tingling mints: As I mentioned earlier the mints were crushed when I got them in the mail. I think that's why the package smelled so strongly of mint, but I'm not really sure. I was able to taste a small amount of a mint and it tasted like a normal breathe mint. I didn't feel any tingling sensation though. I think that only having four included in this kit is a very small portion and it would probably benefit from having a few more. I really wish I was able to actually use these and give a better review on them.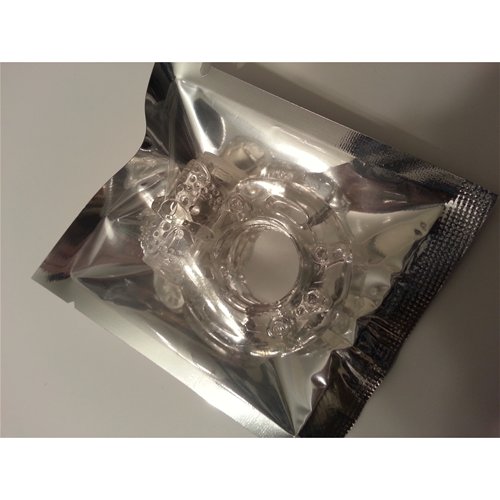 Vibrating love ring: This ring only lasts for about 15 minutes. It stretches a lot but my boyfriend still found it uncomfortable. It has holes all through out it to help with the stretching which is a reason I would recommend this as a one use only toy. I believe it'd be very hard to clean. It had a decent amount of vibration to it. It was very much comparable to the Trojan vibrating rings that I've had. I don't really enjoy these types of things though because I feel like they are more work to get the actual intended use out of them. That's just a personal opinion though.
GoodHead mint flavored lip balm: I expected this to be the one solid product in the kit even if everything else was a failure, unfortunately I was wrong. The lip balm itself is very hard. You have to really push to get any on your lips. The scent is so strong. I didn't like the texture of the lip balm on. It seemed very greasy. However it does last for a very long time. I tried to remove it to apply lipstick and I couldn't get it all off. I think that could be a very big plus if you can get over the other things.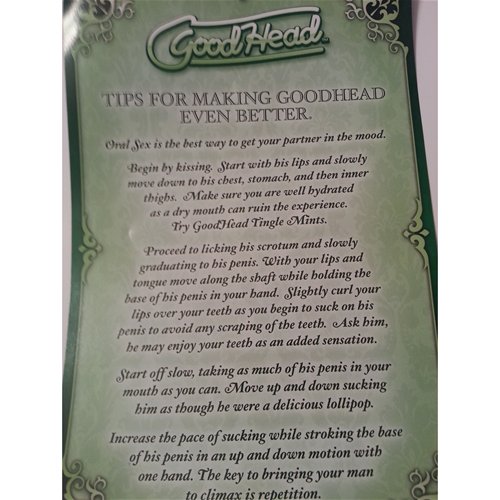 GoodHead Tips card: This card gives you the basics of giving oral..and that's about it.
Follow-up commentary
21 days after original review
I looked into trying different flavors of Good Head to see if the gel was really worth all the hype. I found that every flavor except Watermelon has raspberry in them, so they are all a no-go for me. I couldn't even find a small bottle of the Watermelon. I'm starting to give up on Good Head. This kit hasn't been used, and I think it's probably the worst buy for me so far.
This content is the opinion of the submitting contributor and is not endorsed by EdenFantasys.com

Thank you for viewing
Good Head kit for him
– sensual kit review page!