Where's My Stimulation?
Despite the "pros" listed above, this stuff just isn't for me at all. My lady bits obviously aren't sensitive enough to pick up whatever sensation this gel is supposed to deliver. Not saying it doesn't work for someone out there, but for me this clitoral stimulant was a total let down.
Published:
Pros:
Light and Pleasant Scent, Lacks L-Arginine, Petro-chemicals, Parabens, and Glycerin
Cons:
NO Sensations, Thin Viscosity, Very Small Volume, Difficult to Use Tube
I'm a woman that loves sensations, especially if it tingles and cools. So I was quite thrilled when the System Jo - Mild Clitoral Gel arrived. I barely stopped to admire the beautifully designed box that the arousal lube came in. But the box itself was a nice touch to make this a very attractive gift to a special someone. The box has curves to it instead of being perfectly rectangular and doesn't ruin the classy look with pictures of naked people.
But I hardly had the desire to really read the packaging at the time and tore it open to get the tube out. The first thing I discovered was just how small the little application tube was. This was not a very large amount of the stuff at all. Though it did promise to last up to 50 applications, I couldn't imagine being one of those cases. Upon closer examination, I read that the tube contained 10cc of the gel. And for anyone who is unsure of how much that is, it's the equivalent to about 2 teaspoons (about half a tablespoon). Yeah, not a lot.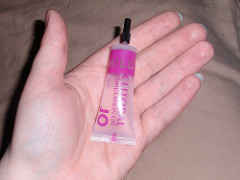 So I figured this stuff must be potent considering how little they expect people to use for a single dose. My curiosity piqued, I screwed the little black cap and attempted to squeeze some out on my finger. Hm, none came out. Perhaps I'm supposed to puncture the tip with the cap like glue bottles? No, nothing on the cap to help. So I took some scissors and trimmed the end off the tip... and still nothing! Now I was just getting annoyed. So I ended up snipping off a lot of the pointed tip of the bottle, leaving just enough for the cap to go back on.
You'd think it'd
pour
out after that none-too-gentle surgery I performed. But it was still insanely hard to squeeze any of the lube out! I mean, it was a work out for my gripping muscles. Seriously. And when I did get some out, this is what my effort was worth: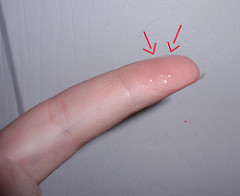 Can't see the gel? Yeah, it's there. Trust me. And "gel" is not the proper term for this stuff. It's so watery that barely stayed on my finger and actually absorbed into the skin pretty quickly. How in the world was that supposed to stimulate my lady bits? For a silicone-based stimulant gel (yes, this sad stuff is silicone-based), this stuff is very watery and thin. If it doesn't deliver as a clitoral stimulant, it's really not going to make up for it by providing enough lubrication for penetrative sex.
So I tested it out. And nothing happened. I mean nothing, literally. I used WAY more than the 1/50th of the tube and not only did no sensations ever come but it absorbed quickly and, for all intents and purposes, disappeared.
But in fairness, the one issue I had with being unable to squeeze any out has improved over time. But that one thing doesn't change the fact that this "stimulant gel" did absolutely nothing for me. Perhaps if your body is
way
more sensitive than mine you'll feel something. But I for one didn't detect the slightest tingle or warmth.
And to give this stuff some redeeming critique, it has a nice, subtle scent. It's quite pepperminty at all, which is funny considering that's an ingredient. But it is soft and unoffensive.
Experience
Here are the ingredients:
Cyclopentasiloxane, Cyclotetrasiloxane, Dimethiconol, Dimethicone, Peppermint (Mentha Piperita)

Interesting list of ingredients there, ain't it? The first ingredient there is a silicone fluid that used in a lot of cosmetic products, especially for the face, and other things like deodorant and sunblocks. It's has a water repellant characteristic and is commonly added to products as a conditioning agent. In some sensitive people, this can cause mild to moderate irritation, so be forewarned.

And actually, other ingredients listed here are also used in toiletry and cosmetic products. I do wonder if that has anything to do with it's ineffective stimulation...

So out of curiosity, I went back to the packaging eventually and read this interesting phrase: "Regular Strength Jo With An Added Sensation". So... Where was my sensation?
Follow-up commentary
3 months after original review
This gel really has not made up for all it is lacking with me. In fact, I have moved on to greener pastures and to arousal creams that really get me going in a sexy way rather than in a frustrated way. If you're hyper sensitive and don't mind thin, watery gels and difficult packaging, you could possibly be the chosen one to make this product work. But I certainly am not. So it's farewell, JO gel!
This content is the opinion of the submitting contributor and is not endorsed by EdenFantasys.com

Thank you for viewing
System JO clitoral gel
review page!