You Massage My Back and I'll Massage Yours!
This little kit is perfect for a romantic getaway or a stay-cation. The massage tool is the star of the show but the tealights do add to the romance of the moment and just a touch of the lotion can also help set the mood. Be prepared to use a different massage lotion or oil if you are sensitive to fragrances as the lotion is heavily fragranced.
All in all this is a great little kit and a steal for the price.
Published:
Pros:
Great massage tool and techniques pamphlet
Cons:
Lotion is heavily fragranced and might be too much for some users
I love massage kits especially if they contains a nifty massager or a really nice massage oil/lotion. The Romantic Massage Kit by Lover's Choice Inc. comes in a great little, light cardboard box that is very discreet and pretty to look at. It is perfect for storing the entire kit and fits easily into any bag if you are traveling. It won't raise any eyebrows at the airport if it is packed into checked luggage and can be kept on the dresser top without any fear of embarassing questions from children or parents!
The kit includes everything you might need for a lovely encounter: massage lotion, two tealights and a massage tool. For under $12 it's a steal!
The tealights are pretty average, unscented and have a plastic case rather than metal. They won't get too hot to handle or be bent all out of shape before you can use them. They burn for quite a while and don't smoke like some cheaper tealights I have used. The provide just a bit of romance to a nice evening of massage.
The lotion is super strongly scented and really isn't all that tropical smelling to me. It is white, creamy and thick but gets absorbed a bit too fully into the skin to provide a frictionless surface for a massage. If you use enough of the lotion to provide such a surface your partner could end up gagging on the scent. The scent is hard to describe but is highly floral with just a hint of coconut to give it a sort of tropical flavor. Speaking of flavor I advise not getting this into your mouth. While it won't make you want to brush your teeth repeatedly it is not pleasant tasting. All is not lost, however, the lotion is really good for dry cracked skin especially on the elbows and heels. The scent is much more pleasant in small amounts and I have decided to use it after a bath or shower as the scent lasts for quite some time. It doesn't layer well with other fragrances but sometimes I don't want to wear perfume so a strongly scented lotion can be a great substitute.
The ingredients are pretty straight forward and what one would expect for such an inexpensive lotion: Aqua(Water), Mineral Oil (Paraffinum Liquidum), Cetearyl Alcohol, Stearic Acid, Glyceryl Stearate, Olive Oil (Olea Europea), Manuka Oil (Leptospermum Scoparium, Parfum (Fragrance), Benzyl Salicylate, Hydroxyisohexyl 3-Cyclohexene Carboxaldehyde, Hexyl Cinnamal, Alpha Isomethylionone, Butylphenyl Methylpropional, Linalool, Phenoxethanol, Methylparaben, Propylparaben, Ethylparaben, Butylparaben. While it does contain parabens, and quite a few varieties, it is meant to be used on skin that doesn't absorb the quantities of chemicals that genital skin does so it shouldn't be a problem for most users.
The star of the show is the massage tool. It is basically a molded piece of pink plastic in the shape of an H with large, smooth plastic balls on each of the H. It measures about 4.5 inches wide at it's widest point and about the same in terms of length. It fits the palm like it was meant to be there!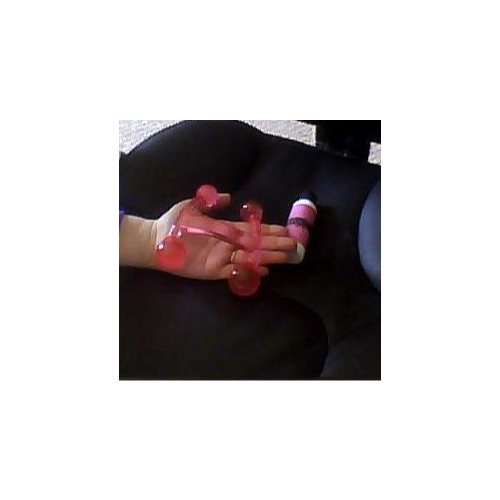 As you can see it is sturdy and the cross piece allows the user to completely control how much pressure is applied to the skin. The plastic balls are blunted so they don't catch and drag the skin unpleasantly. You can also turn the tool over and use the cross piece to massage an area if you desire. You could play witht he balls if your partner likes shortre insertable toys or just as a tease. Be sure if you do play like this with a female bodied partner that you use vagina safe massage oil or even better, some silicone lube for the massage.
The kit also contains a cute little guide written in both french and english. It offers some suggestions about how to arrange your partner, set the scene and increase the romantic feeling of the experience. It also has a pretty nifty section detailing some massage techniques. Overall this little pamphlet is worth keeping on hand!
The massager is composed of hard plastic so it's relatively non-porous and can be cleaned easily with soap and water. The lotion soaks into the skin but the scent can be diffused by washing in soap and water.
Be sure you place the tealights on a flat surface out of strong drafts.
Experience
I will admit I requested this kit because I wanted the massage tool and I am not unhappy with the decision. I love these types of massage tool because my hands get tired and cramp up long before I am ready to stop massaging my partners. While I still use my hands quite a lot it helps to have something I can apply gentle but firm pressure to sore, bunched up muscles.
I would recommend getting a quality massage oil or lotion such as
Sensual Massage Oil
from Kama Sutra or
Erotic massage Oil
by Shunga. Heck even a good quality silicone lube will work wonders with this massage tool.
Follow-up commentary
6 months after original review
The lotion and tea lights are long gone but the massage tool is still one of our favorites. It's just perfect for those areas of the body you don't normally get deep tissue massage on; like the areas just to the sides of the spine. It feels great and should last a lifetime!
This product was provided free of charge to the reviewer. This review is in compliance with the FTC guidelines.

Thank you for viewing
Romantic massage kit
review page!