Yucky Runny Spray
My partner was really excited to get the Sexy Body Graffiti by Lover's Choice. Unfortunately, he was disappointed with how poorly the product worked. The spray is so runny that you really can't create any sort of art, even with the stencils. I suppose you could call the runny art "abstract"... but then what was the point of the stencils in the first place?
Published:
Pros:
inexpensive, cool concept
Cons:
way too runny, taste is not good, and while it's a cool concept, it just doesn't work.
The Sexy Body Graffiti edible paint by Lover's Choice Inc. is available in the flavours grape, mango, and strawberry. My partner purchased the grape, as well as the mango flavour. We have yet to try the mango flavour, so I'll be reviewing the grape.
The product comes packaged in cardboard. The front of the packaging states the product name, flavour, size, colour, and warnings. You can also see the product on the front of the packaging. The back of the packaging has the same information as the front, as well as a brief product desciption, how to apply/remove instructions, contents, ingredients, and company contact information. The back of the packaging has all of this information printed in three different languages (English, French, Spanish).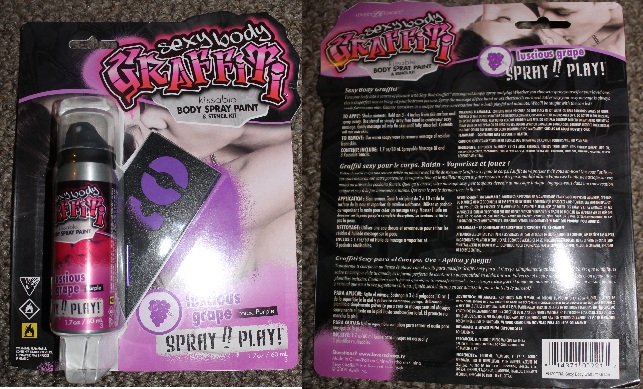 Inside of the packaging is the 1.7 oz (60mL) sprayable massage oil and 3 reusable stencils. The stencils are 4 ½ x 2 inches in size and each stencil has two designs on it. One stencil has and "x" and "o" on it, another stencil has 2 pairs of lips, and the last stencil has 2 heart designs on it. The body graffiti bottle is a spray can with a clear plastic lid. The bottle states a lot of the information that the cardboard packaging does (ingredients, how to use, how to remove, etc) so you do not need to keep the cardboard packaging after you've opened it. It can be recycled.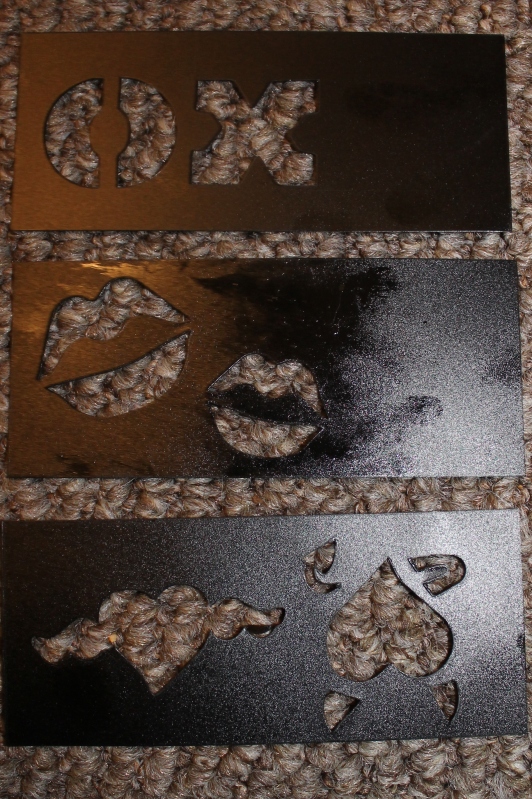 The ingredients as listed on the packaging are as follows: Ethylhexyl Palmitate, C12-C15 Alkyl Benzoate, Tridecyl Trimellitate, Vitis Vinifera (Grape) Seed Oil, Tocopheryl Acetate, Tocopherol, Violet 2 (CI 60725), Parfum/Fragrance, Limonene, Linalool, Cinnamyl Alcohol, Benzyl Benzoate and Citral.
The can says that to apply the product you must:
1.Shake contents.
2.Hold can 3-4 inches from skin surface and spray evenly.
3.Use stencil or simply spray free hand to create your sexy message.
4.Gently massage oil into the skin until fully absorbed
I found that last step quite odd because I had assumed that this was similar to paint, and we don't massage paints into our skin… Also, until I read the packaging, I didn't know that the spray was massage oil. I personally prefer a nice clear massage oil if that is what we wanted to use.
I decided to try it out on my hand first to see if I liked the flavour and to see how runny it was. When you push the top of the can, it is a bit stiff. I ended up pressing too hard and ended up with way too much coming out. I tried out the flavour and found that it did not taste like grape. I can't put my finger on what it tasted like, but it was not good at all. The scent of the spray was much more grape-like, though it was like a mix of grape and something not delicious. I'm not sure if it was a chemical scent/taste that made it so yucky, but it was there.
When I sprayed the on the back of my hand, it was quite runny. I expected it to be a bit thicker, or to dry quickly since it's considered paint; but it didn't/wasn't… I still wanted to put it to the test on my partner's body with the stencils, and also find out his opinion of the product.
Before you use the product, be sure to create your artwork over something that you do not mind staining. The product packaging says that the spray could stain fabrics from the natural oils in the product (though it won't stain skin). I really didn't want to find out if this is true or not, so we took extra precautions.
When I used the spray on my partner's body, I used the lip stencil. I placed the stencil over the skin, and sprayed the bottle. It sprayed on quite watery. I'd say the spray is just a tad bit thicker than water. When I took the stencil off his back (we decided to do it on his back first), you could not see a pair of lips at all. The spray is just too runny to stay in place where the stencil design is placed. I've taken a photo of the lip design that I sprayed on my partner- you can see that it doesn't look like lips, or really, anything at all.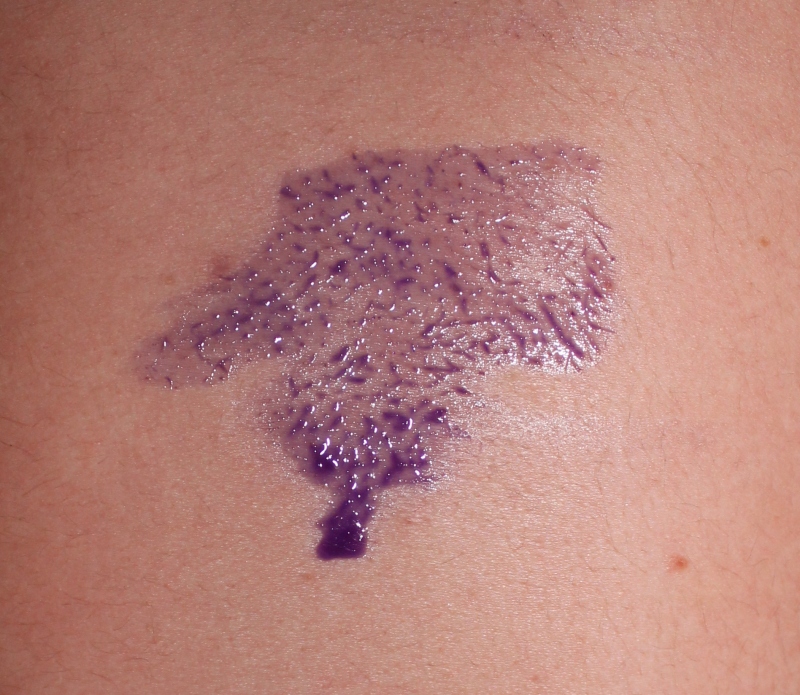 I licked the spray off, despite the fact that I tried it earlier on my hand and thought it did not have a good taste. It still did not taste good. The product does not stain the skin, though it takes a few licks to get the entire product off.
Experience
...continued

It doesn't leave any film or residue if you lick it all off. Also, it did not feel sticky on my partner's skin once we were finished with it. This may have been different if we didn't lick the entire product off the skin.

The bottle states that to remove the product, you use warm soapy water to remove the massage oil residue from your skin. Like I had mentioned, we didn't really notice any residue though.

When my partner had tried the flavour, he said he could taste the grape, but it had a salty taste. I personally didn't taste any saltiness. When he used the spray on me, he was disappointed that his artwork didn't turn out because it was so runny. He said that it was a really cool concept, but it doesn't work well. I'd have to agree with him completely.

The stencils are easy to clean. They are a flexible plastic. You can just wipe them down with some soap and water and then let them dry. There are a few cautions on the bottle that I feel are obvious but just in case…keep away from heat/flame because it may explode (so I suggest storing this in a cool, dark place). Keep away from pets/children. Do not spray on your fabric (example: couch). Do not spray in or near the eyes. Do not spray on damaged skin. Do not puncture container. Also, the product should be used externally only.

Overall, this product gets 2 stars out of 5. It doesn't taste good, the spray is runny, and your "artwork" ends up looking like a big blob of nothing. I wouldn't recommend this product to anyone because while it is a fun, innovative concept, it just doesn't work like it should. We will probably keep the stencils and use them with edible body paint, or a product that is thicker.
Follow-up commentary
4 months after original review
I tried the mango flavour since the original review on the grape and the taste is just as yucky. It also has a just as nasty after-taste. The mango sprays a yellow colour and is too runny. I would not recommend either of the flavours I had tried to anybody.
This content is the opinion of the submitting contributor and is not endorsed by EdenFantasys.com

Thank you for viewing
Sexy body grafitti
– edible paint review page!