Beauty For A Cause
This cute bag would be great to add to anyone's collection who needs small tote bags for one reason or another. When you purchase this bag you are also helping fight the battle against Breast Cancer.
Published:
Pros:
$1 from EACH bag is donated to Breast Cancer Research
Reusable
Cons:
Small
What is it & how do you use it?
The
Prinipessa Beauty Bag
is a small tote that you can either use for storage or for a bag to carry items in when going places. This beautiful bag isn't big enough to be used as a reusable grocery bag as it is too small. I personally used my beautiful bag to toss a ton of makeup in, to bring over to my cousin's house so she could go through it and get items that she would use. This little bag can hold a lot of makeup as well as a few other beauty items.
Smell/Taste
Upon getting the package and opening it there was no smell present which is always a plus!! I wouldn't know about taste as I wouldn't recommend licking the bag.
Design/Size
I believe the bag is pretty well designed for the most part. The bag is black,pink,grey and white in color, on the front of the bag you will find a tree that has pink blossoms on it as well as 2 white birds. In the middle of the bag on the front there is a quote that reads,
"The best and most beautiful things in the world cannot been seen or even touched. They must be felt with the heart.-Helen Keller"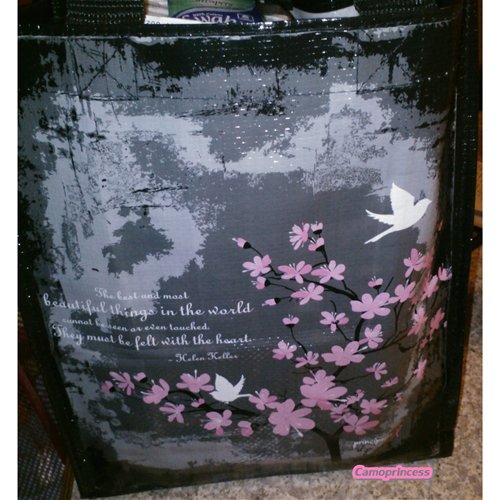 One the sides of the bag you will find the blossoms from the tree on the front "floating" down the side over a black canvas.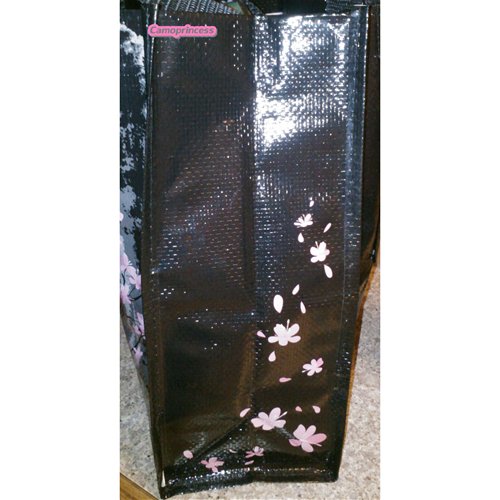 When it comes to the back of the
Principessa Beauty Bag
you will find a small outside pocket where you can store smaller items like mini makeup brushes or cards you may have for a business. As you can see the pocket is very tiny so there isn't much that it will be able to hold.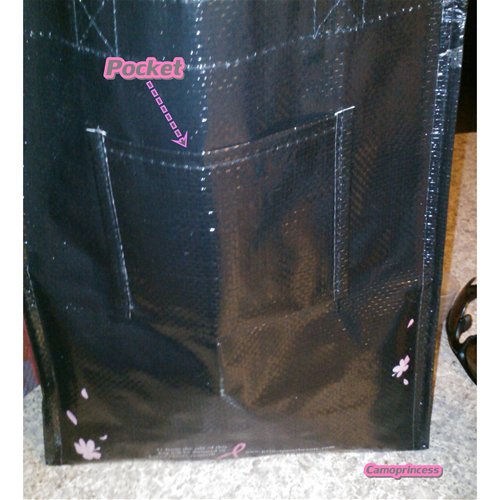 At the very bottom you will read a message that states:
$1 from the sale of the
Principessa Beauty Bag
will be donated to Breast Cancer Research.
There is also a pink awareness ribbon in the middle on the other side the
Principessa Beauty
website where you can see their other items. Those can be viewed here:
Principessa Beauty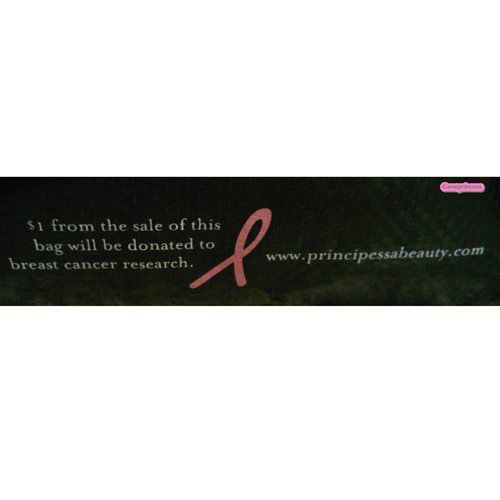 There are 2 handles on this bag that are made of woven nylon like you would find on most of your backpacks and other tote bags.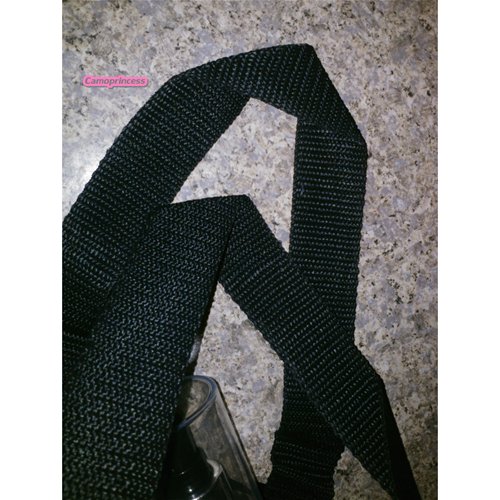 This isn't a bag made of fabric according to the Eden Product Page the
Principessa Beauty Bag
is made out of a "non woven fabric" this material is shiny and has a plastic feeling to it.
Size it up
Principessa Beauty Bag
measures in at 12 inches tall,4 1/2 wide and weighs all of 0.2lbs.
You can easily store this when not in use, simply fold it up and place in a drawer or inside of your other reusable bags.
Quality
Overall the quality of this bag is awesome it is well made and sturdy. Only complaint or issue I seen was the loose strings that are on the inside where the pocket is, this may not be a big deal but I am not sure what will happen if I were to remove them or pull them out as I normally do with loose strings.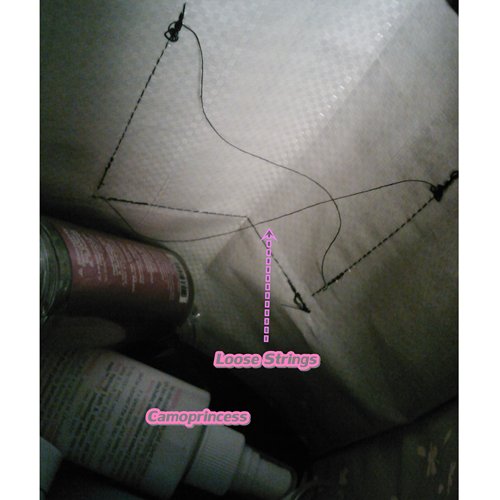 Experience
My experience with the
Principessa Beauty Bag
has been great so far it held up to holding a lot of weight with what I had inside of it.
Off the top of my head I had:
10-20 different eye shadows
6-8 lip products
6-8 eyeliner/lip liner pens
4 liquid eyeliners
6 compacts
2 bottles of foundation
1 bronzer pallet
several different makeup brushes
Cake Beauty Body Butter
Cake Beauty Spray Moisturizer
Coochy Protection Spray
Naughty Secrets Body Spray
Big Pack of Q-tips
and
7-1 Hair Care Product
With all of that stashed inside there was still more room to add more items but I didn't need to add anything else to the bag.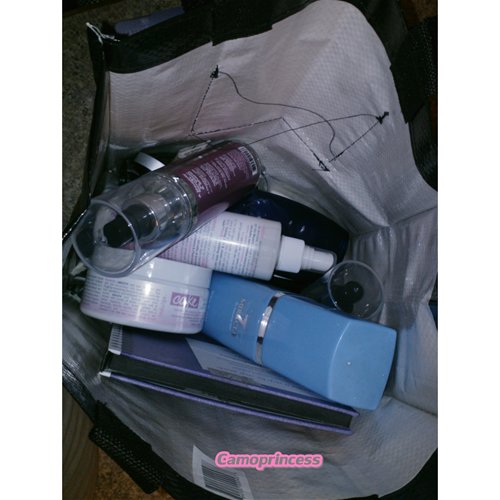 I would recommend this bag to anyone looking for a cute adorable tote as well as anyone who would like to help support the Cause in fighting Breast Cancer!!!!
Follow-up commentary
6 months after original review
The Principess Beauty Bag is still holding up very well, she resides on my entertainment center holding my makeup that isn't apart of my usual routine when I do my makeup.
This product was provided free of charge to the reviewer. This review is in compliance with the FTC guidelines.

Thank you for viewing
Principessa beauty bag
– storage container review page!