It is Such a Secret Place, the Land of Tears
These eggs are beautiful as well as functional. I wouldn't suggest them for long term wear, but it intend to only use a Kegel exerciser at home these might be a good choice for you. They are a good size for beginner and experienced users.
Published:
Pros:
Nice Size
Beautiful
Easy to Use
Cons:
Occasional Odd "Grinding" Sensation
After reviewing the smaller version of these eggs, and being less than thrilled by them, I knew I had to give these larger eggs a chance. Just like their smaller cousins, these eggs are amazingly beautiful. They have more of a teardrop shape than an egg shape, but that works with the deep blue. They look like beautiful, perfect, shiny blue raindrops. To use, you simply insert the eggs pointed end first until they are seated in a comfortable place. You can use one egg or both. Once they are inserted, you squeeze and hold your Kegel muscles around the eggs. You can repeat this as much as you like, and bear down to expell them when you are done. If you like, you could use a bit of lube when you insert them. I didn't find that necessary because the glass is so slick and forgiving, they are quite easy to insert.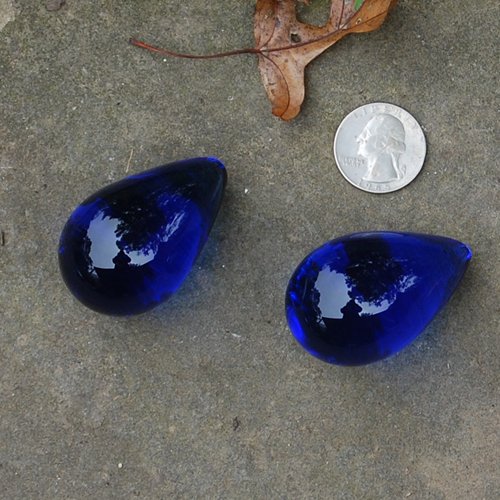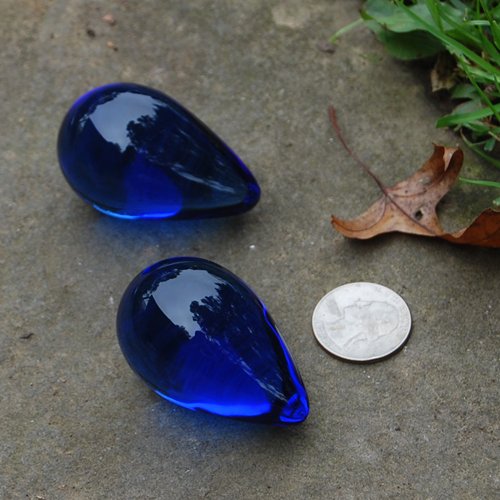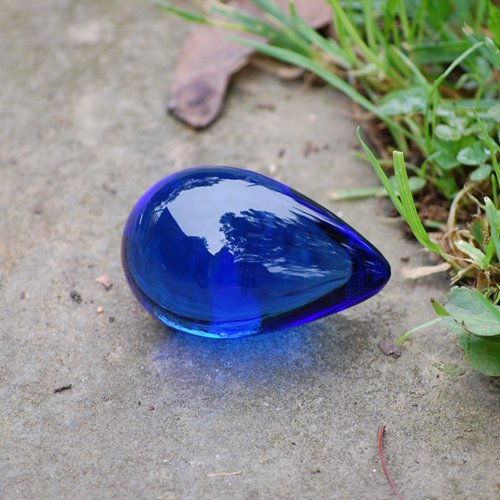 Basic Dimensions:
Length: 2"
Insertable length: 2"
Circumference: 4"
Diameter: 1 1/4"
Weight: 0.6 lb
I'd like to take a minute to compare the two sizes. The large eggs are 2" in length, and the small eggs are 1 3/4" in length. This may not sound like a lot, but in combination with the difference in diameter, it makes the eggs quite different in use. The small eggs have a diameter of 1", and the larger eggs measure in at 1 1/4". As you can see in the pictures, the small eggs are very small. The larger size eggs are a much better fit for me, and provide a more comfortable Kegel work out.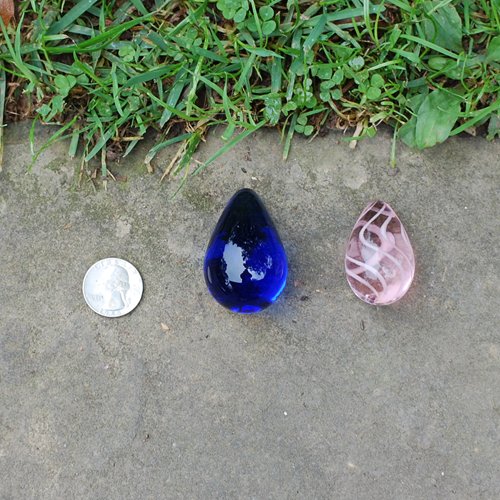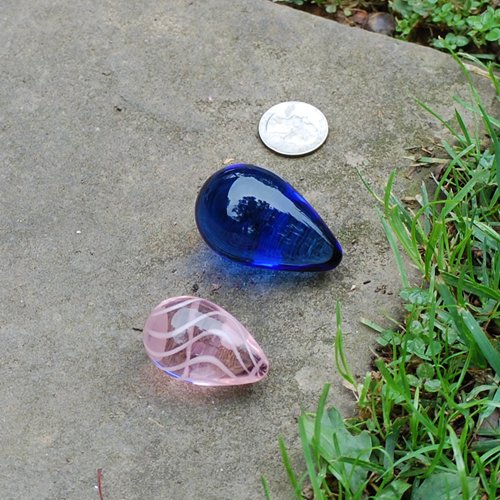 The Crystal Premium Glass Eggs are made of 100% hand-blown, premium Borosilicate glass. Borosilicate is better known as Pyrex, as in the same stuff your favorite bakeware is made of. It is made to be very durable and to endure temperature changes. When Pyrex does happen to break, it breaks in larger chunks instead of shattering into a million pieces as regular glass does. Borosilicate is a great material for toys, I own many and have never had one break, even with occasional drops here and there. Borosilicate is also a great material for temperature play, if you wanted to try that with these eggs. Although these are intended for vaginal exercise, I could see them being used after being in cold water/warm water for sensation play or massage as well.
Clean up for the eggs is fairly simple. Because they are Pyrex glass, you can boil them or use the dishwasher to sterilize them. You can simply wash them with water and antibacterial soap, or use a toy cleaner on them. They don't collect lint or have an odor. Mine are quite smooth with no visable seams or flaws.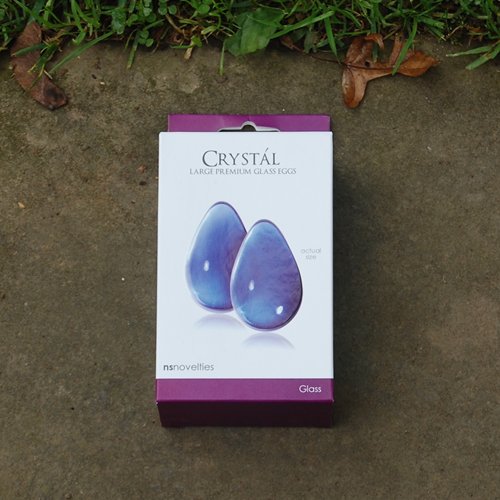 The package is fairly sturdy, if a bit of a tight squeeze, and is a great place to store the eggs. It also comes with a small silk pouch, if you would rather ditch the box and just use that. The pouch is a single open area, with no divider to keep the eggs from banging against each other, so I worry about them dulling each others surface or breaking each other. Just as with the smaller eggs, the pamphlet that is included is a bit confusing. It has a ton of information of developing a "work out plan" for doing Kegels, making suggestions about duration of exercise and how to work up to more exercise at a time. But, when it comes time to explain how they suggest you use their eggs, there is only a single drawing showing them inserted.
Experience
I have to say that after the smaller eggs let me down, I wasn't sure what to expect with these. I tried to go into it with an open mind. I'm so glad I tried these larger eggs!
They don't turn or twist as much when they are in use, so the pointed ends don't poke and pinch. The size is large enough to let you know they are there, and it reminds you to do your Kegels. To remove them, you simply push them out using your muscles. I had trouble getting the smaller ones to stay in, and then trouble getting them to pop out when I wanted them out. With these larger eggs, they stayed in when I was wearing them and I had no issues are all getting them to come out when I was done. These are a VAST improvement over the smaller eggs.
I will say that the sensation of the two eggs knocking against each other while they are inside is still not my favorite. I found it a bit odd. At times, I could feel the glass "grinding" against glass. It seems to make no marks on the eggs or damage them at all. It wasn't a painful sensation, but it gives you a kind of "nails on the chalkboard" feeling that made me cringe. This only happened 2-3 times while I was wearing them, but it was enough to annoy me.
As an addition to my Kegel toy collection, I am glad I bought these eggs. They provide a nice change of pace from some of my other toys. I probably won't be using these for long term wear or on errands. I would worry that I would encounter that grinding sensation, and have to deal with it until I could get somewhere to remove them. I will use these eggs for at home Kegel exercise, or for temperature play.
Follow-up commentary
8 months after original review
These still have a place in the rotation of Kegel toys. They don't get used for extended wear, as I own more comfortable options, but are comfortable for stationary exercising.
This product was provided at a discounted price in exchange for an unbiased review. This review is in compliance with the FTC guidelines.

Thank you for viewing
Premium glass large eggs
– sex toy review page!