Legs Wide...Shut?
The Sexperiments Spreader Bar boasts a sexy setup with your legs held apart so your dominant partner can tease you within an inch of your life. While this toy did enhance my sex life by providing an experience where my legs were completely restrained, I only achieved this when I additionally tied my ankle cuffs open using rope. While I was pleased by the high quality and durability of the product, I was disappointed this spreader bar was not able to perform without added assistance.
Published:
Pros:
Well-made, Sleek design, Sturdy
Cons:
Small carabiners, Short length, Ineffective at keeping legs spread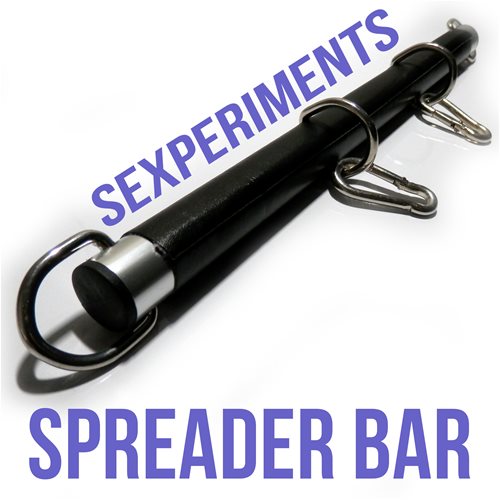 What's so alluring about a spreader bar?
You're lying in the middle the bed in nothing but a blindfold. Your dominant partner walks into the room. With your eyes covered, you can only hear his footsteps as he approaches. Your legs are spread wide so your glistening pussy is on full display. You can feel the cool air against your arousal as he leans down to get a closer look. Suddenly feeling embarrassed, you try to close your legs, only to feel the spreader bar holding them wide. You sink deeper into your role as submissive, accepting that you belong to him and him alone. He can do all sorts of wicked things to your body, making you orgasm multiple times; only a safe word will end hours of teasing, torture, and pleasure.
Out-of-the-Box Impressions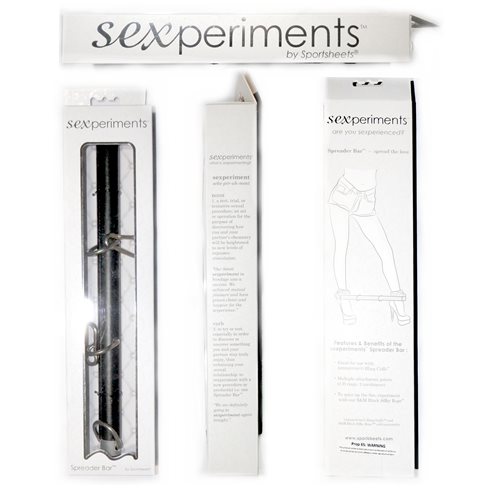 I've wanted a spreader bar for a long time. Especially since I got a
Magic Wand Rechargeable
, I loved the idea of receiving an onslaught of sensation and being restrained so I couldn't escape. So, when this package arrived, I was ecstatic! The box is classy, with a silver and white color scheme. I was initially surprised by the small size of the spreader bar. I assumed the bar would be about two feet long. However, it was only 14 inches long, which is about the length from my elbow to the palm of my hand.
In-My-Grasp Impressions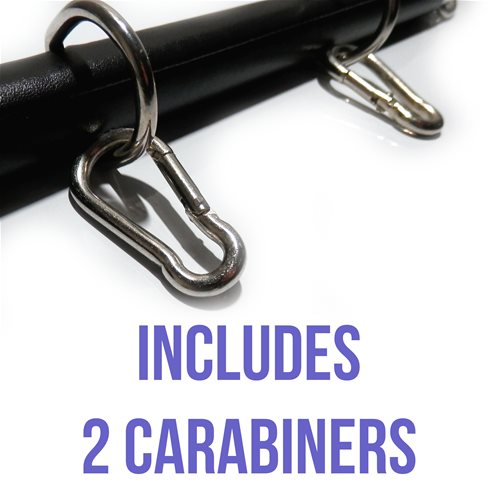 The bar has a sleek design. Upon closer inspection, it looks like the core of the spreader bar is a thin-walled, metal tube. The metal is aluminum so the whole bar weighs very little. There are holes bisecting the tube in four locations where the D-rings are attached. There are black, plastic caps on the ends and most of the tube is covered by a fake leather fabric. The covering is a single piece of fabric sewn together down the middle. This leather-like fabric helps prevent the spreader bar from slipping out of my grasp. I find the leather covering a little strange; it is not glued to the tube, so it shifts around when you twist it.
Carabiners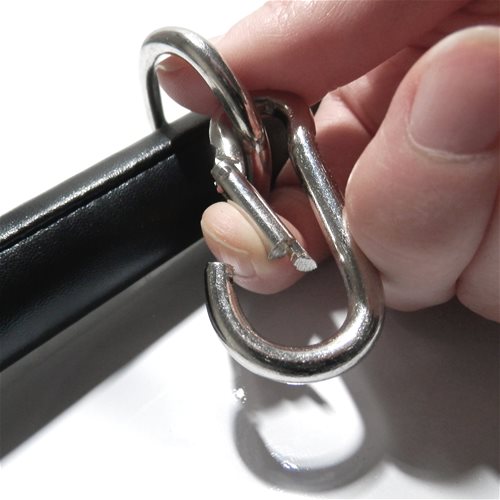 Carabiners were initially attached to the inner two D-rings, however, you can move them to the outer two rings. I found the carabiners a little stiff to open. However, I'd rather spend a little more time opening the carabiners during set up than risking the carabiners accidentally unhooking in the heat of passion. To attach cuffs to the spreader bar, you can simply connect the D-ring on the spreader bar to the attachment ring on your favorite pair of cuffs with the carabiner. The opening of the carabiners in fairly small, but the average attachment ring will easily slip on.
Experience
What didn't work?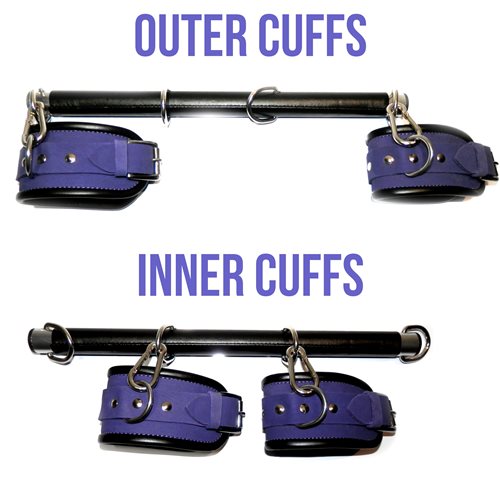 The outer two D-rings are 13 inches apart (½ inches from the ends) while the inner two D-rings are 4 inches apart (5 inches from the ends). As you can see in the picture above, I attached my
Purple Hand Cuffs
, to both the inner and outer D-rings. For me, the purpose of a spreader bar is to keep my legs wide open. Unfortunately, this spreader bar was so short that, even when I attached ankle cuffs to the outer D-rings, with the cuffs around my ankles, I was still able to close my legs. To me, there was not much sense in using the inner D-rings since my legs could close completely. Even if your goal was to bind your ankles together, you could use a single carabiner and connect the cuffs. There would be no need for a spreader bar.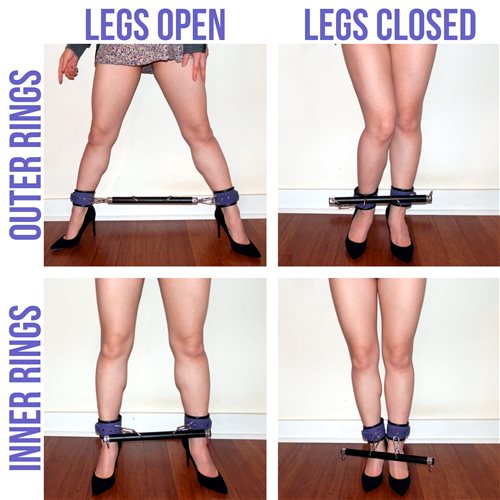 Similarly, I could use the spreader bar for wrist restraint, but spreading my arms by an extra foot does not do much for me. If I were looking for wrist restraint, I would opt for an under-bed restraint system that positioned my limbs in a spread-eagle position.
What did work?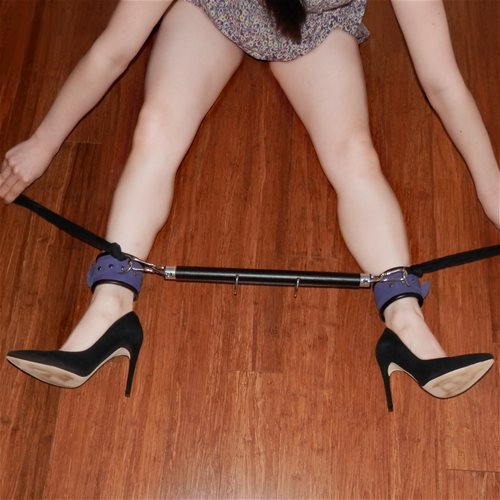 While simply attaching ankle cuffs to the spreader bar did not sufficiently spread my legs, I found that adding
Basic Cotton Rope
to the equation worked perfectly. I tied the rope to the attachment hooks on the ankle cuffs and tied the other ends of the rope to my bedposts. This ensured that I was neither able to close or widen my legs. I was well and truly restrained, which made the submissive in me sing. If you have an under-bed restraint system, you could use that instead of rope for a similar effect.
This product was provided at a discounted price in exchange for an unbiased review. This review is in compliance with the FTC guidelines.

Thank you for viewing
Sexperiments spreader bar
review page!