The Itty Bitty Cube!
The Condom Cube Croco is a nice addition to my bedside table for quick and easy access for when the occasion calls for it. While not exactly a cheap storing option for condoms, this is definitely the more luxurious way to store your small personal items. This is undeniably something I enjoy having out in the open and will actually use rather than let it collect dust.
Published:
Pros:
Magnetic lock, Discreet, Compact and versatile.
Cons:
Lid will not stay open, Larger condoms won't fit inside, Price.
Size comparison on the Condom Cube Croco does not prepare you for how small this tiny little cube really is. I remember opening up my package from Eden all excited for my goodies including the cube and when I first laid eyes on it I was speechless. My reaction after a pause was, "Seriously....That's it? While I must admit I should have expected something small, it's just different seeing it in person compared to viewing it on the product page.
Even though this cube is rather small, it has grown on me in time. It does not take up a lot of room and is fairly easy to store just about anywhere and conceal. Generally I keep it on the bed side table for quick and easy access. The cube is stylish with its crocodile like textured design and black faux-leather. I really like they have installed a magnet within the front of the cube so that the cover shuts fairly well. I purposely knocked the cube down from a 5ft tall dresser and other locations throughout the apartment to test its overall construction and how well the cover stays shut. Not once was there any damage caused and the cover never opened up which was very nice to see.
Unless someone opens this up, the cube is fairly discreet and I doubt anyone would at first glance think that it's a cube for storing condoms. Trojan brand condoms are generally all I use and it seems they will not lay flat inside the cube. They must be stored on their side like you would file things in a filing cabinet. At first this was disappointing but I realized that condoms are much easier to remove and re-fill while they are on their side. If they were laying flat inside the cube it would be more difficult to remove them. The cube benefits me personally by reducing having to use packaging for the condoms, generally the ones I buy come in a cardboard box that is 2x times larger than the Croco Cube.
While you can use this condom cube for other purposes such as storing cock rings, jewelry, nipple clamps, bullets or any other small objects, I found it most useful for its intended purpose. I have a vibrating cock ring with two bullets in it and that thing is definitely not going to fit inside. I have other vibrating bullets, again these are too big to store inside. So generally you will have to have very small bullets if you are looking to store them in this cube.
Overall I don't feel like I have been ripped off with the price on this product. I do agree that the price seems rather high for something so small and limited functionality. I see this product being more of a luxury item than anything else, so if you have the money to spend then go for it. I think what would make this product somewhat more interesting is more selections in colors and/or designs. Also the size could be increased, or an option to purchase a small or larger one. I am able to store around 12 condoms in the cube without it being too packed, I would like to be able to store double that at least. I didn't find any other real issues with the product, it is easy to clean and I use a damp towel to wipe it down if dust seems to settle. Also there are no strong or bad odors from the faux-leather which is nice; some leather products can bother me slightly depending on how strong of an aroma they have.
Also included are some pictures I took for a size comparison, also to show the coloring of the cube in natural light. The product page shows a dark red coloring, this is more so in darker light settings, natural light the red is much more vibrant. I think the cube goes well on my bed side table so I have also included a picture of that. Thank you for reading my review and I hope it has been informative and helpful.
Interior measurements:
2 3/8" by 2" and 2 1/4" depth.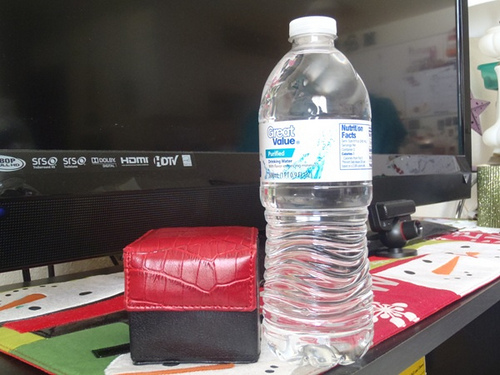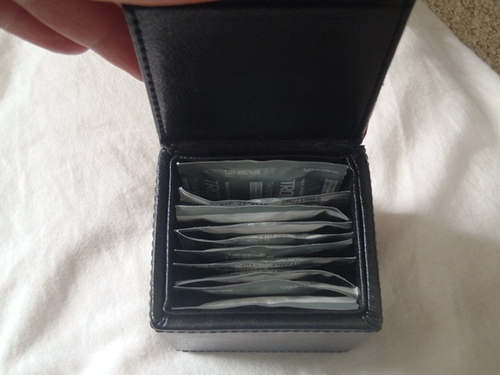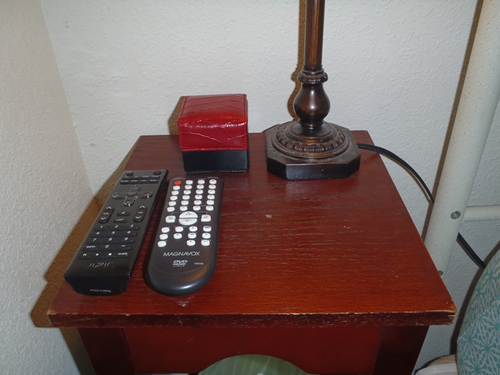 Follow-up commentary
22 days after original review
I still like this little cube, it's very minimal and stays out of the way, but still accessible when I need it. It has collected dust from time to time when doing generally cleaning around the apartment. A quick clean with Eden Fantasy's wipes works great in removing dust off the material. While I still wish this held double the amount of condoms, it is still very useful and effective in keeping them hidden. This is a much better alternative for me compared to how my fiancée would hide them under clothes in a dresser. The material and stitching seems durable and intact with no separating at all. I can see this one lasting many years.
This content is the opinion of the submitting contributor and is not endorsed by EdenFantasys.com

Thank you for viewing
Condom cube croco
– storage container review page!