Very Sweet Indeed!
Imagine my shock and delight when I requested the Liberator BonBon for review and it was offered to me! As I slowly amass a collection of Liberator gear, I think that the BonBon might just be my favorite! This easily wins 5 stars in my book, but I haven't met a Liberator product yet that doesn't!
Published:
Pros:
Liberator, Excellent craftsmanship, Can use a variety of toys, Hands free, I could go on!
Cons:
Ummm... errr.... I'm speechless here!
There has yet to be a Liberator product to disappoint me, and the BonBon is no exception. Here is a short Q&A about the BonBon!
So, what IS the BonBon?
Well, the BonBon is a sexual positioning aid that is useful for both partner and solo play.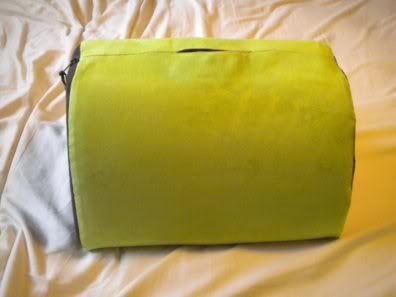 That's cool, but what does it do?
It holds a variety of toys, from flanged dildos (or dildos with a flared base) to vibrators, there's not really much that you can't use in this.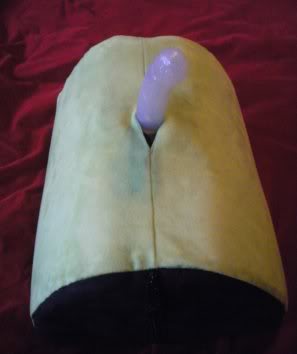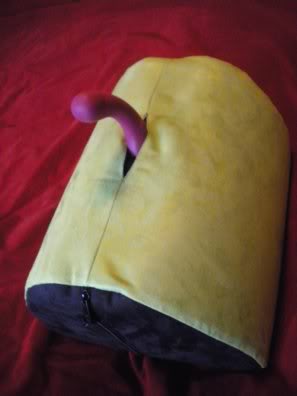 Whoa, wait! It holds flanged dildos! How?
There is a special cut-out in the foam that gives it a secure means to hold your flanged dildos as shown in the picture below.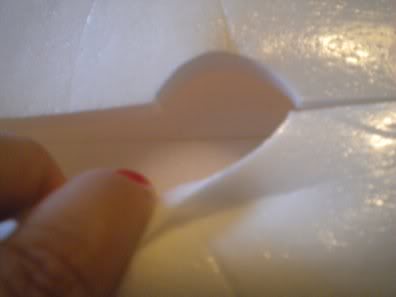 Neat! But what if I want to use a toy that's not flanged?
That's no problem. As you can see in this next picture, there is a slit in the foam from the top til just above halfway down the piece. You can easily fit your vibrators in here, and since the nylon does have a little drag on it, I find that it holds my silicone and TPR vibrators fairly well without them slipping around in there. I have not dared to try it with glass or metal yet!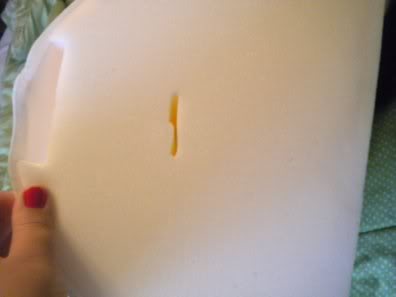 Interesting. What is it made of?
All Liberator pieces are made with their Champagne foam. It's a high-density foam that is very resilient and holds its shape well. It technically has three layers of protection for the foam. The top of the foam seems to be coated in some kind of plastic that is adhered to the foam. It also has the standard nylon cover to keep your foam protected. Then there is a micro-suede cover that covers the toy as well.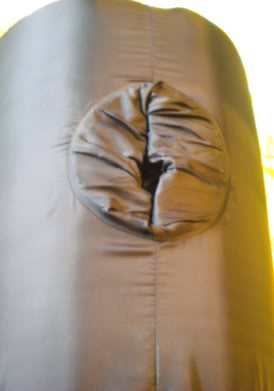 How would you care for your BonBon?
This is very easy to take care of. The nylon cover wipes down with soap and water. That is the easiest way to care for that portion. You could remove the nylon cover to wash it in the machine, but it's usually not necessary. As for the micro-suede cover, simply wash it in your machine and hang it to dry. You could tumble dry it on low, but I don't.
That's fairly easy and straightforward. How big is this BonBon?
The
product page
is accurate in its measurements of the BonBon. I compared it to my Hitachi! As you can see in the pictures below, it's almost as long, and just a bit shorter.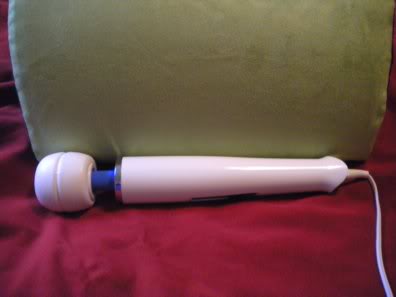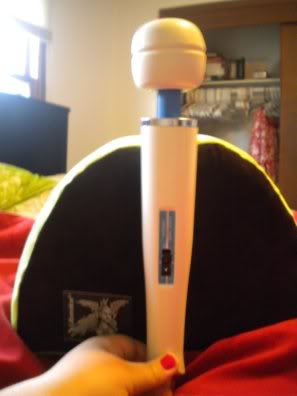 Interesting use of non-standard measurement! What kinds of positions can you use it with?
Well, for solo play, I find that riding it is the pretty much the only way I like to use it. I put it at the head of the bed, mount it, and can rock myself to an amazing G-spot orgasm with any of my favorite dildos and vibrators all while balancing with my headboard. I can even wedge my clitoral vibes up under me and still remain hands-free. The
Seed
and the
MiMi
work nicely in this regard. For partner play, I have used Mr's shoulders as a stabilizer as he watches me go. I can also plug in my Hitachi for clitoral stimulation while he takes me at a rear entry position, like doggy-style. Without using a toy, you could also use it under the hips for doggy-style or standing doggy. I'm not particularly into anal sex, but you could use it for double penetration, if you like that sort of thing. Guys need not be left out either, they can use it for some solo hands free anal play, if they would like, or they can ride it while receiving a blow job.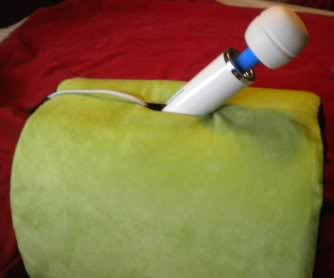 That's pretty versatile! I'm on the plumper side, will this work for me?
Oh, goodness, YES! I, too, am a bigger gal, and I find this easy to use. My only recommendation is to not use it after having any kind of muscle injuries in your legs, or you might find yourself cramping up (which can be very funny and painful!)... not that it happened to me or anything...
Not sure I believe you there, but I'll let you have your dignity! Can't really think of anymore questions, but I'll be sure to leave them in the comment section if I do
(and all the readers can too!)
This product was provided free of charge to the reviewer. This review is in compliance with the FTC guidelines.

Thank you for viewing
Liberator BonBon
review page!