A "Grippy" nicely scented medium range massage oil
This is a nice, medium quality massage oil for general use. The scent, called "Origins" is woody and earthy and although this oil doesn't go as far as some high quality massage oils, it is good for spot massages, special work on individual muscles and the bottle cap allows good control over the product.

A nice oil, with some minor problems that caused little issue for our needs.
Published:
Pros:
Nice scent, beautiful bottle, not greasy
Cons:
not "slippery" enough, need more than some oils for good massage
My Man and I are on a search for the perfect (for us) massage tools and oils.
I choose Good Clean Love Oil in the Origins scent for the next stop on our journey.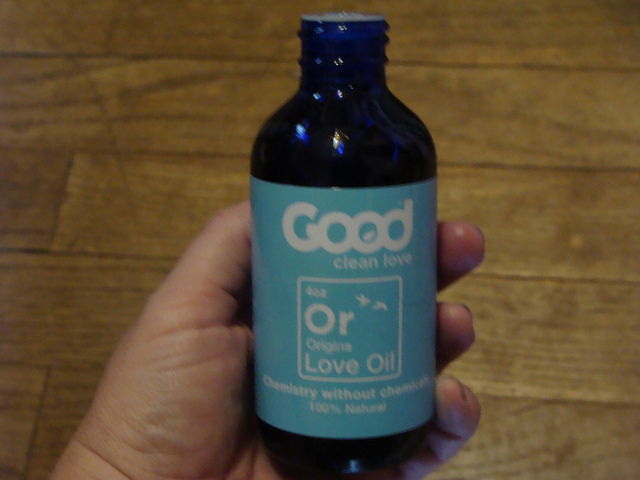 The oil arrived in a beautiful cobalt blue glass bottle, with a screw on plastic cap. Inside is permanent plastic inner cap, to allow for small amounts of oil to be drizzled onto the body. Often these inner dispenser caps, which have small holes in the top are to prevent too much product from being dispensed at one time.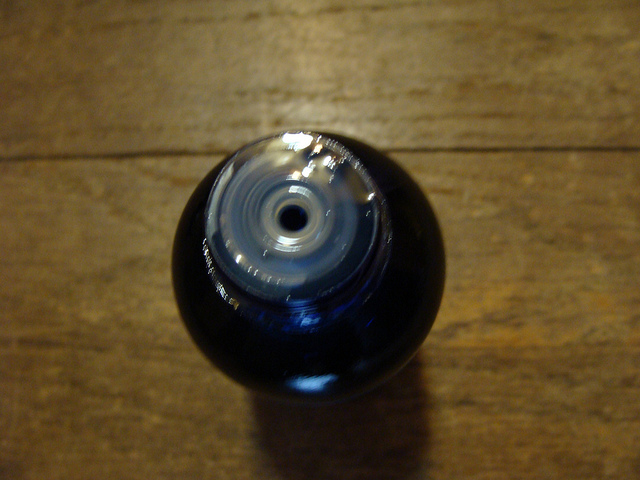 With GCLO (which Good Clean Love Oil will be known) this cap works well to prevent too much from coming out at one time. However, in some ways, it works against the product.
The first few times I used it, I found I had to apply several times to get the right amount for a good massage. The viscosity was average for good quality massage oil, about the viscosity of good Extra Virgin Olive Oil or slightly thicker. Thinking maybe it was a product that goes pretty far, I started the massage I found that the oil wasn't going far enough. I needed to reopen the bottle (with now oily hands) and shake more onto my husband. I rubbed for a few minutes and realize I still didn't have enough product for a good massage (I had probably used two quarter sized servings so far) and I had to go back to the bottle for more.
I like to start a massage and be able to GLIDE over each side of his spine, over his lats and delts and onto his shoulders and arms in one motion, if possible.
I felt this oil was creating more drag than I wanted, so I kept adding more to make things much more slippery. Even after several uses, I can't quite get the right amount for a perfect massage every time. Luckily, it is not a greasy oil.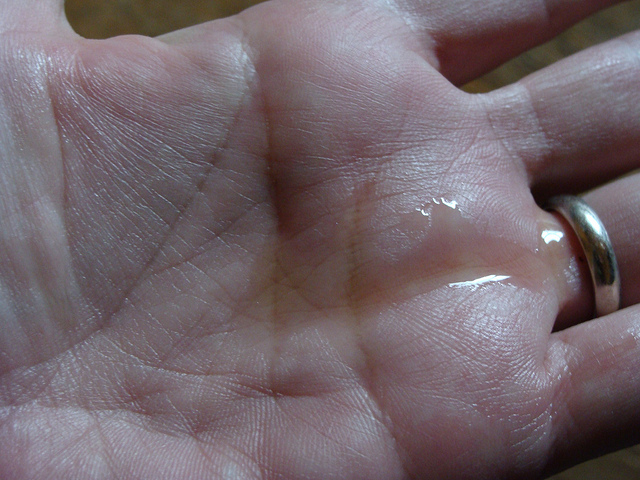 The Origins scent is described as "earthy and woody tones" which are aromas both The Man and I enjoy. I could not, even when going to the Good Clean Love website, find exactly which essential oils made up the scent. My guess is it's proprietary mix. What we are told is in this massage oil is Apricot Kernel Oil, Organic Jojoba Oil, Vitamin E Antioxidant Formula, Exotic Blend of Essential Oils. (Taken directly from Eden's description.) Those with nut allergies would want to avoid this oil.
These are fairly standard ingredients for cruelty free, vegan massage oils. The scent IS "woody and earthy."
This is a good quality massage oil, but I would not recommend using it as a sexual lubricant. The scent is too intense, and not knowing exactly which essential oils are used, some being irritating to sensitive tissues, other products should be used for sexual lubrication.
Once I was able to extract enough product from the bottle on to My Man, I was able to give a decent massage which he enjoyed each time quite a lot. He didn't complain about the scent, which in our house is as good as a compliment.
Clean up was not a chore, just a wipe down with an old cotton T shirt.
The product didn't seem to stain the sheets, the T shirt, or the top of his sleep pants. It also washed off of my hands after the massage without too much lingering scent and no lingering oiliness.
This massage oil seems to almost provide too much "grip" during a massage, rather than "slide." (That's the best way I can describe it.) We found it really helpful for use when a specific muscle is giving one of us problems, and the massager can concentrate on that one muscle without sliding all over the place. But, it is a little more difficult for an all over body massage, but certainly not impossible. One just has to work a little harder than with more slippery massage oils.
The oil also does not give a greasy feel, nor is it gritty. We have found, in our quest that either of these feelings seemed to be reserved for lower quality oils.
GLC says that it is edible and that you can use it on your lips. I did put some on my lips and I did taste it. Although it was not as awful tasting as the Hathor Massage Oil, (which left a horrible sting and taste in my mouth for close to an hour) it wasn't something I'd like to put on my lips again, nor would I consider it "edible."
Experience
The aroma is nice and far from sweet or flowery. It's well suited for either someone who identifies as masculine, yet pretty enough for those of us who identify as feminine. Although we have resigned this to certain types of massages, usually those which require attention to one spot for a long time, it can be used as an all around massage oil. However, I do prefer more silky massage oils, like JimmyJane Afterglow Massage Candles for this purpose. (I think JimmyJane has pretty much spoiled both of us for most other high quality massage oils, even good ones like this one.)
I have found that the bottle is a little oily when I pick it up for the next usage. It does drip a bit, but not terribly. I am sure that the dispersal cap helps from this becoming a mess if poured out.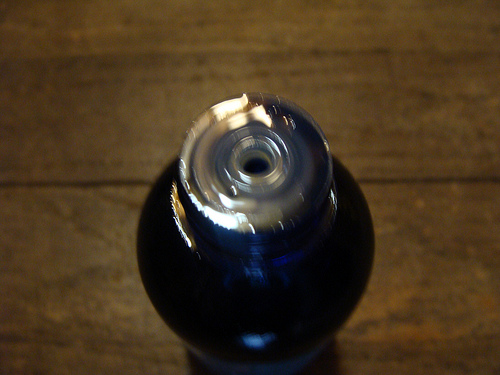 However, it does get the job done, albeit, not quite as slippery as we would have liked. Perhaps those who like a less "oily" massage oil would find this perfect. It has a place in our massage arsenal, and we will continue to use it. I may even try an other scent, although I would like to know exactly which essential oils were used in the making of this particular scent. I smell Ylang Ylang, Jasmine, perhaps some sandalwood or myrrh or light patchouli, (some sort of scented wood) and a few things I can't identify.
Good Clean Love (the company) says that this oil is best reserved once one is "centered" and already "in the mood." According to Good Clean Love (and this is a direct quote) "This is a love oil of true center, the oil to use when you are already in the mood. Simultaneously relaxing and warming, the Origins blend lifts emotional blocks to a healthy sexuality and reunites you to your sensual nature. This essential oil blend brings you to your essential self and a calm acceptance of life as it is." (Cue sitar music and bring on the tie dye sheets.)
Okay…..well. It's a nice massage oil, not quite as slippery as I usually like, but not greasy or gritty, made with no petrochemicals (the stuff that gunked up the Gulf) no testing on animals, totally vegan, no parabens, with therapeutic grade essential oils.
I'm not sure it "lifted" any blocks to healthy sexuality. I don't know how many of those we have, probably no more than anyone else. As for a "calm acceptance of life as it is" it's going to take a lot more than an essential oil to do that for jaded lil ole me.
I've used better massage oils, I've use a hella sight worse. I'd give this one a 3.5 out of 5, but give it a 4 for the review. It has it's place, it has no outright faults. We just have some massage products we've found more useful. However, I can see that where this is helpful, and many people may find this their go-to massage oil, particularly if they don't like extremely slippery, oily oils and find they really like the gentle scent.
This product was provided free of charge to the reviewer. This review is in compliance with the FTC guidelines.

Thank you for viewing
Good clean love
– oil review page!