A Little Less Talk and a Lot More Action, Please!
While this product is not something I will use much, it is fun to try new things and I'm glad we did. The flavors don't have a strong chemical taste as can be common in this type of product. The price is right, so if you think you might like them, try them! While they're on the way, be sure to tell your significant other that you ordered them and what you're going to do with them when they arrive.
Published:
Pros:
Variety of flavors
Some lubrication effect
Numbs your mouth, if you like that
Cons:
Waste of product if you don't like one of the flavors
No tingle
The Good Head Tingle Drops come in a package of three small bottles, 1 ounce each, in the flavors "Wild Watermelon," "Sour Green Apple" and "Salivating Strawberry." They are meant to be used during oral sex, and the idea is that the person giving oral sex will have a nice-tasting treat, while the person receiving oral sex will feel a tingling sensation. This product would be good for anyone who feels they want "something extra" while giving head, for a treat to take along on a weekend getaway, or it would make a great wedding shower or bachelor/bachelorette party gift. The package is small and could easily be taken along while traveling. The bottles and outer box all say "Good Head" on them so while this would be easy to pack, it's not very discreet if anyone searched your luggage or found them sitting around on a counter.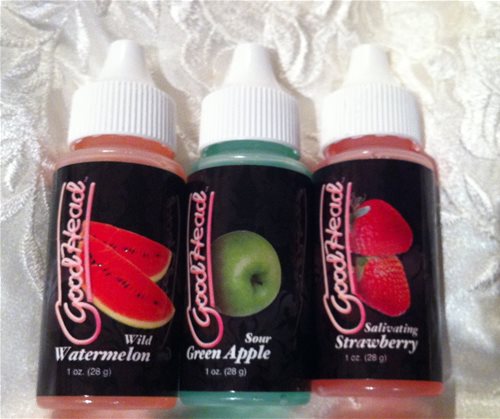 The ingredients are different for each of the three flavors:
Wild Watermelon: Water (Aqua), Glycerin, Flavor (Aroma), Sucralose, Hydroxyethylcellulose, Menthyl Ethylamido Oxalate, Xanthan Gum, Colloidal Silver, Red 40 (CI 16035), Yellow 6 (CI 15985).
Sour Green Apple: Water (Aqua), Glycerin, Flavor (Aroma), Sucralose, Hydroxyethylcellulose, Menthyl Ethylamido Oxalate, Xanthan Gum, Colloidal Silver, Blue 1 (CI 42090), Yellow 5 (CI 19140)
Salivating Strawberry: Water, Glycerin, Flavor, Sucralose, Hydroxyethylcellulose, Menthyl Ethylamido Oxalate, Xanthan Gum, Colloidal Silver, Red 40 (CI 16035)
If you have concerns about ingesting chemicals, you should research the ingredients in this product before you use it orally. There may be some controversy regarding several of the ingredients listed. The sweetness of the Good Head drops comes from Sucralose (it's also known as the artificial sweetener Splenda), and to a lesser extent from glycerin. Due to the artificial sweeteners, this would be very low in calories (especially in the small amount that is ingested during use). There is a potential for this product to cause yeast infections so it shouldn't be used as an internal lubricant.
The Good Head drops come in small "dropper" bottles, about 3 inches tall, with a narrow opening at the top (after the lid is removed). If the bottle is held upside down, no liquid flows out, so you don't have to worry about it spilling.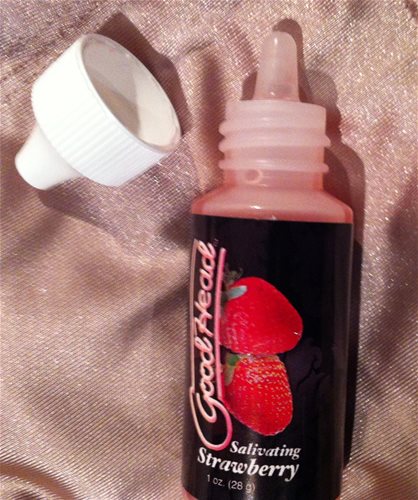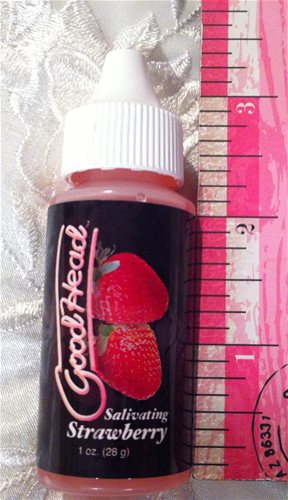 The liquid is fairly thick, comparable to a medium-thickness lube, and when you squeeze the bottle it comes out one drop at a time. Here are pictures taken over the span of a few seconds, as I squeezed the bottle firmly to help show the thickness:

To use this product, you are supposed to put a few drops of the liquid onto your tongue just before oral sex, and in addition to flavor and lubrication there is supposed to be a tingling effect. When we used it, there was no tingling at all felt by myself nor by my husband. There was a small lubrication effect which wore off within a minute or two. This product doesn't stick around long enough to be a very effective lubricant, at least not during oral sex where saliva quickly washes it away.
I have not tried it while receiving oral sex from my husband, because I don't want to feel any numbness, but it could be used that way and some might find it enjoyable.
The Green Apple liquid has the strongest flavor of all three. It has a faintly bitter, fake sour apple taste. I don't like it at all. When we used it I couldn't stand the flavor enough to use more than a couple of drops, and when I did, it did not cause any tingling at all. It did make my tongue feel slightly numb, but that is the only effect it had, no tingling either in my mouth or on my husband.
The Watermelon has a very faint flavor and tastes like watermelon candy. It has the least strong flavor of the three types, and also seems to have the weakest numbing action. Again, no tingling at all.
The Strawberry flavor is my favorite flavor. It's a typical fake strawberry candy-type flavor, but a little brighter than normal; not as heavy as these fake flavors can sometimes be. I think it's pleasant, but I don't like it enough that I would use this product just for the flavor. The Strawberry seems to be quite a bit stronger than the other two in terms of numbing my mouth. I'm not sure if this is consistent from batch-to-batch of this liquid; the strength of the numbing effect might vary depending on when you buy this product and which manufacturer batch it comes from. It could also vary from person to person, although my husband also found the Strawberry to be more numbing.
Each flavor has a faint smell which is not overwhelming.
Experience
I didn't find clean-up to be problematic because most of the liquid had been washed away by saliva when we were done. We just used one of those great Eden Fantasys wipes and that took care of it!
I ordered the Good Head Tingle Drops just to try something different. It's not really that I wanted something to specifically make giving head more enjoyable, but I wanted to experiment a little with flavors and sensations. Well, they are flavored, but there sure wasn't much sensation involved. And I discovered that giving head "au naturale" is the most enjoyable way, for me anyway.
On the bottles is the following statement:
You will have to decide for yourself, but I think this is a whole lot of hype for a little bit of action!
Follow-up commentary
2 months after original review
I tried to like these drops, but they just don't do much for me. I'm not too keen on the tastes, and the "tingle" is pretty much non-existent. I'm hoping something more tingly comes along that will be more fun to play with.
This product was provided at a discounted price in exchange for an unbiased review. This review is in compliance with the FTC guidelines.

Thank you for viewing
Good head tingle drops
– lubricant review page!