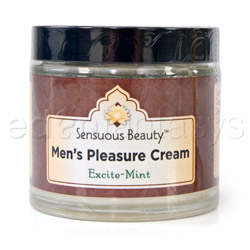 Men's pleasure cream
Cream
by Sensuous Beauty
A Man's Cream
If you want to try something new, I would definitely point you in the direction to Men's Pleasure Cream. This cream tastes and smells great, with no nasty after affects that some other products leave behind. This cream gave me all I could handle and then some. I was truly blown away with the pleasure and sensations contained within this glass jar! You will not be left disappointed!
Published:
Pros
Smells and tastes great. Does more than you could ever imagine!
Cons
Absolutely flawless!
To be honest, I always though arousal creams were more derived for women than for men. After looking around for a while for a new product that my wife and I might enjoy, I stumbled across Men's Pleasure Cream by Sensuous Beauty. At first glance, I quickly moved on to other products, but something drew me back to this product. I thought about it for a while and finally asked myself what I had to lose. That was when I began to get excited and could not wait for the pleasure cream to arrive. After opening the package, I could not help but feel a little uncomfortable. I mean, I never thought that I would want or even need a Men's Pleasure Cream. Not to mention, I didn't really know what my wife would think. Like most couples, we have already experimented with female pleasure products with great success.

Anyways, I want to first take a moment and basically break down what this cream consists of. To begin, it is an oil-based cream that is nicely packaged in a glass jar with a screw top lid containing 3 fl oz/ 90ml. One thing I like is that this cream is L-Arginine, Petro-chemicals, Paraben, and Glycerin free. A few ingredients include organic canola oil, distilled water, shea butter, beeswax, vitamin E oil, citrus seed extract and pure essential oil of peppermint. This cream comes in two flavors including Excite-mint, which is the one I purchased, and Lemon Lust.

After unscrewing the top of the jar, I was pleasantly surprised by the smell of the cream. The aroma reminds me of the old time hard candied mints that are often served at receptions or parties. Now from my understanding, this cream was supposed to also taste like mint as well. I thought I would give it a try before I took it to my wife. And again to my surprise, the cream actually tasted like those mints that I mentioned before! For the first time, I came across a cream that actually tastes as good as it smells! For me I was already sold, even before actually putting the cream to the test.

All that was left was to actually see if the cream does what it says it does. My wife was also very excited because she was absolutely blown away by the taste and smell also! She took a little bit out and rubbed her hands together. She then began to massage and stroke my penis with this cream. Immediately I could notice a slight tingle that began at the tip of my penis and made its way all the way down to my balls. As time progressed, the sensations became stronger. With every stroke, I began to gasp for air. To tell the truth, I was experiencing so much that I thought I was going to explode through the roof. All at once, I began to feel a chill all down my body. I could tell that I was about to erupt. My wife quickly caught on and noticed that I was shaking with pleasure. She opened her mouth and surrounded my penis with her lips and tongue. I could not take any more! I let out a huge scream and began to have the most mind blowing, whole body orgasm that I have ever had! I literally shook from my head to my toes as I erupted with all the sensations that this cream had to offer. I could not believe what I had just experienced. I was totally blown away with what had happened. After it was all over, the cream left me with a very soothing feeling. My wife mentioned that she has never seen me release that much semen at one time. I could tell that it was a lot because my orgasm just kept going and going. Not only was it nice for me, but also it was also nice for my wife. The cream is easy to clean up and does not leave a nasty taste afterwards. Not only was I sold, but she was as well.

All I can say it that I have the same experience every time when I use this cream. I'm not too sure why it happens, but all I can say is that I am glad it does. I know the jar only includes 3 fl oz, but that is more than enough. My wife and I have used this cream multiple times, and it is still half full. This cream will truly last a long time. And believe me, it does not take a large amount to fully feel the awesome affects that are contained within the jar. Enjoy!
Follow-up commentary
29 months after original review
Overall, I am still very pleased with this product. It seems to be bottomless as we have used it a lot but never seems to go down. I really recommend this.
This product was provided free of charge to the reviewer. This review is in compliance with the FTC guidelines.
Thank you for viewing
Men's pleasure cream
review page!