A Slippery Slide into Wonderland
It has a nice feel, no smell and is thick enough to stand up to any application. Even if you aren't a fan of Alice in Wonderland, this lube might be your cup of tea!
Published:
Pros:
--Great Consistency for Many Applications
--No Need to Reapply
Cons:
None
Wonderland Natural Personal Lubricant is available from Doc Johnson, presumably as part of the same Wonderland line which includes five Alice in Wonderland themed vibrators. The logo used on the tube is the same logo used on the boxes of those vibrators. The Wonderland Personal Lubricant line includes several options, including silicone, tingling, water based and natural. This lube can be used by either men or women, for solo or couples play. It could be used for vaginal or anal intercourse, as well as play with toys. As it's a water based natural lube, it is compatible with a wide range of toy materials.
As far as the consistency of this lube, it really surprised me. It's a middle of the road lube in terms of thickness. Lots of water based lubes are really runny, and tend to drip off of your hand. Other water based lubes marketed as anal lubes are thick and tend to be too much like a gel for play other than anal. This lube walks the line between the two. It's thick enough to want to stay where you put it, and not want to drip, but it's not so thick as to get in the way of solo play or feel too thick and gelatinous.
I know that some people want a breakdown of ingredients, so here they are.
Wonderland Natural Personal Lubricant Ingredients:
Water- This is good old H2O, which makes sense since this is a water based lube.
Propanediol- This is an organic compound mainly used as a building block in the production of polymers.
Sodium Hyaluronate- This is the sodium salt of hyaluronan. It has medical applications, as the elasticity of the solution assists in absorbing mechanical stress and provides a protective buffer for tissues
Carrageenan- This is extracted from red seaweeds, and is used as a vegetarian or vegan alternative to gelatin. It is able to hold a gel texture at room temperature, so is mainly used as a thickening or stabilizing agent. It can be found in numerous cooking or baking situations, as well as health and beauty products.
Xanthan Gum- This is a polysaccharide which is mainly used as a stabilizing or thickening agent in various health and beauty products, and is also present in many processed food items. It increases the viscosity of the solution it is in, and helps to prevent to solutions from separating.
Hydroxypropyl Guar- This is guar derivative used as a gelling agent, so another thickener.
Shea Butter Glycerides- These are a mixture of mono, di and triglycerides derived from Butyrospermum Parkii (Shea) Butter. Aside from their natural conditioning properties, they help to emulsify and stabilize the viscosity of many health and beauty products.
Colloidal Silver- This is a solution that contain various concentrations of ionic silver compounds, silver colloids or silver compounds bound to proteins in water. Silver does contain natural antibacterial properties, and can be used in wound dressing or other medical applications to prevent the spread of antibiotic resistant bacteria. There is little evidence to support the health benefits of ingesting colloidal silver, but it is popular in alternative medicine.
This lube greatly reduces friction, and even vigorous rubbing produces no heat or tackiness. It may be the least sticky lube I have ever used. You make encounter a bit of globbiness if you apply too much, but it doesn't detract from the task, or change the sensation.
When you are done playing, this lube is easy to wash off. It rinses clean with no greasy residue, and actually leaves your skin feeling soft and moisturized. I did find that I had to use a bit of soap to clean it quickly, just using water took a bit of time to wash it off. Because of this, I tried using it in the bath. It worked pretty well for toy use while in the tub, which surprised me because it's a water based lube. It's a great lube for using your silicone toys in the tub!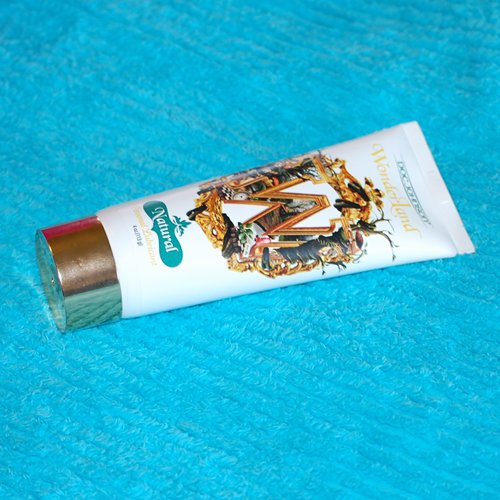 Wonderland Natural Personal Lubricant comes in a 4 oz. tube with a large W logo on the front. The logo has vines and small pictures from the Alice in Wonderland story. The back of the tube gives basic information about the lube, including some information about Doc Johnson. The back also lists the ingredients, and invites you to follow Doc Johnson on Twitter and Facebook.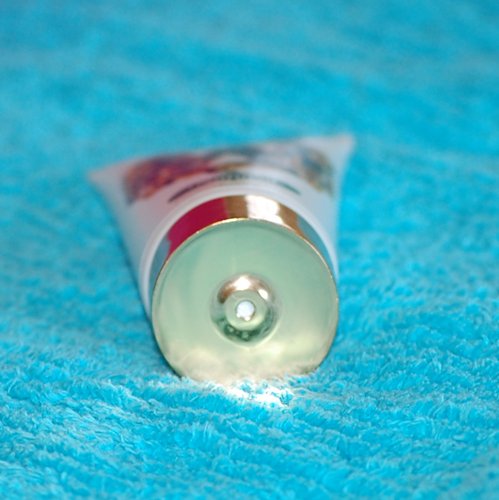 To open the package, you twist the cap which opens the small hole in the center of that cap. After squeezing the amount you need, you twist the cap again to close the hole.
Experience
For those of you who are curious, I did the dirty work for you and tasted this lube. I'm happy to report that there is no discernible taste at all. There is no noticeable smell either, which makes this great for those of you who are sensitive to fragrance.
I did a bit of a comparison with several lubes so you can see how this one stacks up. The lube on the far left is Wicked Aqua, the center is the Wonderland Natural Personal Lubricant, and the one on the far left is Maximus. I tried to use roughly the same amount of each, and the last photo is after about a minute of tilting the surface.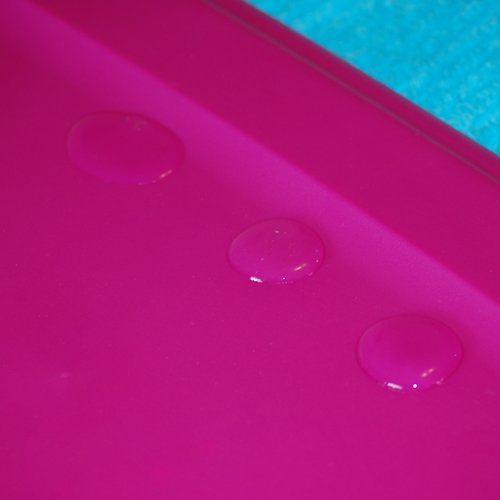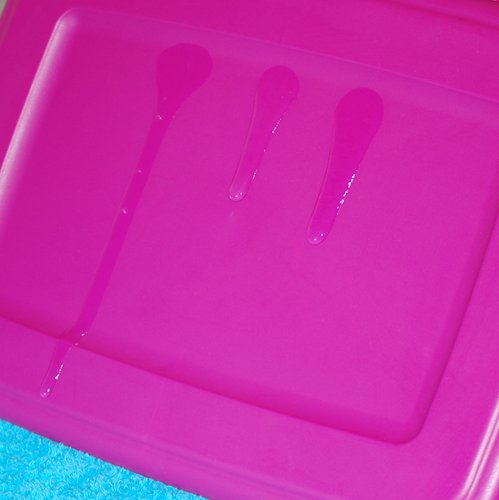 When I use this lube for solo play, it performs well with no need to reapply. To be fair, I do produce a lot of natural lubricant, so that may be a factor. For toy play, I found that I really like this lube if I don't feel like warming up and producing my own lube before inserting a larger diameter toy. This lube was also a winner for anal play. It does require using a bit more than a lube specifically designed for anal play, but not a ton more.
A huge factor for me, when I'm selecting lubes, is whether or not it makes a gross noise during use. I really can't stand to hear that gross suction gloppy sound when I'm fooling around. This lube has none of that, and really works with you instead of against you, with no distracting yucky sounds.
Overall, I'm very satisfied with how this product performed. I wasn't expected to be this blown away, but I can't really think of a reason to not suggest this product.
Follow-up commentary
8 months after original review
This still works well and get the job done, we use it on occasion. There have been no negatives to note. No complaints!
This product was provided free of charge to the reviewer. This review is in compliance with the FTC guidelines.

Thank you for viewing
WonderLand personal lube natural
– lubricant review page!