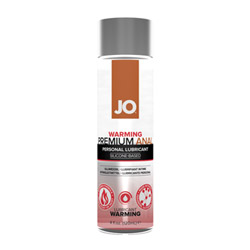 JO personal warming anal lubricant
Lubricant
by System JO
Anal: No Longer a Pain in the Ass
Overall, I was happy with the product. It works as intended and it makes anal more enjoyable for both parties. I would recommend this to anyone.
Published:
Pros:
Works well, warming agent.
Cons:
Hard to clean off.
My boyfriend and I just started having anal sex about a month ago. It was nice and all, but it hurt. It hurt quite a bit actually due to the fact that my guy is blessed. ;) So, I figured that it would be a great idea if I were to get some lube from my favorite sex toy website ever. :)

Of course I would not want just a plain old lube - I had to get one with added benefits! I saw this and had to have it! I grabbed it right up and was excited for it to come.

I got it about 3 weeks ago, but we didn't try it until 2 days ago - Do not ask why we waited. I'm mad about it just as much as you guys are! Haha! I am happy that I got it - very happy.

It works like any anal lube should work - it lubricates and makes anal a lot easier to "take in." Instead of anal sex hurting, it felt pretty damn good! My boyfriend enjoyed it a lot more as well! Before, anal was good, but honestly, this stuff makes it ten times better!!

The thing I really like about this lube compared to others out there is the warming aspect. It was an added bonus for both me and my boyfriend which made the experience even better! I have had some warming agents that warm too much - to the point of actually burning somewhat. You do not want your vagina or in this case, your ass, burning!!

This product is silicone-based and it is safe to use with latex condoms - which is obviously a good thing.

My only complaint - and I have never tried lubes before so it might be true with all lubes - is that it is a little hard to clean off. Trust me - It is an odd feeling down there the day after! Haha!

This product is not really edible, but my boyfriend tried it and said it was somewhat spicy. I would not taste it if I were you - unless you like spicy lubes ...
This product was provided free of charge to the reviewer. This review is in compliance with the FTC guidelines.
Thank you for viewing
JO personal warming anal lubricant
review page!