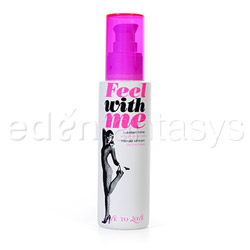 Feel with me intimate lubricant
Lubricant
by Love To Love
Feel what with you?
I wasn't a big fan of this expensive, and short lasting lube, but maybe it's because I'm new to the lube scene. All I know is that if this lube is high quality, I'm not wasting my money on any lube at all.
Published:
Pros:
absorbs to leave skin soft
Cons:
absorbs quickly
I'm not a pro or anything when it comes to lube, but I'm pretty sure it's suppose to stay slick...for a while. With this stuff costing almost $25, I would expect it to be a decent quality. I used it for a variety of different tasks to test it out and I wasn't all that impressed. First, let's talk about the 3.3 oz bottle. As you can see from the product page, it comes in a white bottle with a pink cap. On the bottle it says "Feel with me" and has a woman standing in a body stocking. Everything written on this bottle about the lube itself is in French and English. On the back is tells you, "Sensual massage lotion that will leave you skin (yes, I said 'you skin') silky smooth and will be the ideal companion for your intimate moments thanks to intense lubrication. Compatible with condoms in compliance with French standard NF S 97034." The bottle isn't totally discreet but it's not completely obvious that it's lube either...although there is a woman in a body stocking on the front so I suppose it's your call.

On to the good stuff. For a massage, it worked pretty well. It didn't last nearly as long as I wanted it to, but it didn't absorb so much that I couldn't continue the massage without adding more, if that makes sense. The lube itself absorbed, but it left a silky layer on my partners skin that made it a little easier for my hands to glide. So, I didn't pull his skin when the lube absorbed but it was more comfortable for him if I added more lube. The nicest thing is that it doesn't have any sort of scent.

I also used it to massage OTHER things, if you get my drift. If you don't get my drift, I gave him a handy j...aka hand job, whatever you want to call it. It was alright. Did the same thing that it did with the back massage, really. It absorbed but left a layer of silky something. Unfortunately there was more drag with the hand job, so reapplication was a must.

He decided to use it with his toy the next day and informed me that it was terrible. It lasted only a few minutes before he had to reapply and I think he eventually just gave up on it. For the record, it's a silicone lube, so it was compatible with his Golden Lips toy. I wouldn't suggest this stuff for use with a toy since it doesn't stay slick.

We didn't use it for sex, because I personally don't need lube (lucky me.) The reason I got it was to test it with his toy and it failed that test miserably. We'll probably continue to use it as a massage lotion until it's gone, just so we don't waste it, but as for any other type of lube, it's just not worth the $25.
This product was provided free of charge to the reviewer. This review is in compliance with the FTC guidelines.
Thank you for viewing
Feel with me intimate lubricant
review page!