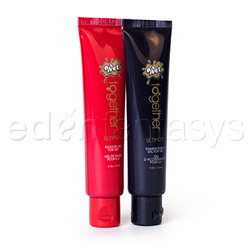 Wet Together ultimate
Clitoral gel
by Wet International
For Me: Excruciating Burning. For Him: Disappointing. Thumbs Down!
Maybe it was a bad batch or some weird sensitivity on my part, but the "Hers" gel caused an unbearable burning sensation to my delicate parts. It did not wash off like the directions state it does. Even with a cool compress, I had to wait it out. The "His" gel was disappointing on the other end of the spectrum in that it produced virtually no sensation at all. :(
Published:
Pros:
Sorry, I can't think of any. :(
Cons:
For me: it produced a horrible burning sensation. For him: virtually no sensation.
This dual package of "pleasure gels" for Him and Her arrives in a black and gold box. The box itself contains information and instructions on use as well as the usual photo of a practically naked couple with perfect bodies. The writing is tiny and especially on the gold part, very difficult to read. You have to tilt the box in a certain position to get the glare off.

Inside the box are two tiny tubes consisting of 15 cc's (a half ounce) of gel in each. The box states that there are 45 applications in each tube. I'm kind of doubting that, but it makes no different to me as this product was a huge disappointment. We won't be using it one more time, let alone 40+ more times.

The price of this product is quite high although it may have been worth it if it performed well. It did not.

The product is a clear gel. It was thick enough to stay put, yet thin enough to be easily absorbed and applied (too easily on my part). It smelled of very strong menthol, the women's having a noticeably stronger odor than the man's.

The flip top tubes can be quite stubborn to open so have them ready before you want to use them - if you dare.

According to the box, it is compatible with latex products.

I did not taste this product. The instructions do not indicate if this is safe and I wasn't about to try.

The warnings on the box indicate to discontinue use immediately if irritation occurs (didn't have to tell me that twice). It advises to consult your physician before use if you have a serious medical condition, such as heart disease, active herpes or a autoimmune disease (I have none of the above).

SO I'm sure you've figured out long before now that we did not like this product. Read on to find what went horribly wrong!
Experience
For me: Painful! I've tried some of these "enhancing" products before. Most didn't measure up. Some were okay. One was uncomfortable. This one was excruciating! It B.U.R.N.E.D.! Not just a little, but A LOT! I actually thought it might subside a bit after a few seconds, but it just got worse and worse. I've had 6 children, so I'm not incredibly sensitive. I honestly had to get up and go into the bathroom. I was almost to the point of tears or throwing up. That's how horrible it was. The directions state that it washes off easily with warm water. It does NOT. I tried that. I tried a cool washcloth. I tried everything. It was a good 10 minutes before it started to wear off.

When we finally got back into trying to resume our intimate time AFTER I made him wash his hands thoroughly with soap and water, he began to explore an alternate intimate area and although it didn't happen as quickly and wasn't to the point of where I couldn't tolerate it, it did start burning and became highly uncomfortable. And this was AFTER he washed his hands! He even said his fingers (tough farmer/mechanic/man fingers) were burning!

I will say we had been in the pool earlier in the evening, so there is a small chance this product could have reacted to the pool chemicals. I don't know this, of course, but I'm throwing the idea out there. I refuse to ever put this stuff near me again, so I'm not going to test the theory.

I also reread the instructions on the box which state to "apply SEVERAL drops ... to the external female genitalia. Gently massage into this delicate skin ... " He states he only applied one small drop, but even if he applied more, it should not have had that effect. The directions also state that it takes 5 minutes to take effect, but the horror was almost immediate.

For him: He states he experienced a slight warming sensation, but nothing more, and it only lasted a short time. I did not feel it when we had sex at all. I offered to put the woman's stuff on him, but he vehemently refused (and I wouldn't have anyway, because then it would have ended up back on me). NOTE: We DID try the man's formula several times with the same results.
This product was provided free of charge to the reviewer. This review is in compliance with the FTC guidelines.
Thank you for viewing
Wet Together ultimate
– clitoral gel review page!