I Cunt Fweel Meh Tung
The Colt Sta-Hard Ready Wipes provide a numbing agent in a convenient to use and individually wrapped wipe for on the go use. Although designed for single use, the wipes are generous enough that they can be used multiple times in a single session. If you're interested in this type of product, I would recommend these cautiously due to some of the ingredients.
Published:
Pros:
Convenient,
Easy to use,
Mild numbing effect
Cons:
Health concerns associated with ingredients
The Colt Sta-Hard Ready Wipes are a convenient way to carry around a desensitizing product in an individually wrapped wipe. If you're on the go and want to go on and on, this is the product just for you. Why carry around an entire bottle when you can simply tuck one of these in your back pocket, use, and dispose. How easy is that!
Each wipe is packaged individually in a 3" x 5" foil packet that is notched on one side for easy opening, even in the dark. Although the wipes are labeled as fragrance free, there is a slightly sweet, slightly medicinal smell to them that reminds me of a dentist's office. It's not horrible but not an odor I care to smell often. Fortunately, it's not noticeable during use except for when you first open the packet. For the purpose of this review, I tasted the solution on the wipes and found it to be extremely bitter. Anyone that has tasted
Maximus
lubricant will know what I mean. Also, my tongue was immediately numbed from the desensitizing agent in the wipe. The numbing effect on my tongue lasted less than a minute.
The wipe is made of a woven cloth material and is a generous 8" x 10" in size. It is very similar to the material found in toy cleaning wipes in that they are slightly stretchy and absorbent. After removing a wipe from the packet, I noticed that the wipe was not completely saturated with the desensitizing solution. However, this should not be an issue due to the size of the wipe. There should be more than enough of the solution present for even the largest penis.
White areas indicate areas lacking any solution: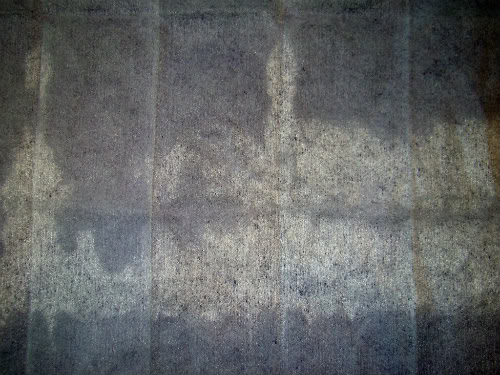 The desensitizing solution on the wipe has a greasy, slick feel when rubbed between my fingers. It was relatively easy to apply to my penis with the wipe, although the wipe was too big and I had to bunch it up some. There was enough solution present to use the wipe multiple times in a session. I wasn't sure if this was supposed to also be used as a lubricant so I tested it as such. Although the solution initially feels greasy, it dries quickly and gets very tacky so I would not recommend using it alone if lubrication is also required. Even though the solution felt greasy, it washed away easily with soap and water.
After wiping on a dildo: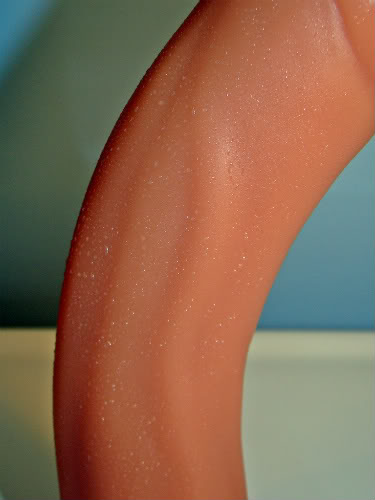 When using a product of this type, I would recommend allowing a few minutes after applying to allow it to take full effect. Though marketed for the penis, there's no reason it couldn't also be used on other sensitive areas such as the clitoris to reduce sensitivity. It could also be used to desensitize the anus prior to anal sex. However, this is generally not a recommended practice since anal sex should not be painful and pain is probably an indication that you are doing something wrong. I found that sensation was only reduced slightly and for only a few minutes. While similar products have been recommended to address premature ejaculation, I'm skeptical as to how effective this would be given how mild the effect was. However, for individuals looking to simply prolong their sessions, this may be sufficient.
There are health concerns associated with some of the ingredients in these wipes. Mild concerns are indicated with a "
*
" and more serious concerns are indicated with a "
**
" and discussed further below.
*Propylene Glycol
: Humectant and skin conditioning agent. May cause irritation to skin and eyes.
Water
**Benzocaine (2.0%)
: Topical anesthetic. May cause methemoglobinemia.
Euterpe Oleracea Fruit Extract
: (Acai Berry) Hair conditioning ingredient.
Punica Granatum Extract
: (Pomegranate) Hair conditioning agent.
Tromethamine
: pH adjuster.
Acrylates/C10-30 Alkyl Acrylate Crosspolymer
: Emulsion stabilizer and viscosity increasing agent.
Citric Acid
: pH adjuster and preservative.
*Phenoxyethanol
: Preservative agent that retards microbial growth. May cause eye/skin irritation.
**Methylparaben, Ethylparaben, Propylparaben, Butylparaben, and Isobutylparaben
: Preservatives. May cause skin irritation.
Benzocaine
is a topical anesthetic used as a numbing agent in health care products. Unfortunately, exposure to benzocaine may result in a serious and potentially life threatening condition called methemoglobinemia. Simply put, this condition interferes with the bloods ability to deliver oxygen to tissues. Symptoms may include blue/gray lips and skin, dizziness, and shortness of breath and typically occur within minutes to hours of exposure. Symptoms may also occur after your first exposure or after multiple exposures and there is no correlation to amount or concentration. The condition has been most commonly reported in children less than 2 years of age (after use of teething gels) but may also occur in adults. While methemoblobinemia is rare, the severity of the condition is why I have listed benzocaine as a serious concern.
Experience
(continued)
Methylparaben, Ethylparaben, Propylparaben, Butylparaben, and Isobutylparaben belong to the paraben family of preservatives that are frequently found in cosmetics and personal care products. For individuals with sensitivity to parabens, exposure to skin may cause irritation including a burning sensation and should be avoided.
Parabens
also mimic estrogen activity and may be potential hormone (endocrine) disruptors. Paraben levels as high as 25% are considered safe. As reference, cosmetics typically have paraben levels less than 1%. I have listed parabens as a serious concern only because the skin sensitivity issue is fairly common.
The packaging is typical for Colt products and features a close up of washboard abs and clearly states "Sta-Hard Ready Wipes" on the front panel. Not discreet. Both the box and the individual packets contain the ingredient list, which is a nice feature since you are unlikely to carry around the box for reference. Although the packet contains a manufacture date, an expiration date would be a welcome addition. The box is made of recyclable cardboard.
EF also offers
Colt Lubed-Up Ready Wipes
, which are similar but a different product. The Lubed-Up Wipes are specifically for applying a water based lubricant and have very different ingredients.
Follow-up commentary
6 months after original review
I intentionally saved one wipe to evaluate for the follow-up review. Mainly, I wanted to see if the product evaporated any more resulting in a dry wipe. Fortunately, although the wipe was slightly dry to begin with when it was first received, it did not seem to dry any more over the past several months. It's not a product I need or would use, but it seems to work reasonably well.
This product was provided free of charge to the reviewer. This review is in compliance with the FTC guidelines.

Thank you for viewing
Sta-hard ready wipes
review page!