Barely Lubed Up And Definitely Not Ready To Go
The Colt Lubed-Up Ready Wipes are designed to be a convenient way to carry around lubricant for when you're on the go. The concept of using a wipe is flawed since it wipes off lube at the same time you try to wipe some on. The small amount of lube you are able to apply dries quickly and leaves a sticky residue.
Published:
Pros:
Convenient to use,
Relatively safe ingredients
Cons:
Poor quality lube,
Flawed concept
The Colt Lubed-Up Ready Wipes are individually wrapped cloth wipes infused with a water based lubricant. It provides a convenient and easy to use source of lubricant for on the go action. Great idea, right? What could be easier than use and toss? Unfortunately, there are several flaws in both design and execution of this product.
Each wipe is packaged individually in a 3" x 5" foil packet that is small enough to carry in your back pocket or a purse. Fortunately, the packet is notched on one side and easy enough to open, even in the dark. Although labeled as fragrance free, there is a definite scent reminiscent to rubbing alcohol. It's neither overly strong nor noticeable during use, but it definitely has a somewhat unpleasant scent. There is no discernible taste to the lube.
One problem I immediately noticed upon unfolding the wipe is that the entire wipe is not infused with lubricant. I don't think it's due to the lube drying out since the package is well sealed. Instead, I think it's a manufacturing issue. My guess is that the wipe is folded and then lubricant added before being sealed in a packet. This means that lube is not evenly distributed among the wipe. Hopefully you can appreciate this in the picture below (the whiter areas lack any lube):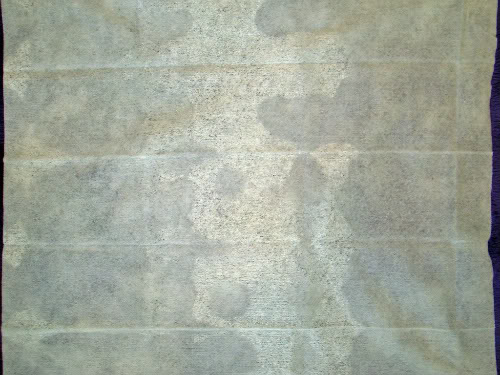 The lubricant is water based and has a slightly slimy feel when rubbed between the fingers. The next issue I encountered is that it gets tacky almost immediately and does not seem to last very long. I used the wipe on my wife vaginally, on toys for vaginal insertion, and also while masturbating. The lube simply is not sufficient for any of our needs and I did not even attempt using it for anal. By the time you wipe some lube on and attempt to insert, it already feels dry. Even when dry, the lubricant left a sticky feel that washed away easily with water or personal wipes.
Close up of dildo after applying wipe: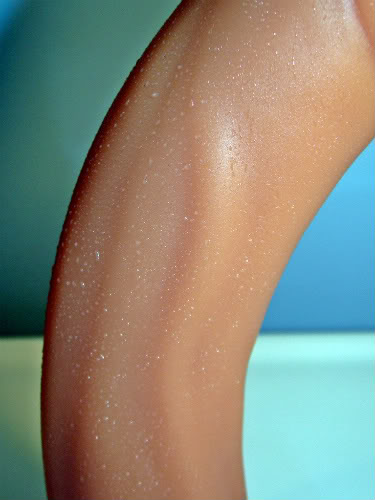 Which brings me to the major design flaw of this product: using a wipe to apply lubricant. Because you are using an absorbent cloth wipe to apply lube, it also removes lube at the same time and thus limits how much you can apply. At best, you can apply a thin coating. The wipe itself is unnecessarily large at 8" x 10". When unfolded, it was just too big to use easily. For size reference, you could wrap the entire wipe around an 8" long penis with a diameter of over 3". I'm hoping this represents less than 1% of the male population or else I need to see a urologist about my micropenis.
Pictured next to an Eden toy and body wipe: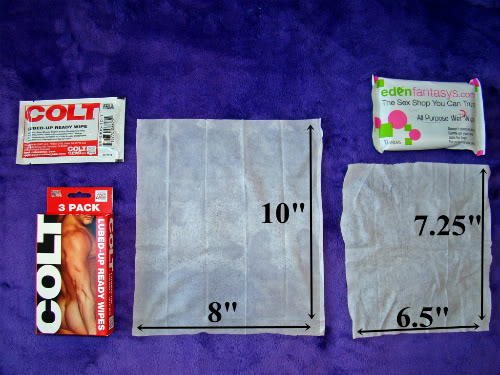 There are only minor concerns with any of the ingredients which are indicated with a "
*
" below:
Water
Glycerin
: Humectant and skin conditioning agent by helping to retain moisture.
Sorbitol
: Humectant and skin conditioning agent.
Euterpe Oleracea Fruit Extract
: (Acai Berry) Hair conditioning ingredient.
Punica Granatum Extract
: (Pomegranate) Hair conditioning agent.
Cellulose Gum
: Emulsion stabilizer and viscosity increasing agent.
*Triethanolamine
: Surfactant and pH adjuster. May cause skin irritation.
Acrylates/C10-30 Alkyl Acrylate Crosspolymer
: Emulsion stabilizer and viscosity increasing agent.
Tetrasodium EDTA
: Chelating agent that helps to prevent deterioration of product.
*Phenoxyethanol
: Preservative agent that retards microbial growth. May cause eye/skin irritation.
Caprylyl Glycol
: Humectant and hair/skin conditioning agent. Has some antimicrobial properties.
The box is typical for Colt products and is not discreet in the slightest. The front contains a 3/4 backside view of an attractive, muscular male and clearly states "Lubed-Up Ready Wipes" on the front. Both the box and each individual packet list the ingredients, which I think is a helpful feature. There is a date listed on the product that I assume is a manufacture date, otherwise my wipes expired 8 months ago. The box is made of cardboard and can be safely recycled as long as you bury it among your newspapers.
Experience
So how might this product work? If a silicone rather than water based lube was used, it might work since much less lubricant is needed. It could also be used as a feminine wipe to moisturize private areas during times of the month my wife claims she is dry as a desert down there. I also used it as a makeshift masturbation sleeve. It wasn't exactly the most exciting experience but it stayed moist and would work in a pinch. If you need lubrication that's convenient to carry around and works at least as well as these wipes, try using spit.
EF offers another similar product by Colt,
Sta-Hard Ready Wipes
. These wipes are not designed for lubrication purposes and have very different ingredients with greater health concerns.
Follow-up commentary
6 months after original review
I saved one packet to evaluate for the follow-up review. I didn't actually use it since I already knew that the included lubricant didn't work for me. However, I was curious to see if the wipe dried up any more, which it did not.
This product was provided free of charge to the reviewer. This review is in compliance with the FTC guidelines.

Thank you for viewing
Lubed-up ready wipes
review page!