Ice Cream...Ice Cream...We All Scream For a Minty Fresh Taste?
This was actually a rather good lube. It's creamy, has a refreshing taste with the minty flavor and the ice cream flavors was a good idea. The downsides that I saw is the flavors just aren't that vibrant and if you don't like the minty flavor of lubes this isn't for you. We did enjoy this and I would recommend it as the taste was good.
Published:
Pros:
Creamy, Slick, Refreshing Taste, Good Idea With Ice Cream Flavors
Cons:
Flavor Not As Vibrant As Expected, Minty Flavor
What You Get
In the product by California Fantasies you get four .42oz plastic squeezable tubes. The four tubes are four different flavor of lubricative fun and they are Cool Colada (Blue Bottle), Cherry Berry (Orange Bottle), Alluring Apple (Green Bottle) and Strawberry (Red Bottle). When opening the package the bottles are in a plastic tray that slides out. We just ended up throwing the tray away and putting the bottles back in the package.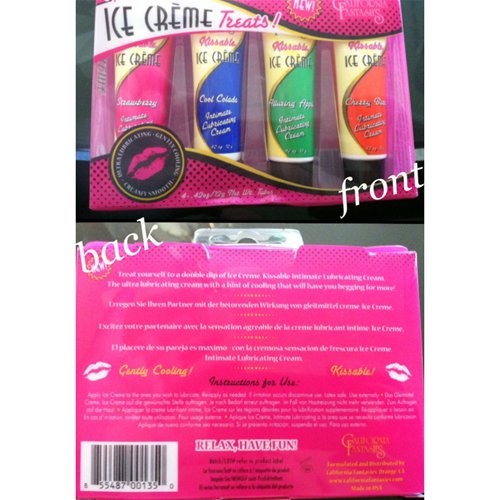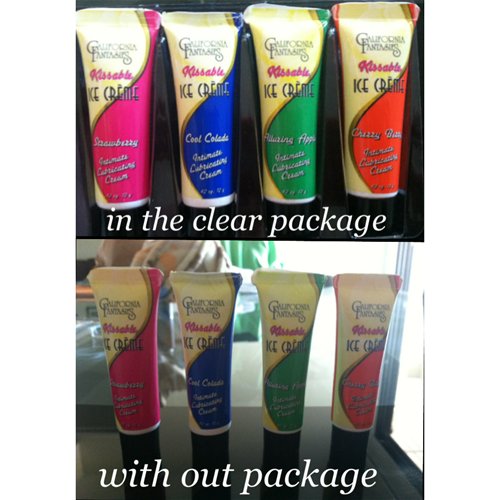 How To Enjoy
Well, of course we choose to start of with a little foreplay and then move into sex. As for what you would like to do, there can be a number of things. Since this lubricant is edible it can be applied anywhere on the body. This lube would probably even work well if you wanted to give a footjob. Keeping in mind that some of the places would just be for the sensuousness since this is a lube. As for places like the breasts, penis or nipples, of course, are going to be a great place for using this as a lubricant.
Also, there are instructions for use on the bottle and the package the tubes came in. They say for use is to apply ice cream to the area you wish to lubricate, re-apply as needed, if irritation occurs discontinue use; latex safe, use externally.
Also some of the ingredients make this a hybrid so it shouldn't be used on products that aren't compatible with silicone based lubes.
Let's Get A Feel
The lubricant is dispensed from a plastic squeezable bottle. It is very simple to control, as the harder you push the more is going to come out. It is pretty much like squeezing a bottle of lotion; the more you squeeze the more you are going to get. But as long as you aren't squeezing your not going to get anything from this bottle. This is treat is as thick as lotion, has the same consistency, during application has to be rubbed around and has somewhat of that greasy feeling. You can apply the lube with the safety of knowing you don't have to chase it around or be scared of applying to much. This can be somewhat oily, but as you go about using I don't think your going to notice much of a difference except that its very slick.
The Flavor and Smell
This is completely edible and I advise that if you enjoy a minty flavor then you should have no problem enjoying this tasty treat. They all have a good taste except for the cherry berry, which I'm still trying to figure out what it taste like. The flavor is somewhat week as we couldn't taste them that well, but the minty flavor isn't to overpowering. I hope this makes sense. I suspect, though, that the cherry berry is supposed to taste like cherries, the apple is supposed to have an apple flavor, the strawberry a starwberry flavor and the colda a coconut flavor.
The smell is somewhat faint on two of the four. We tried smelling them before use and was only able to actually smell the strawberry and colda. As for a comparison the strawberry smells more of a strawberry yogurt and the colda smells like a Pina Colda. Unfortunately, no matter even after application the smell is still faint on the apple and cherry.
How Well It Worked
This was very simple to use. All you have to do is open the cap, apply on the area you want to lubricate or just add a little enjoyment to, and then go about licking or oral enjoyment.
It worked very well when my wife applied this to my penis and proceeded to give oral enjoyment. After, her doing oral we moved into sex where I proceeded to put this on her nipples and without washing proceeded to have sex. I wouldn't though in my opinion put this on before sex, but just the remainder of whats left after oral. Only because of the ingredients and that the box says to use this externally. There is also a cooling sensation to the cream, but it isn't until a little ways in that you start to feel the cooling. To me the cooling felt like the sensation when you blow on something wet and feel the air hitting whatever your blowing on.
This was also very easy to clean as it took just a little soap and water to wash off.
Ingredients
- Purified Water
-
Caprylic
-
Octyldodecanol
-
Glyceryl Sterate
-
Peg 100
-
Polydimenthyl
-
Emulsifying Wax
-
Decamethyl
-
Cetyl Alcohol
-
Triethanolamine
-
Sodium Benzoate
-
Diaz Urea
-
Potassium Sorbate
-
Poly 20
-
Collagen
-
Carbo-mer
-
Disodium EDTA
-
Saccharin
-
Sodium PCA
- Flavor
Experience
I think that this cream did serve the purpose it was supposed to as it gave the cooling sensation, it gave a really slick lubrication and the taste was good even though it wasn't what was expected. A good note is this is water soluble, so it does go away very easily with just using a rag and some soap. I didn't see any need to take a shower, except for the fact of just cleanliness after sex. I am just giving this a four because the flavors where very weak which is actually why we got this item. I saw ice cream and just thought yum and that was somewhat disappointing that it wasn't as flavorful.
Follow-up commentary
4 months after original review
We still like these but we have slowed down on using things, but they have a great taste if ou enjoy a flavor.
This product was provided free of charge to the reviewer. This review is in compliance with the FTC guidelines.

Thank you for viewing
Kissable ice creme treats
– lubricant review page!