Just For Men, or Was It the Placebo Effect?
The Hot Rawks is not only supposed to help your libido but also your mood, stress, energy, and a wide variety of other things. While I did not experience any benefits from this product, my male partner had. If you've consulted with your doctor, and need one or more of the "benefits" of the product, it is worth a shot. It may not have worked for me, but maybe it'll work for you.
Published:
Pros:
Organic, Can be taken by men and women, Gluten-Free, Dairy-Free, No negative side effects.
Cons:
Had no affect on me, Hard to determine if my partner experienced the placebo effect or not.
Hot Rawks is an organic supplement that is supposed to "naturally enhance overall vitality". The Hot Rawks supplement by Raw Nations is for both men and women. The product is marketed as a libido enhancer, but it is also supposed to improve the following:
-Sexual performance
-Energy
-Mood
-Drive
-Circulation
-Immune system
Those are the claims stated on the bottle. The
Hot Rawks website
has a detailed list of all of the benefits the product is supposed to have for a person, and they are categorized by gender. There are many other benefits that the product claims to provide such as stronger erections for men, to relief from PMS symptoms for women.
The product packaging is like most supplement packaging; a bottle with a childproof twist cap. The bottle is black in colour and has a sticker label which wraps around the bottle. The wrap around label states the brand, product name, benefits of product, supplement facts, ingredients, directions, warnings, company information, and a few other text pieces of less importance.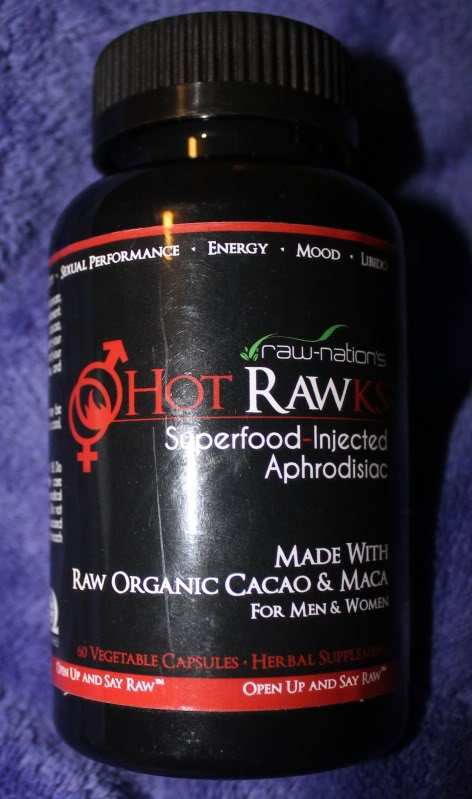 This supplement should not be taken by anyone under the age of 18, or any person who is pregnant or nursing. While the supplement is all-natural, you should consult with your doctor before using this product and always keep this product out of reach from children. There is a notice on the packaging that states that the supplement has not been evaluated by the FDA
The ingredients of the supplements are as follows:
Organic maca root, organic epimedium leaf (horny goat weed), organic cacao seed, organic tribulus terrestris fruit, organic panax ginseng root, wild harvested catuaba bark, organic cayenne fruit powder, vegetable capsules, organic brown rice extract, silica.
Once you get the childproof cap off of the bottle, you'll need to break the safety seal and remove the cotton from inside of the bottle to access the supplements. The supplement is a beige power, packed into a clear capsule. On the packaging, it states to take 2-4 capsules daily. You can take the supplement in its capsule form, or you can open the capsule and mix the powder into water or juice. They have a very odd taste to them, and will leave an undesirable after-taste in your mouth. We took the capsules in their capsule form, and would not suggest mixing it with water because the taste would be horrible.
The bottle contains 60 capsules, which would be a one-month supply if only one person were taking the supplements and just 2 capsules per day. The capsules are what my mother would call "horse pills", because they are quite large. Below is a photo of 2 of the Hot Rawks' capsules, sitting beside a Tylenol Easy Caps' Extra Strength for size comparison. The capsules are approximately ¾ inches in length.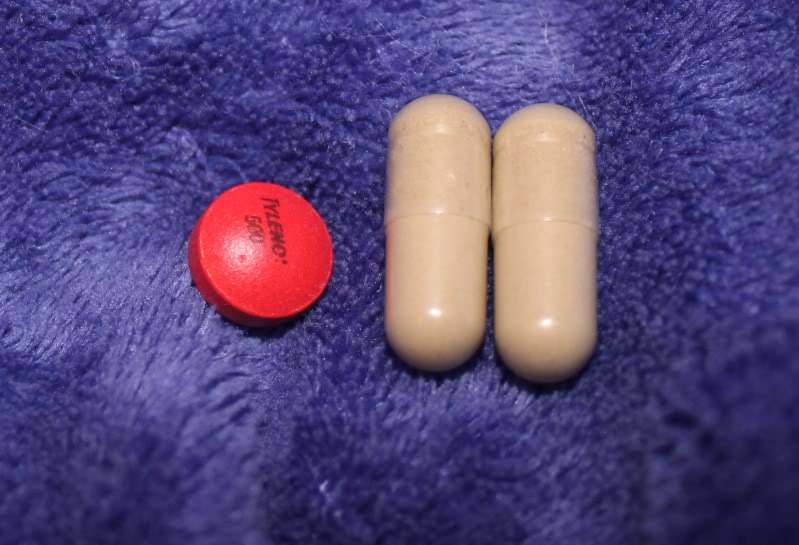 EXPERIENCE
Before trying the product, I decided that the only information I would find out about the product is the necessities (basically everything stated on the bottle). I didn't want to be influenced by any other product reviews before trying it myself. I am a bit sceptical when trying supplements, but I kept an open mind when using the product.
Both my partner and I had used the product to see how it worked for the both of us since the product is said to be good for both women and men.
Day 1: My partner and I decided to take only one capsule on the first day, just to ease our way into taking them (and also in case we did not enjoy any feelings it produced). My partner noted that it gave him a bit more energy, but that was about it. I noted that it did absolutely nothing for me.
Day 2: We decided to take 2 capsules each on the second day since just taking the one capsule on day one did not do anything really for us. My partner noted that he still felt the bit of extra energy, but also that he was getting more frequent erections that were more hard and lasted longer than usual. Also, he noted that there was less time in between ejaculation before he was able to become erect again. For me, I had a bit of energy that evening, but wasn't sure if it was the Hot Rawks or not that made me a bit more energetic than usual.
Experience
..continued

Day 3: I decided we would take 2 capsules again because I was not sure if the energy I had from the second day was because of the Hot Rawks or not. I did not have any extra energy on the third day after taking the medication, so I assume that the second day results were not from the capsules, but rather just a burst of energy I had from something else during the day (food I ate, etc). My partner noted all of the same things as he did on day 2 (stronger and longer erections, energy, etc) but also said that his orgasms were intensified.

Day 4: I decided I'd take four capsules because I was hoping that they would have some sort of effect on me like they were having on my partner. Unfortunately there were no noticeable changes in my mood, sexual desire, etc. On day 4, my partner said he didn't want to take anymore for reviewing purposes because it made him "too horny, too often". He said that he'll take it when/if he needs it in the future.

Day 5: I decided that I'd take four capsules again, and if it didn't do anything for me then it's clear that they weren't for me…. And that's exactly what happened- nothing.

Neither my partner or I had experienced any negative side effects from taking the product (headaches, pain, etc).

Overall, my partner really enjoyed it and said that he liked the quick results and the benefits from the product. He really liked the fact that the supplements are organic and he was able to take them with his medication. He said that he would give it a 5star rating and will be using the product again in the future as needed.

As for my overall opinion… well, the product did not do anything for me. I did like the results it had on my partner though. The only thing I am unsure of is if my partner had a bit of "placebo effect" with this product. He did read the bottle and seen what the product is supposed to do, so he may have contributed to the product "working" for him. Then again, I'm sceptical just because it did nothing for me personally. Either way, his mood and energy was noticeably increased, and the benefits he noted in our review journal were true.

I've decided to give this product a 3 out of 5, even though my partner gave it a 5 out of 5. It did not work for me, and it's hard to tell if he was experiencing the placebo effect. Perhaps this product works better for men? Or maybe my body just did not react to the supplement as it was supposed to? From our experience, we'd be more likely to recommend this product to men than to women, and to those men with a low libido.
Follow-up commentary
3 months after original review
My partner hasn't taken any of these supplements since, and neither have I. They've been sitting on the shelf with our vitamins but haven't been touched since the review. My partner originally said that he would bust them out if he ever felt he needed them, but I don't see him needing them any time in the near future.
This product was provided free of charge to the reviewer. This review is in compliance with the FTC guidelines.

Thank you for viewing
Hot rawks aphrodisiac supplement
review page!