Leather Heaven!
This luxurious, great smelling oil based lube is just the thing for those that enjoy backdoor play with silicone materials in wet environments. It works great for masturbation (for the guys) and even does a good job in the massage department. Best of all, the leather scent adds some olfactory stimulation to your activities.
Published:
Pros:
Scent, Creamy texture, long lasting, works great for massage.
Cons:
Contains Parabens so it may not work for those with sensitive skin/orifices.
Some visual stimulation to set the scene-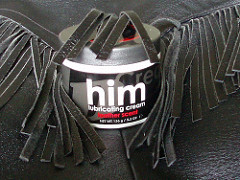 Is there anything better than the smell of leather? No, not really, at least not for me. You see, my first job was at a shoe repair/leather repair shop. Every day I went to work, I enjoyed the smell and feel of leather. From the shoes I fixed to the chaps, jackets, whips, saddlebags and the occasional bikini top that I fixed or made, the feel and smell of leather filled my senses for eight hours straight. Ya, I guess you could say it has become a fetish over the years. In addition, being an biker for many years just adds to the desire of leather.
When EF started carrying ID Him cream in the leather scent, I just had to try it out. Sure am glad I did. Not only is the smell divine, it works well too. As the name suggest, it is a cream much like a hand lotion.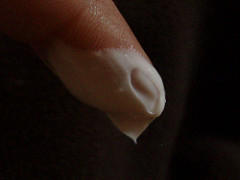 Creamy, thick, silky and rich feeling no matter where it is used. Hand job, anal play and massage are all great uses for ID Him. It is not recommended for vaginal play but all other areas are open for experimentation. Furthermore, it is not suitable for all materials so check that first before using it with condoms/dildo's/vibe's/stroker's. It does absorb into the skin somewhat and some may not care for the oily feeling left after use, but that did not bother me much. In fact, I loved how it seemed to help my dry skinned hands and skin. Did I mention the wonderful smell of leather? That last for a good long while. Ahh heavenly!
Ingredients from the jar are as follows; Water, Mineral oil, Petrolatum, Ethylhexyl Palmitate, Paraffin, Sorbitan Stearate, Stearic Acid, Cetearyl Alcohol, Ceteareth-20, Cetyl Alcohol, Lanolin Oil, Polysorbate-60, Sodium Tetraborate, Methylparaben, Propylparaben, Diazolindinyl Urea and fragrance. Try saying that five times fast.
You have your choice in the size of container, a 1 fl. oz. or a 5.5 fl. oz.. I purchased the 5.5 oz. size.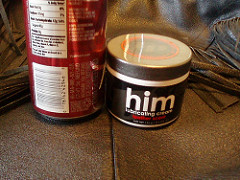 As you can see it is about half as big as a pop can. This makes it easy to store but it is over the carry-on luggage requirement for air travel. It does say "Lubricating cream" on the front so many folks will have a good idea what it is for, store accordingly.
Since it is an oil based lube, care should be used with use as far as staining bedding or other fabrics. I always use a Liberator Throe for fun time on the bed; it has not left any stains on it.
As with most lubes, care should be used to not get any in your eyes. Always wash hands thoroughly before touching your eyes, as it will cause irritation. Speaking of irritation, if you have any discomfort such as burning or a rash, do not continue to use this product.
When playing with ID Him cream in the shower (or any smooth/hard surfaced floor), please exercise caution. It will make the floor of your shower/tub slippery and it will not wipe up with just a cloth. A bit of Dawn dish soap works best but you can use and kind of soap to clean it up. Don't wait to clean it either, nothing kills the mood like falling on your ass on a hard floor.
Experience
When I received this lube, I tore the package open and quickly opened the jar and took a long, deep whiff. "Hell ya, that's the stuff" I thought. I even did a small test with the wife to see what she thought. I grabbed my jacket in one hand and a bit of the lube in the other hand. With her eyes closed, I had her smell each of them and asked her which one was which. Even though she did get them right, she had a hard time picking.

One of my favorite fantasys to act out with the wife is for her to wear her leather jacket and mini skirt during playtime. The smell of leather on top of her natural fauna just makes me crazy. With the recent heat we have been getting that's just not very comfortable for her. This lube at least gives me the smell if not the visual stimulation. Another big plus for me.

As far as use goes, this has quickly become one of my go to lubes for back door play. The thickness means it stays put well, and it will last longer than my beloved Maximus. For shower/tub play it was not so great, the water washes it away to fast while using it in the tub. It worked OK for shower play as long as I did not let the water spray directly onto it. Toy material wise, I found it worked best with my hard material (stainless and glass) toys best with silicone coming in a close second. In fact, it was fabulous to use with my new Randy Vixskin dildo.

Here is a list of materials suitable for oil based lubes (All lubes for that matter)
Agate, Aluminum, Aventurine, Ceramic, Chrome Alloy, Crystalessence, E-Glass or Cyberglass, Metal, Plastic, Pyrex and Tempered Glass, Sandstone, Silicone, Semi-Precious stone, Stainless Steel, Sterling Silver, and Stone.

Hand jobs are great and the smell just adds to the fun. Depending on how long the hand job lasts, a second application is needed; all but my silicone lubes require this so that is not a big deal to me.

I recently pulled a muscle in my lower back and the wife offered to massage the muscles to help out. We are out of our normal massage oil so I handed her the jar and told her to give it a try. The first application of a quarter sized dollop lasted for about 20 minutes. The second application of a slightly smaller dollop lasted the rest of the one-hour massage. The smell helped to relax me even further, much like aromatherapy, it was divine.

In conclusion, I highly recommend this lube to those that are looking to try oil based lube. Whether you are just using it for back door play, hand jobs or massage, this cream lube will work well. The smell is just plain awesome and lingers long after the lube has been worked in. If the smell is not your thing, you can also get it in a unscented version too. (See below)
This content is the opinion of the submitting contributor and is not endorsed by EdenFantasys.com

Thank you for viewing
ID Him lubricating cream leather scent
– lubricant review page!