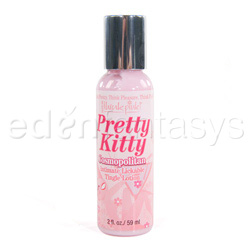 Pretty kitty
Sensual bath by Topco
Meowie Wowie.
Two ounces of a change of pace. A water based tingle lotion that is not your usual tingle lotion. The flavor and texture are different and for the better. Pretty Kitty is sure to make you purrr, holding true to its claims.
Published:
Pros:
Tasty, tingly, clean, a little goes a long way.
Cons:
Could cause adverse reactions in some, Small bottle.
This tiny #1 recyclable plastic bottle holds 2 fluid ounces of "Intimate lickable tingling lotion." The lotion is held within the clear bottle to show its pretty baby-pink self. This baby-pink lotion is a a low- to medium-viscosity and similar to your average hand lotion. It's not thick like a hand cream but soft, holding only a slight peak. The flavor I picked was 'Cosmopolitan.' After removing the plastic shrink wrap around the bottle, I flipped open the chrome plated flip top (which is clear on the top) to smell it. YUM! It has a distinct lime spiced smell. The sweetness did not go unnoticed but made for a nice balanced aroma.
So whats this little kitty made of, other then sugary spice and everything nice?

Pretty Kitty Cosmopolitan Ingredients:
Wateris used as a solvent in which it dissolves many of the ingredients. It also helps to form emulsions, thus combining ingredients.
Glycerin* is a humectant, meaning it attracts moisture to your skin. It can also be used as a solvent.
Propylene Glycol* is a form of mineral oil used for slickness, as well as an emollient.
Prunus Amygdalus Dulcis (Sweet Almond Oil) is an emollient.
Stearic Acid** Surfactant emulsifying and cleansing agent.
Cyclopentasiloxane* is an emollient, it gives pretty kitty a very lubricious, wet slippery feel.
Flavor mmm flavor.
Cyclohexasiloxane is an emollient, solvent and conditioner.
Dimethicone is a basic emollient.
Cetearyl Alcohol* is a viscosity-increasing agent. It also imparts an emollient feel to the skin.
Glyceryl Stearate is another lubricant for the skin's surface, it helps prevent the loss of water from the skin.
Tocopheryl Acetate(Vitamin E) is a natural preservative, anti-oxidant and moisturizer.
Menthyl Lactate the cooling effect you get from Pretty Kitty is thanks to this guy, Menthyl Lactate the tingly of the tingle.
Sucralose the sweetness you taste from Pretty Kitty is from this artificial sweetener.
Hydroxyethylcellulose works as many things: adhesive, binder, emulsion stabilizer and a viscosity increasing agent.
Tetrasodium EDTA is a chelating agent, it also prohibits microbial growth, improves lather and acts as a foaming action.
Triethanolamine(TEA)* is used primarily as an emulsifier and surfactant. It also serves as a pH balancer.
Methalparaben is an anti-fungal and preservative.
Proplyparaben* is a preservative.
Diazolidinyl urea* is an antimicrobial preservative.
Red 33 colorant.
Red 40* colorant.

*This ingredient has been known to cause irritations in some.
** Animal product
Experience
Hoping for a taste of triple sec, lime and cranberry juice... Maybe a hint of Vodka. Pretty Kitty somewhat let me down. Instead I got a mild, cooling, fresh, tangy, minty, somewhat burnt sugarlike and sweet lime taste profile. The difference in flavor and aroma is not a total bust. Pretty Kitty serves its purpose and is slightly, I say this generously, slightly cosmo-flavorific. Although not spot on, I appreciated a change of flavor. As I am sick of strawberry, mint, cinnamon, ya know, the usual. The flavor is not terribly sticky sweet, it holds a nice balance. The lotion stayed in place once applied, no drippy mess there. It also made my skin smooth rather then tacky.

Hustler is on to something here, and the tingle (the most important part to a tingle lotion/cream/gel) held through like a boss. From start to finish, the tingle never faded. Once applied, it was apparent on my clit more so then the vulva. Don't be discouraged, it may take a minute to kick in. My male partner could feel the tingle once applied to his shaft prior to oral, which he really liked (duh). The assistance that pretty kitty provided was immensely appreciated. I found that short blows made the tingle, tingle even more. For me, it worked great during oral and hand jobs (sorry babe, I was tired). Nipple play with it was less then exciting, but whatever, I like it all the same. It's a keeper.

The formula as a whole is really great, as long as you don't have an adverse reaction to it. I for one, have sensitive skin and was never bothered by the ingredients. I ended up using the whole bottle quickly, which wasn't hard to do considering the small size. You only need a pea sized drop to get started, but I was generous with the application. In fact, I have bought it twice and am about to grab up my 3rd bottle. The bottle are made well and never leak. It is hard to get the lotion out when it's almost gone, but that goes without saying.
Follow-up commentary
4 months after original review
Oh no! The Pretty Kitty has been discontinued. :(

I have yet to find a fair replacement. If I do, I will update this review. Until then the search continues...

This content is the opinion of the submitting contributor and is not endorsed by EdenFantasys.com

Thank you for viewing
Pretty kitty
– sensual bath review page!