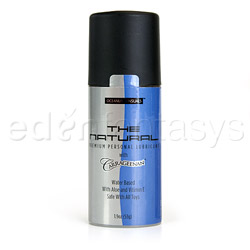 Oceanus Sensuals The natural
Lubricant by Oceanus Naturals
Naturally Wet
Lubricant is the single most rewarding sex product you can buy - and The Natural from Oceanus is probably one of the most natural and most effective. If words like 'organic' and 'natural' turn you on, this is the lube for you.
Published:
Pros:
A totally natural lubricant that's safe for all toys and all bodies.
Cons:
A funny little dispensing button, expensive.
When it comes to sex, lube equals love. The right lubrication can improve just about every aspect of amorous activity - and it's downright essential when experimenting with anal adventures, or playing with particularly large toys.

But not all lubes are created equal - and it's knowing that which makes 'The Natural' from Oceanus Sensuals so appealing.

The Natural is a water-based personal lubricant, which makes it compatible with just about every sex toy on the market. Even better than that, though, it's made with entirely natural ingredients, to make sure that the lube is compatible with your body as well as your toy collection.

Many lubes use glycerin, propylene glycol or parabens to provide the 'slippery' sensation. Those can dry out and get sticky, irritate sensitive skin or even upset a woman's natural 'fauna' and put her at risk of a yeast infection.

The Natural, on the other hand, uses Carrageenan to provide the slickness. Carrageenan is an entirely natural ingredient found in ocean plant life (perhaps why seaweed is so slippery?) It's one of the most effective natural lubricants and is totally compatible with a woman's (or a man's) body - no matter what it's covering or what orifice it gets plunged into!

The Natural also features organic Aloe, Vitamin E and Agave inulin - which are great natural ways to keep the skin healthy and soft. All together, it makes a package designed to be a very natural, homeopathic way to enjoy slick, smooth, sensuous sex.

The Natural comes in a small, palm-sized bottle with a very weird looking squeeze top. After you've battled your way through the packaging (for a 'natural' product, it's wrapped in an awful lot of plastic) you'll find a dome-shaped top to the bottle which squeezes out a dribble each time you push it.

The lube itself is more of a gel than a liquid, but certainly isn't of the same jello-like consistency as KY Gelee. At first, it seems like you don't get a lot of bang for your buck (or, rather, for each squidge of the bottle) but you'll seen find a little goes a long way. The lube is very slippery and doesn't dry out nearly as quickly as other water based lubes.
Experience
The Oceanus range appealed to hugely to my wife as she's the classic homeopathic hippie who adores natural, organic products. She's also been prone to the occasional yeast infection, so the lack of glycerin or other vagina-upsetting ingredients were a plus.

We were unadventurous with this product - preferring to test it out with some gentle lovemaking, rather than raucous fucking.

We started off lying side by side, as I squidged a finger-full of lube into my hand and used it to smooth the way as I slid my fingers between her thighs.

My wife gasped as she felt my slick fingertips part the folds of her pussy - and she gripped me tightly as my fingers slid frictionlessly around her clit. It was smooth, slick and seamless. Within minutes, she was gasping and groaning, bucking her hips as a fingered her to orgasm.

After she came, my wife flopped back onto the bed and caught her breath. I clambered between her splayed thighs - not needing to add any more lube as the existing Oceanus lube - along with all the wetness my fingers had generated - made her pussy as slick and welcoming as melted butter.

I sank inside her and felt her trembling cunt caress me. Gently undulating my hips, we had slow, sensuous and disgustingly suburban missionary-style sex until my balls tingled and I felt myself explode inside of her.

Afterward, as we lay in a tangled heap, she gave her verdict - a definite thumbs up. The appeal of the Oceanus, she explained, was subtlety. She loved the thought that it was entirely natural and it enhanced our lovemaking.

We both agreed that it wouldn't be our first choice for more adventurous activities - the dispenser of the Oceanus gave out rather stingy globs and if we were going to play with toys (or experiment with anal sex) she'd rather go heavy on the lube, even if it wasn't entirely natural.

But while we'll still rely on Astroglide for our toybox, Oceanus has definitely become the lube we keep in our bedside drawer - which should tell you something about how we feel about it.
Follow-up commentary
16 days after original review
Oceanus Sensuals is a wonderful product, with one drawback. Perhaps it was the frequency in which we used the lube (or the amount we used - lube is love, people) but we've run out!

I'm not sure if Oceanus is really all that more expensive than regular lubes, but it sure did seem to run out quickly!

Perhaps that's because it was definitely our 'go to' lube. From snuggly fumblings on a Saturday morning, to strap-ons, and silk scarves on a playful night, this was the one we preferred using just because it felt so right and natural.

So we'd still definitely recommend it, but make sure you always have a spare bottle handy because you don't want to be 'caught short' when you need it most!
This product was provided free of charge to the reviewer. This review is in compliance with the FTC guidelines.

Thank you for viewing
Oceanus Sensuals The natural
– lubricant review page!