Perfect For My Sensitive Skin!
Wicked Aqua Sensitive by Wicked is my new go-to lubricant! I have fickle skin that is easily irritated. Aqua Sensitive works well for me. It's glycerin and paraben free, vegan, latex friendly, pH balanced, and hypo-allergenic. Being water based, the lubricant is runny but it's clear in colour and does not stain. It's not sticky and does not leave any funky residue on your skin. It does have an unpleasant taste but it goes away once the lubricant has absorbed into the skin.
Published:
Pros:
Glycerin and paraben free, Vegan, excellent for sensitive skin, not sticky, light, unscented.
Cons:
odd initial taste, may need to reapply for longer sessions.
Wicked Aqua Sensitive is a water-based lubricant by Wicked. The lubricant doesn't have any packaging to it, other than the plastic bottle it comes in, and it is sealed with plastic. The bottle is very attractive. It reminds me of a bottle that a very high-end hair product would come in. It's black in colour with a silver ring around the cap. The bottle is 120mL (4 fl oz.).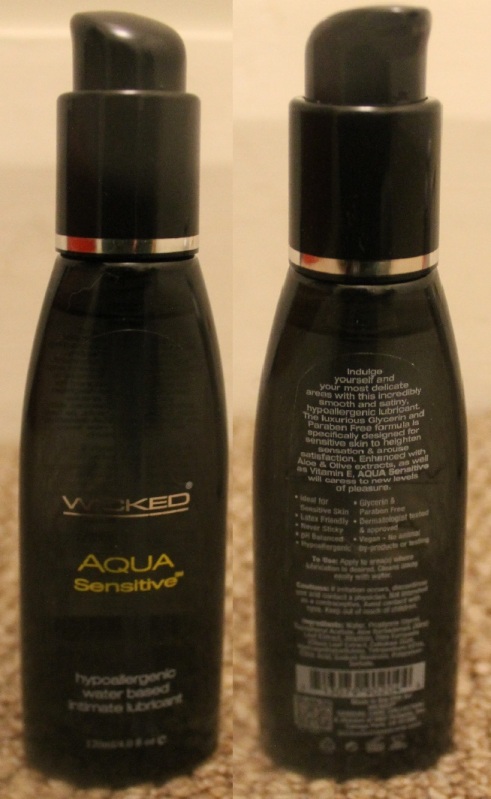 The front of the bottle states the company and product name. It's fairly discreet in appearance other than the bottom front where it states that it's an "intimate lubricant". If someone were to see the bottle from a distance, they wouldn't know that it's a lubricant. The back of the packaging states a product description, a few product features, instructions on how to use, cautions, ingredients, company contact information, and website.
The top of the bottle has a pump top lid. There is no cap to go over the pump but the bottle stands upright so you shouldn't have any issues with it leaking. I actually held the bottle upside down for a bit to see if any would come out of the pump top and it didn't. So even if you were to store the bottle sideways, no lubricant should leak. Below is a size comparison photo of the bottle beside 355mL can of pop.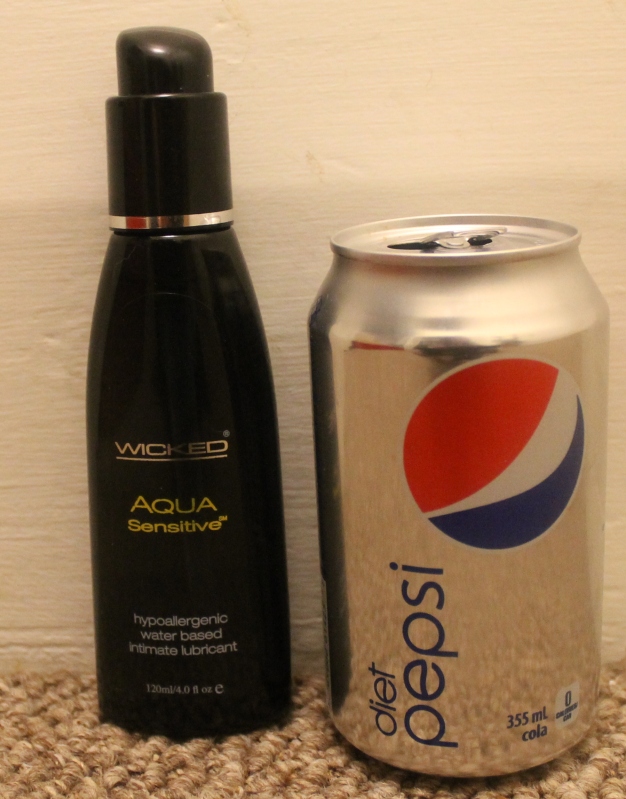 Aqua Sensitive is hypoallergenic, latex friendly, pH balanced, glycerin and paraben free, and vegan. Wicked has another water based lubricant called
Wicked Aqua
. The difference between the regular Aqua and the Aqua Sensitive is one ingredient: glycerin. The regular Aqua lube has glycerin in the ingredients while this one does not. All of the other ingredients are the exact same.
The ingredients as listed on the bottle are as follows: Water, Propylene Glycol, Tocopheryl Acetate, Aloe Barbadensis (Aloe) Leaf Extract, Allantoin, Olea Europaea (Olive) Leaf Extract, Cellulose Gum, Hydrocyethylcellulose, Tetrasodium EDTA, Citric Acid, Sodium Benzoate, Potassium Sorbate.
The lubricant is clear in colour, thin, and quite runny. There is no scent to the lubricant. The lubricant is not flavoured but I did taste it just to see if there was a taste to it. There is in fact a taste and it's not enjoyable. With that being said, I wouldn't use the lubricant for oral play. Once the lubricant has absorbed into the skin the taste dissipates. The photo below shows how runny the lubricant is. The photo was taken after only a second of my hand being tilted.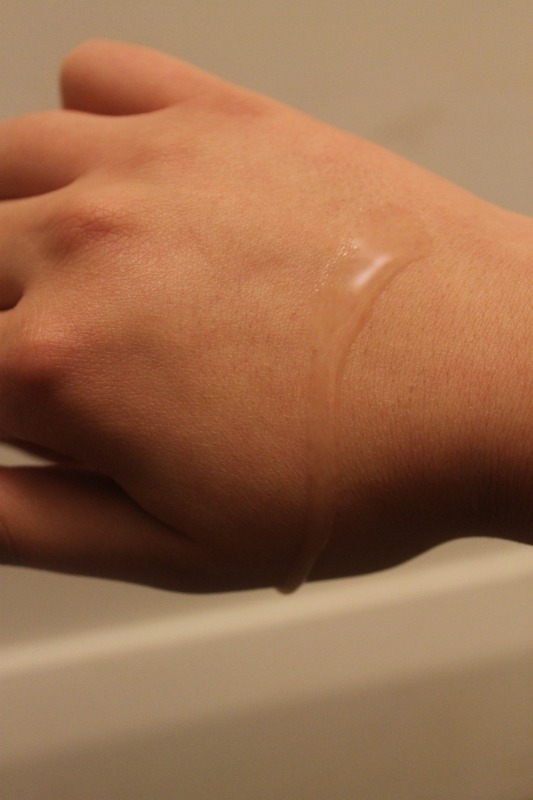 Aqua Sensitive is not sticky and does not leave any residue on the skin. The lubricant absorbs into the skin nicely. The skin does not feel tacky once the lubricant has absorbed. As for the longevity of the lubricant, it is quite average. The lubricant absorbs after awhile of being rubbed into the skin. You wouldn't need to reapply for shorter sessions (15 minutes or so) but may need to reapply for the longer sessions.
With the lubricant being water based, it can be used safely with toys. It can also be used vaginally. I am not into anal play but have read that the thicker the lubricant is, the better for anal. You could use Aqua Sensitive for anal play but it's thin so you may need to reapply often.
My partner and I will sometimes use lubricants for back/shoulder massages but this will not be one of those lubricants. It absorbs too quickly for massaging purposes. We'd end up going through a third of the bottle for one massage session. The lubricant can be used for solo or partner play. I actually think that I'll be using this lubricant for solo play. I have fairly sensitive skin and Aqua Sensitive doesn't irritate my skin at all. Also, my partner tends to waste lube by using gobs and gobs of it. I love this lubricant and don't want to waste even a drop.
The lube absorbs into the skin nicely but if you've used too much and need to clean it off, it comes off really easily with just a bit of soap and water. I accidentally got a little bit on my couch earlier and after it had dried, you can't even tell it was there. So the lube doesn't stain and has no oils in it that leave marks.
Overall, I'm very happy with the lubricant! I'd absolutely recommend it to those who have sensitive skin like I do. The price is not listed on EF yet but I searched online and found prices for the Aqua Sensitive ranging between $15 to $20. This lubricant is going to be my go-to lube from now on. It just works perfectly for me and my fickle skin.
This product was provided free of charge to the reviewer. This review is in compliance with the FTC guidelines.

Thank you for viewing
Aqua sensitive
– lubricant review page!