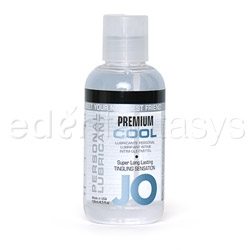 System JO premium cool lubricant
Lubricant by System JO
Premium Priced Icy-Hot
If you have ever felt like you needed to jack off with a tube of Ben-Gay or Icy-Hot, then this lube was made for you.
Published:
Pros:
Small list of ingredients
Did not get sticky
Cons:
Does not feel natural
Need to reapply often
Expensive
Let's start off by saying that this is the first time I have used JO's premium personal lubricant. I have used, and still for that matter, JO's water based anal lube. I really enjoy the anal lube and thought I would give the premium line a try. I am not sure what dictates this as a premium product. Maybe the short list of ingredients, or the high price, or maybe the small 4.5 ounce bottle. For whatever reason, it was not for the performance.


The list of ingredients are pretty sort. Only five. All my other brands of lube have at least double that. The smaller list makes me feel like I am making a better choice. That somehow the least amount of chemicals the product puts on my body, the better quality the product it. If that is true or not, I do not know. Either way, I am happy that they have cut the ingredient list down to five. These are:

Cyclopentaslioxan, Cyclotetrasiloxan, Dimethiconal, Dimethicone, and Menthol.

This product is made with the finest pharmaceutical grade ingredients. It is silicone based. It is also water proof. You can use it in the shower or bath.

Although there are no warnings on the bottle or system JO's website, I would not use this with your silicone toys. I have not spot tested it on a silicone toy yet, mostly because we dont have a silicone toy that my wife does not use and love.

We have only used this lube for masturbation. She does not like the feel of the warming/cooling lubes. I was hoping this one would be different then the rest, but it still gave me that medicine feeling. It was a combination of a sort of warm burning feeling, and the feeling of someone blowing on my penis. That is not a feeling I like to associate with sex. I was hopping for some tingling sensation, any tingling sensation, but there was none!

Another problem I have with this lube is that it was not long lasting. I had to reapply 3 times for one hand job. With my water based JO lube, I can reach two orgasms with just one or two drops. It also felt like I was getting some drag, like we where playing with it un-lubed. At first, I thought she was just using too much pressure, but the feeling never seemed to feel "lubed" even when I was taking matters into my own hands. I am not one for liking dry hand jobs, so it was a little bit of a turn off.

The thickness of this lube reminds me of a anal lube. Very thick and heavy. It felt nothing like the natural lubrication of a woman. I wish I could review how it worked for sex, but like stated above, my wife does not like lubrication of this kind near her pussy. I would think that with the thickness of this lube, it would change the feeling a lot. If you are the type of person who likes the lighter, more natural feeling lubes, then I would pass on this one.
Experience
I feel that this is a good product. I was just hoping for more. I was hoping that I would find a cooling lube that I would like, after finding so many I hate. I was hoping it would be more like PJUR's silicone lube. I think that I just had my hopes up too high. I just feel let down with the product. I do not dislike it enough to send it back or throw it out. I will leave it in the drawer and some night it might find its way out and in the starting lineup. I think that I would be slightly mad if I had paid for this lube.
Follow-up commentary
2 months after original review
We have tried this several times since my review was posted. It still gives me a burning feeling. No matter how much I use, it still feels like I am dry. This lube is the only JO lube that I can't stand to use. All of their other types I have are great and have never let me down. This one just does not do it for us. It is not a bad lube; believe me, I have tried a lot of bad lube; this lube seems to be of high quality. It is just not for us.
This product was provided free of charge to the reviewer. This review is in compliance with the FTC guidelines.

Thank you for viewing
System JO premium cool lubricant
review page!