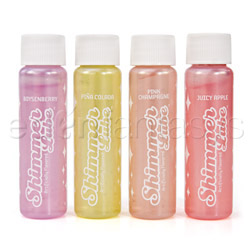 Shimmer lube sweet pack
Lubricant
by Doc Johnson
Shimmer Lube YUCK Pack
There are so many lubes on edenfantasys worthy of attention. Why are you looking at THIS garbage? Take my advice, move on to the next product, this stuff is NOT what you want.
Published:
Pros:
Absolutely nothing
Cons:
Not slick enough and the taste is repugnant.
I had high hopes for these. I have to say I picked this product based on their girly bottles. So cute, in small non-descript bottles. Christ, I could ACCESSORIZE with my lube! Shimmer and Sweet are two words a girl cannot resist, so I just had to buy this stuff. Actually, this item was one of the first purchases I made here at eden!
Most
flavored lubes|Shimmer lube sweet pack™
inflame my nether parts and make sex uncomfortable, so I only enjoy them while performing oral sex on my partner. So the flavor is very important to me. So, let me make it clear that I can only attest to the product's flavor and basic consistency. I can't put it anywhere near my bits, so I cannot claim to know it's true lubrication abilities.
From my perspective, as someone just looking for taste, here is what I can say:
Juicy apple tastes like juicy CRAP. No hint of the apple-ly goodness I had hoped for. Just a bland, semi-sweet, YUCK taste. The kind that hangs around for a while. On your tongue. Yuck.
Boysenberry tastes like berry CRAP. Not that I can tell you exactly how a boysenberry is supposed to taste, I can assure you it does not taste like this.
Pink Champagne tasted like...you guessed it....pink CRAP. It tasted like the strawberries and champagne spray from a mall retailer. Not so good.
Pina Colada was the only one that even semi-resembled it's namesake. However, it still tasted terrible compared to some of the other flavored lubes on the market.
The taste for all four resembled isopropyl alcohol mixed with tiny bits of bubble gum mixed with CRAP. The consistency was strange, almost too viscous. I prefer lube to be a little easy to spread around. This stuff seemed like it had been on the shelf too long.
I was so disappointed, I threw them right in the garbage.
This content is the opinion of the submitting contributor and is not endorsed by EdenFantasys.com

Thank you for viewing
Shimmer lube sweet pack
– lubricant review page!