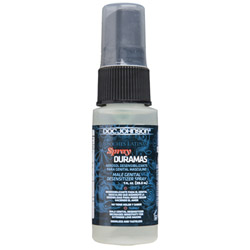 Noches latinas spray duramas
Spray
by Doc Johnson
Spanish nights are supposed to be hot, right?
Sometimes you just want to take a bit of the edge off to prolong the exquisite sensations of sex for your partner. If this describes you, then do not reach for this product. One of the components to maintaining an erection without mechanical assistance is pleasure, kill that and you kill an erection. The sensations this product will leave you with are not pleasurable and your partner will not appreciate the numb feeling extending to her vagina (or his anus!).
Published:
Pros:
Pretty packaging
Cons:
Leaves skin cold and numb, tastes disgusting, not a sexy solution to premature ejaculation
I agreed to try out the Noches Latinas Spray Duramas by Doc Johnson but I had my doubts and I was a bit wary. Neither of my guys nor any of our playmates really has any interest in prolonging an erection! Then Sigel admitted that he might have an interest in a desentization spray for when he plays with electro-stim.
The product comes in a small (1 fl oz) plastic bottle with a pump type spray cap and clear plastic topper. The bottle will leak if it is left resting on it's side and it creates a giant mess.
This bottle is packaged in a blister style package with a cardboard backing: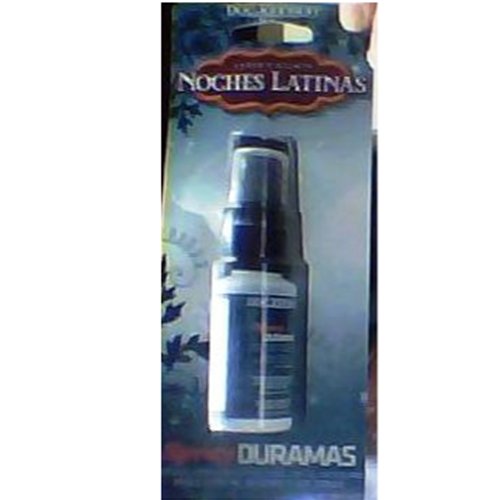 I show you the packaging, dear reader, because it is the last nice thing I can say about this product! The packaging is pretty without being lewd and is fully recyclable.
The ingredient list is rather suspect and I fail to see what the inactive ingredients actually do:
*Active Ingredient- Lidocaine 10mg per spray
*Inactive Ingredients- Cannabis Sativa Seed Extract, Diazolidinyl Urea, Disodium EDTA, Ethoxydiglycol, Iodopropynyl Butylcarbamate, Propylene Glycol, Sodium PCA Water (Aqua)
Exotic sounding as the inactive ingredients are they are nearly useless in acual use. As one could guess the Cannabis extract is supposed to be a mild euphoric stimulant but in use there is absolutely no sensation of warmth, tingling or, well, ANYTHING.
The product is as thin as water and that is what it resembles. It sprays out evenly coating the surface of the skin well. It tastes as bitter as sin and I do not recommend getting it anywhere near your lips as it will, in fact, make them go numb quickly and feel just like a trip to the dentist's office. Oh ya, great feeling, right?
The lidocaine will make the skin lose sensation but it leaves the poor guy feeling coldly numb. Now I am a female but as Sigel patiently explained cold numbness is not a pleasant feeling for the penis. He also explained that the numbness was slight and the sensations were not decreased enough to actually affect whether or not he felt orgasmic. In short, it did nothing to prolong the good feelings and did quite alot to kill the mood altogether.
My lips were numb for longer than his cock was desensitized by a few hours which was not pleasant. So I was not willing to try it anywhere else on my body, mainly because I couldn't see any real use for numbing effects. I know lots of readers might think this would be great for anal play but it has always been my philosophy that pain means 'STOP'...not 'numb it away'. So I did not try the product for this purpose. I did see a use as a scrape numbing agent and after looking up a few of the key ingredients there was nothing there that would exactly hurt a shallow cut but there are far better products on the market for this purpose. I suppose it could be used to ease the sting of a sunburn? I would, personally, rather use a lidocaine/aloe combination or avoid a sunburn before using this product but I am reaching for possible uses here!
We did try the spray along with a cock ring for support and Sigel was able to maintain an erection but the experience was just not pleasant and we concluded that this product wouldn't help most guys and certainly having a numb coochy did nothing to make me feel sexy and raring to go!
So basically, the product will numb the cock slightly, it will also numb lips, vagina or anus if you don't let the product dry on the penis. Even if you allow the product to dry on the penis it will still dull sensations and cause that swollen lip numb feeling that getting a shot at the dentist leaves you with. The numb feeling is not pleasant for guys, wasn't really pleasant for me, and didn't do anything to really prolong the exquisite sensations of sex.
When Sigel tried the product with his electro-stim it quickly killed the mood rather than prolonging the sensations and so we concluded that this product was a complete bust.
Add all of that together and top it off with a horrifyingly bitter, nasty taste and you have Noches Latinas Spray Duramas by Doc Johnson!
I wish I had ANYTHING nice to say about this product, I really do. I was skeptical from the beginning and my worst fears were confirmed.
Follow-up commentary
10 months after original review
Trying this product later and for different uses has proves frustrating and unsuccessful.As a numbing agent for tweezing it caused skin irritation. As a prolonging spray it wasn't 100% successful. It was a shame because I really hate to totally ding any product but for the life of me all I can say about this one is that it totally didn't work for us at all.
This product was provided free of charge to the reviewer. This review is in compliance with the FTC guidelines.
Thank you for viewing
Noches latinas spray duramas
– desensitizing cream review page!