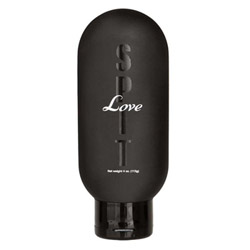 Sasha grey love spit
Lubricant
by Doc Johnson
Spit on me.
I do like the Love Spit and look forward to using all of it. If you like the slippery when wet feeling, can get past the taste and do not mind the sticky after feeling then I think you will love this lube. I think it has more going for it with the slippery feeling that it gives, that I can overlook the downfalls of this lube.
Published:
Pros:
Slippery, wet, sleek bottle.
Cons:
Taste, needs to be reapplied often.
Use: Love Spit is a water based lube made by Doc Johnson. It is intended to enhance sexual experiences while playing or during intercourse by providing a slick and slippery feeling. The Love Spit is water based so it can be used with all toys.

Material/Texture: This lube has the following ingredients listed below.
WATER,GLYCERIN,POLYGUATERNIUM-7,HYDROXYETHYLCELLOUSE,SODIUM,POLYACRYLATE PVM/MA COPOLYMERE,CHLORHEXIDENE GLUCONATE GLUCONOLATONE,METHYLPARABEN, SODIUM HYDROXIDE. The Love Spit is also Paraben free. The texture is very wet and slippery. This is not a thick lube and it goes on very easy and with a thin coat. Do not leave the flip cap open as the Love Spit will spill out. The Love Spit is runny enough that when you open the cap and turn the bottle upside down the lube will run out without having to squeeze the bottle.

Design/Shape/Size: This comes in a 4 ounce black plastic bottle with Love Spit written on the front of the bottle. Love is in white and Spit is not really easy to see unless your looking for it. The bottle is rounded at the top and features a flip top cap for easy opening. At a quick glance people may think it is lotion if you have it sitting out on a dresser. The bottle has a sleek look to it. The bottle is small enough to fit in a purse for easy traveling.

Performance: The Love Spit is to help aid lubrication, making sexual experiences a more pleasurable feeling. It allows the hands/toys and penis to slide in and out with ease. I would not recommend the lube to be used all over the body as a moisturizer as it becomes sticky after awhile.


Packaging: The Love Spit comes in a black cardboard box which has ladies dressed in bra and panties on the sides of the box. The pictures are in black and white and look very sexy. The back of the box lists all the information about the lube.
Experience
I was excited to try this new lube out so the day I got it, I did just that. There is a slight odor to the lube, not sure what it really smells like, but it did not bother me at all. It is supposed to be tasteless, but to me there is a taste and again it is not a taste I can explain. I do know I do not like the taste and will be doing all my sucking and licking before using the Love Spit. When I opened the flip cap I was surprised at how runny it was. When you go to apply the lube make sure you have it over the area you want to apply it too or it will be running all over and will be wasted. I did not even have to squeeze the bottle for the lube to run out. Now for how it feels, I loved when the Love Spit was first applied to my clit. It made me feel so slippery and wet it was a nice arousing feeling. I did reapply more after about 10 mins or so. The lube let the toys slip right in and was an awesome feeling as they glide in an and over my body with ease. Afterwards though is another story. It leaves me feeling very sticky and needs to be washed off my body. I just jumped in the shower and it washed right off with soap and water. It also washed off my toys with ease. I do not recommend using this in the shower as it will wash away too fast and may make the tub slippery and you do not want to fall in the shower. The Love Spit did not stain my sheets, I do not have satin sheets to test the lube on so use caution if you have satin sheets. I do enjoy the lube and will keep on using it until its all gone. The slippery when wet feeling is worth the stickiness afterwards for me.
Follow-up commentary
1 month after original review
I have been using this lube for a month now, and I still have a lot left in the bottle.( I use it often too) The bottle is lasting me a lot longer than I thought it would. It makes it slippery, and that is what I want. I will be trying other lubes out there, as I have not really any but store brands to compare it too at the moment. It still works for me, even with the stickiness afterwards.
This product was provided free of charge to the reviewer. This review is in compliance with the FTC guidelines.

Thank you for viewing
Sasha grey love spit
– lubricant review page!