Up All Night
It's natural and an enhancement, but it did nothing for me except make make me hyper and shakey. I was really let down by this.
Published:
Pros:
Natural ingredients
Cons:
Can make shakey
I got my first assignment on ROCK ON for HER sexy enhancement pills by The Screaming O company. Now, I've never been one for taking pills or suggesting others to either, but I figured I would give it a try.
When you open it, you will see one hot pink capsule measuring 2cm enclosed on a black and hot pink piece of cardboard which says Rock On for and sexy enhancement. Also, that it's all natural, fast, and long lasting. Plus that it's for enhanced sexual desire, libido and pleasure. The design on the cardboard is pretty and eye catching with hot pink with around the Rock on sign and hot pink little scrolls on the top and bottom with black background and white writing. It really pops out.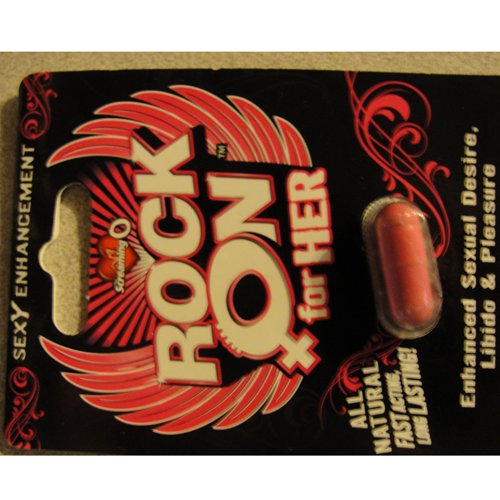 On the back, it explains more about the pill being all natural and a sexual enhancement at the top.
The warning: Not intended for use during pregnancy. People with fair skin should not over expose themselves to strong sunlight while taking this product due to the photosensitizing nature of St. John's Wart Extract.
Suggested use: Take one capsule one hour prior to activity. Do not exceed two capsules in a 24 hour period.
The ingedients: L-ArginineHCL, Maca root, St. John's Wart leaf extract, Ginkgo Bilobaleaf extrat, Caffeine, Passion Flower, Damiana leaf, Catuaba bark, Muira Puama leaf, Guarana seed extract, Horny Goat Weed leaf, Gamma-Aminobutyric Acid, Ashwagandha root, Taurine, Wild Yam root.
Now if you're wondering what are these and what are they supposed to do, I'll tell you.
L-Arginine HCL: used to relax and keep blood vessels dilated
GABA (Gamma Aminobutyric Acid): a natural hormone booster and libido enhancer
Maca Root Extract: used to heighten the libido and increase sexual hormones
Muira Puama Extract: It is known in some circles as "the Viagra of the Amazon" and in fact, many people now consider it the new Yohimbe but with considerably less possible side effects.
Catuaba Extract: a central nervous system stimulant with aphrodisiac properties – also used to combat nervousness, poor memory, and sexual weakness.
Epimedium Herb Extract: aka Horny Goat Weed. Used as an aphrodisiac that increases libido.
Passion Flower Extract: known to have anti-anxiety and aphrodisiac properties Muria Puama Extract: known to help increase sexual desire, energy and enhance mood.
Damiana Extract: used as an aphrodisiac and to boost sexual potency.
Caffeine/Taurine: used to help boost sexual urge and combat fatigue.
St. John's Wart/Ginkgo Biloba: used to improve your mood.
So what exactly is it for then, right? Well Rock on for her was designed to Enhance Sexual Sensation, Libido and Desire just for women. Pure and simple.
Experience
So I took this little pill and waited and waited - nothing. I decided to have sex with my hubby, thinking maybe that would jump start the effects and nothing. Really all this pill did was make me super hyper to the point where my hands were shaking and I couldn't sit still. So if you're sensitive to caffine, or have a heart condition, I would suggest not trying this. Or maybe eat before hand, that might help. But it did nothing for me.
Follow-up commentary
2 months after original review
I just had the one pill to take, so I can't take it again to test it for my follow-up review. However, I'm sure I would still feel the same way about this pill if I took it again, unless they've changed the formula.
This product was provided free of charge to the reviewer. This review is in compliance with the FTC guidelines.

Thank you for viewing
Rock on for her
review page!