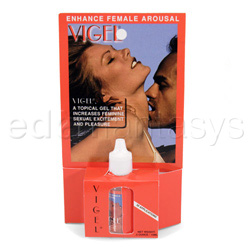 Vigel gel
Gel by Vigel
Vigel gel review
This product is worth trying if you would like better orgasms, but it won't perform miracles for those who have trouble achieving orgasm.
Published:
Pros:
30 applications in the bottle, tingling sensation, slight sensitivity.
Cons:
Does not help improve orgasm.
I decided to try
Vigel gel|Vigel® gel
because it is very difficult for me to orgasm, and I was hoping the gel would help things along. Vigel gel contains peppermint and L-Arginine, an ingredient that is supposed to increase feminine arousal by improving clitoral sensitivity and the frequency of orgasm. It is also a sterile, pharmaceutical grade product, available without a prescription! I was so excited when the gel arrived, and hoped it would give me what I needed- orgasms without so much work! I knew my husband would be very grateful as well if that happened, and also get a bit of a confidence boost. It comes in a very small bottle, but there is enough gel supposedly for 30 applications.
After some foreplay, I applied the gel per the directions on the box. The gel is to be applied directly into the tissue underneath the clitoris, and I applied a generous amount. I felt a little bit of tingling right away from the peppermint in the gel, but nothing extreme. As time went on I did feel a little more sensitive in my clitoral region but nothing mind-blowing. The directions did say that it may take up to three applications on three consecutive days to feel the full benefits, so we tried it again the next night. Again, same results. Slight tingling, a little sensitivity, that's it. So, on the third night, we used the gel again, only this time we used a
vibrating cock ring|COLT vibrating cock ring
as well. It felt really good and I did orgasm a little sooner than I normally would have without using the gel.
It was disappointing, but I think some women just have more trouble orgasming than others, and I am one of those women. This gel may work great for someone who normally does not have much trouble achieving orgasm, but it certainly won't perform miracles for those who do have trouble.
This product was provided free of charge to the reviewer. This review is in compliance with the FTC guidelines.

Thank you for viewing
Vigel gel
review page!