3 layered beautiful baby-doll.
Beautiful, flowing and super comfortable, this baby-doll has a lot to offer the person who is wearing it. Even though these ruffles hide most imperfections and make any female feel sexy, they also make you look larger then normal. These ruffles were most likely meant to add curves and definition to small, petite women with no curves. With no underwire to support larger busted women, this baby-doll was meant for the petite.
Published:
Pros:
-Soft
-Comfortable
-Adjustable straps
Cons:
-Comes in only one color.
-No underwire for bigger busted girls.
The Red Lace Baby-doll and Thong set is manufactured by Dreamgirl. Included in this set is the baby-doll and matching thong. The set is so simple and sexy. The red lace baby-doll has 3 layers of ruffles that hide all of your insecurities. This set will make anyone feel super sexy. Available in sizes S, M, L, and XL. It comes in only one color: RED.
Baby-doll
The baby-doll is made of polyester mesh and lace. There are three layers of ruffles that easily hide your fat and extra baggage. The ruffles allow anyone to feel super confident and sexy in this lingerie. The material is soft and not at all irritating to even the most sensitive skin. Featured on the baby-doll are 3 little black bows and a black, horizontal line underneath the boob area. The only downfall on this baby-doll is the fact that the cups are not wired and don't provide that extra support for heavy-busted ladies.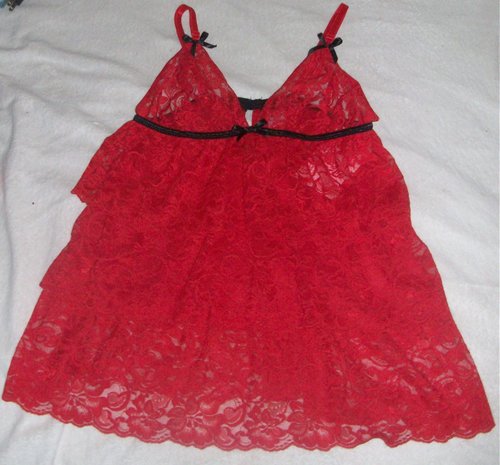 Thong
This thong covers your whole intimate area. The thong is made of a polyester mesh that is super comfortable and causes no irritation. The polyester is very smooth and soft. Even after shaving you don't have to worry about irritation. All in all, the thong is a great quality thong. It is definitely one of the best thongs I have seen with a set.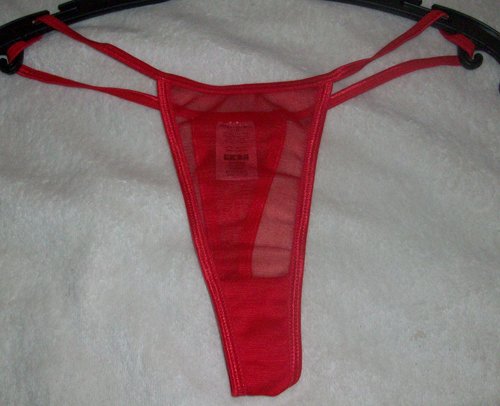 Measurements
MY MEASUREMENTS
Large
BUST: 36
WAIST: 27
HIPS: 38
DRESS: 11
CUP: D
WEIGHT:160
DREAM GIRL MEASUREMENTS
Large
DRESS 10-14
CUP C-D
BUST 36-38
WAIST 28-32
HIPS 38-40
WEIGHT 140-150
Dreamgirl has done it again. The baby-doll is accurate to the size chart. The only thing I won't go by on this is the weight. My weight limit is over the size chart limit, but I have plenty of room in this gorgeous baby-doll.
Care and Materials
The baby-doll is 100% polyester. The thong is also made of 100% polyester. To clean your slip I recommend that you hand wash it in cold water and air-dry. As for the thong, just throw it into the wash with your delicates. Make sure to always wash with cold water because it will shrink a little bit otherwise.
Never place these pieces in a dryer, as you don't want to shrink them or destroy the polyester. Even though you could get away with drying them in a dryer, they probably would have a shorter life.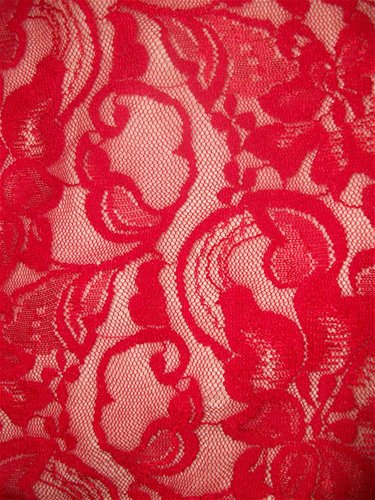 Storing
When it comes to storing your baby-doll, just place it on the hanger it came with. As for the thong, you can store it with your delicates or you can store by hanging them on the hanger with your baby-doll.
If gifted, this set can be placed in a medium to large gift-bag with some tissue paper.
Packaging
I received the red baby-doll and thong on a hanger that was covered by plastic for protection. There were no words or images on the plastic, and it was completely clear, showing the baby-doll. The baby-doll and thong were both placed on the hanger with their own areas to hang. Attached to left underarm of the baby-doll was a tag that had the models image on it with the size. There were no instructions that came with this set.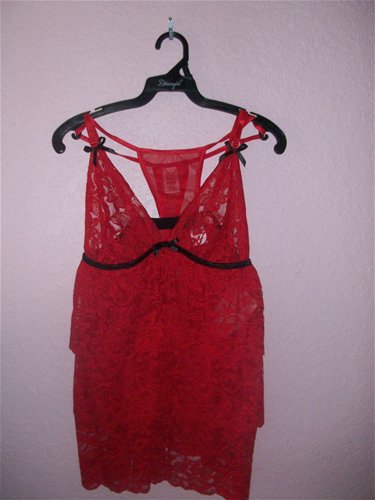 Experience
I love the look of this baby-doll and instantly knew the ruffles on this baby-doll would hide my imperfections. When I tried the baby-doll on I was disappointed because the ruffles actually made me look a lot curvier and heavier then I really am. I think is baby-doll is gorgeous and comfortable, I just hated that it made me look larger. I also didn't like the fact that there was no underwire, so my boobies weren't as perky as normal. My partner even said this was a NO GO.

I gave this baby-doll 4 stars because it is great quality and concept, but they failed on this one. I do think this piece would flatter really petite girls that have no curves.
This product was provided free of charge to the reviewer. This review is in compliance with the FTC guidelines.

Thank you for viewing
Red lace babydoll and thong
– babydoll and panty set review page!