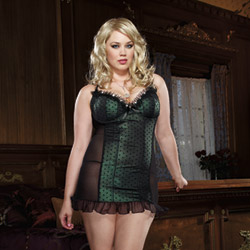 Polka dot chemise and thong
Chemise
by DreamGirl
(3x/4x) A Classic Piece Every Woman Should Have
This is a classy, elegant and dressy piece that is great for holidays and special occasions. It gives good breast support, helps cover figure flaws and is comfortable to wear even with the 10% spandex.

The only flaw with it is that you must dry clean it or wash it by hand due to the sequins. I am giving it 5 stars anyway because it isn't often that you can find a sexy piece like this in a larger woman's size.
Published:
Pros:
Nice breast support
Flattering cut
Comfortable fabric
Cons:
Needs special cleaning due to sequins on top
There is one thing that plus size women share with our smaller female friends - there are a few basic items that should be in every woman's closet once she finds them in her size. One item is the classic black dress. Usually, this can be dressed up or down and go almost anywhere. The second thing is that comfortable yet sexy lingerie piece that is nice and perhaps not too dressy but still gets him interested. The third piece is that "knock 'em dead" lingerie that you want to use when you want to get his attention and you want it NOW. This also might be the piece you use for special days like anniversaries, holidays, etc.
This chemise is that "knock'em dead" lingerie piece and as a 44D woman, I can knock'em dead without knocking 'em out with those boobs that get out of control in other plus size items. In other words, the girls have some support to lift them up.
When the package arrived, I could hardly wait to rip open the plastic bag this came in and take the chemise and thong off the cheap plastic hanger they were on.
MEASUREMENTS and FEATURES:
I bought this in 3x/4x because Dream Girl states that size will fit women who wear size 18/20, have a bra size of 48--54DD, have a waist of 40"-44" and hips from 50"-56" and weigh from 225-275 pounds. Weighing in at 265 pounds with a 44D bra size, waist of 49" and hips of 57", I knew I would come close. In this case - I was close enough to make my husband smile and say this is one of the nicest pieces I have.
I know that the description states that this has rhinestones but I don't see them anywhere. However, all along the top of this chemise there are sequins - lots and lots and lots of sequins. I had told myself I was going to stay away from anything sequined due to the extra care required - but the way these catch the light and draw the attention upwards (and away from my tummy) makes me so happy that they are there. They really do make the outfit. There is also a black ribbon bow in the middle between the two breasts, right in the middle of the sequins and somehow it seems to dress them up and make them look a bit more classy.
The fabric is 90% polyester and 10% spandex. If it wasn't for the sequins, I'm sure you could wash this in the washing machine on delicate with cool water if you used a lingerie bag. I will probably wash it by hand. Dream Girl does recommend that you have this dry cleaned. I don't know about you, but none of my lingerie really gets dirty enough that I have to take it to the dry cleaner, simply washing it out by hand in the sink with some Woolite usually works for me. If you do choose to wash it out in the sink, I'm not sure I would wring it to dry it - I think I'd gently try to get the water out and then let it hang to dry.
The cups have some underwire in them for support but they also have some wonderful black lining that is just like the material that is backing the green polka dot section. They are very comfortable to wear and I really like the fact that there are three seams (darts?) that make the cups fit better and look more attractive.
When I first saw this outfit, I thought that the polka dots might be flocked velvet or something but they are not. They are simply black polka dots on a lighter black mesh. Speaking of mesh, the mesh on the sides is incredibly comfortable to wear and while it feels almost like a second skin, it doesn't hold you in tightly like a girdle might. It gives you light support.
From the top of the shoulder where the straps meet the chemise to the hem is approximately 28" unstretched. The straps can adjust from about 11"-18" if you need to add a bit more length and they are about 3/8" wide. The bottom hem of the skirt is approximately 26" across the front. This generous size means that it will swing a little bit as you walk or move around.
Here are some closeups of the chemise before I show you how I look in it.
On the hanger with the thong:
Closeup of the cups and bra closure and straps:
Closeup of the sequins:
Notice how you can't see my hand under the green section:
The hem spread out:
]
Closeup of the polka dots:
Experience
Before showing the photos of me in the chemise, I would like to remind you that I am slightly outside their size range because my waist is 5" larger than their recommended size and my hips are 1" larger. In addition, my husband just measured my torso length from my shoulders to my hips and said its "about 19" or so".
The front: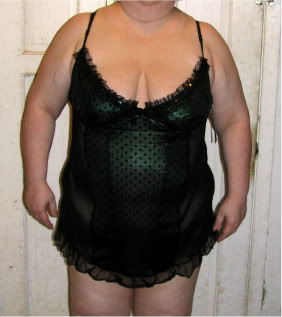 Close-up of breast support: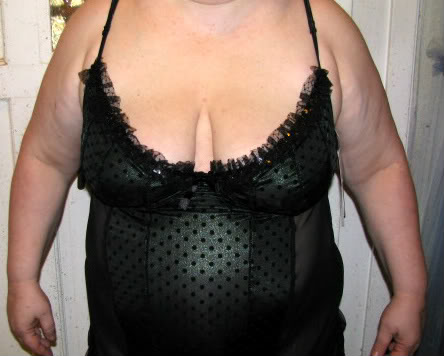 From the side: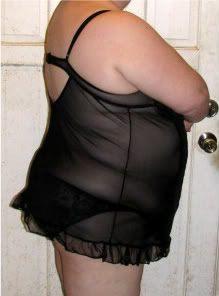 The back: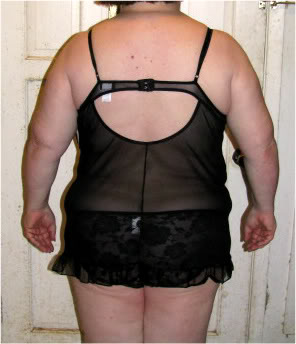 For the record - I almost named this review "The Little Chemise that could..." and you could finish it with things like
- knock his eyes out
- cover up your flaws
- look dressy and classy and yet be comfortable
and so many more options.
This content is the opinion of the submitting contributor and is not endorsed by EdenFantasys.com

Thank you for viewing
Polka dot chemise and thong
review page!