(3x/4x) Perfect with my Red Hat
These boy shorts are just so flirty and full of attitude. I've decided to keep them close by so that the next time my husband ticks me off, I'm sneaking into the bathroom, putting them on and then going out and telling him to "Kiss my *ss".

Then I'll walk away.

Yeah - these panties have ATTITUDE gal!
Published:
Pros:
Comfortable to wear
Super Cute Ruffles
Very Feminine
Cons:
None
When I am an old woman, I shall wear purple
with a red hat that doesn't go, and doesn't suit me.
And I shall spend my pension on brandy and summer gloves
and satin candles, and say we've no money for butter.
I shall sit down on the pavement when I am tired
and gobble up samples in shops and press alarm bells
and run my stick along the public railings
and make up for the sobriety of my youth.
I shall go out in my slippers in the rain
and pick the flowers in other people's gardens
and learn to spit.
You can wear terrible shirts and grow more fat
and eat three pounds of sausages at a go
or only bread and pickles for a week
and hoard pens and pencils and beer nuts and things in boxes.
From the poem
Warning - When I Am an Old Woman I Shall Wear Purple
By Jenny Joseph
This poem is sometimes considered the mantra of the
Red Hat Society
which was founded in 1998. Originally you had to be 50 or older to join, but I've always felt like I had the spirit to be a "Red Hatter" even when I was younger. It just dawned on me - now that I am 50 - I can join (and cf course - they lowered the age limit!)
These panties remind me of the spirit of the women in the Red Hat Society. They're
bold and beautiful
and celebrate life. You can find out more about the Red Hat Society
here
.
What this is...how to wear it
These panties are created in the "boy short" style and are very comfortable to wear. You can wear them under garments, with other lingerie, as part of a costume or even alone. The lace is very comfortable to wear and not scratchy at all.
These are currently available on Eden Fantasys in Red, White, Black and Pink and in the following sizes: S,M,L,1x/2x & 3x/4x.
I own them in both red and black.
Material and Care
These panties are made of 92% polyester and 8% spandex, and boy do they stretch. I LOVE them. They are my first pair of crotchless panties (other than the others that I ordered at the same time) and I could not believe that they didn't itch or drive me crazy.
The instructions say to hand wash in cold water and line dry. Honestly? I don't think so. I'm going to wash them in cold water on the delicate cycle in a lingerie bag. I will hang them to dry though.
Design
Its hard to figure out what to say about these. They're basically boy short panties made from lace and crotchless. Oh - and they just happen to have five rows of lace on the back as ruffles.
Unstretched, the waist is 20" but stretches to 25" and possibly a bit more.
They are 11" long at the longest part and almost 5" long at the sides.
The back ruffles are about 4" long and start at about 7" wide and at the furthest point are about 10" wide.
The bow is about 2.5" across.
The lace that hangs down in the crotchless part is 1.5" wide.
Sizing
According to DreamGirl, for 3x/4x sizing, my waist should be 40"-44" and my hips 50-56". My waist is 49" and my hips are 57" but THEY STILL FIT. Not only did they fit - they could have stretched even more.
So...shall we do pictures? NO MODELING!
Pictures
Front: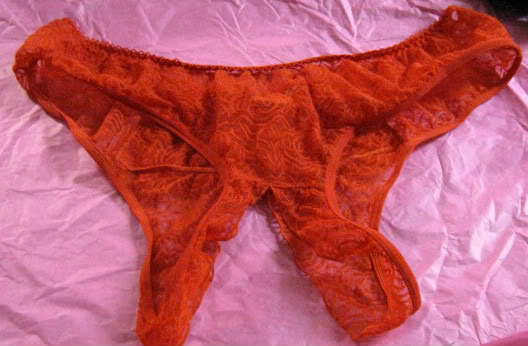 Back: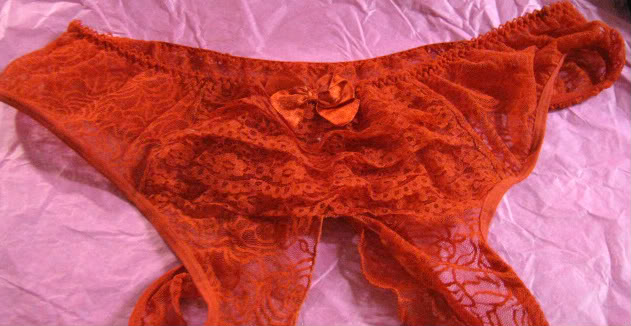 Close-up of lace: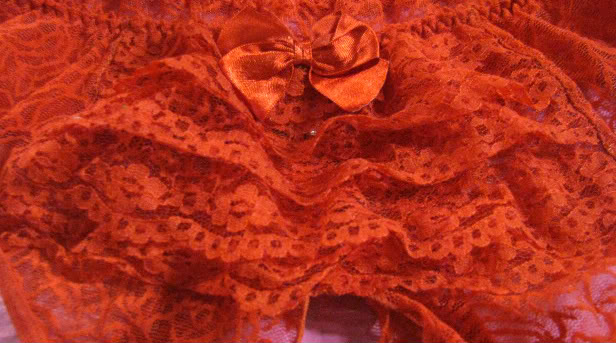 Packaging: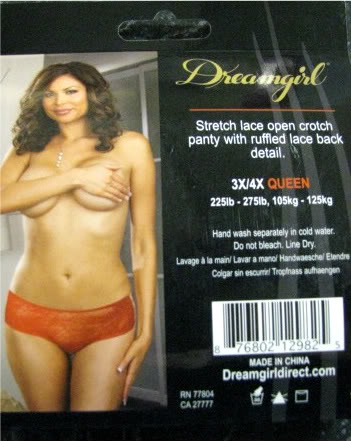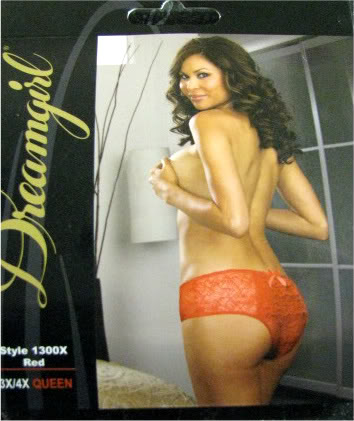 Experience
The poem I quoted in the beginning of this review ends like this:

But now we must have clothes that keep us dry
and pay our rent and not swear in the street
and set a good example for the children.
We must have friends to dinner and read the papers.
But maybe I ought to practice a little now?
So people who know me are not too shocked and surprised
When suddenly I am old, and start to wear purple.

DreamGirl - will you make these in PURPLE for me next?

Please?
This content is the opinion of the submitting contributor and is not endorsed by EdenFantasys.com

Thank you for viewing
Ruffle boy short red
– crotchless panty review page!