(3x/4x) Pinstripe Delight aka "He thinks I should be in manga!"
I can not think of a single body type that would not work for this UNLESS you are so tall that it would not cover your butt. Even then - you'll probably look awesome.

If Dream Girl made this in 20 colors - I'd probably buy one in each color - even the ones that don't look good on me.

Why? Because they've come out with an outfit that is classy and slimming and yet fun to wear. This should be in every woman's closet.
Published:
Pros:
Pinstripes are very slimming
Great support for breasts
Very comfortable
Cons:
Would prefer red or purple ribbon instead
Hand wash in cold water
As many of you may know, I had Sam (aka Julia) mentor me for doing lingerie reviews because I wanted to add this to my list of items I felt I could do good reviews on. When I graduated, I celebrated by buying five new outfits (hey - Eden was the one offering 30% off a $150 order and I had a lot of gift cards I'd been saving).
This was one of the five and I bought it largely because of
BadK1tty's video review
which was excellent. I looked at it for several weeks and debated on it, but my last items from Dream Girl were far from satisfactory and I did not want to put out money or points for another disappointment.
When the package came and I removed it from the pink tissue paper and tried it on, my husband's eyes lit up and he started going on and on with my daughter about an manga character that they both knew about from a webcomic. He was so excited that he had to pull up her picture to show me what she dresses like. All I know is - I think if I could live in this outfit 24/7, he'd be one happy man.
I ordered this in a 3x/4x because Dream Girl's size chart said it would fit women who wear sizes 18-20, with bra sizes 48-54DD, 40"-44" waist and 50'-56" hip. Since I wear 22/24 and am 44D with 49" waist and 57" hips at my last measurement, I went with this size and hoped it would be ok. The review I watched gave me the impression that I could make it fit.
Ladies, I want to say that this outfit is so forgiving of flaws and it is so easy to make this outfit work. If it can fit me like it does (which you will see in the photos below) - then trust me - you CAN make it work for you. Let me tell you why you can make it work for you. First of all, there is very light underwire to help support those boobs. Come on - you know how we fall in love with an item only to find that our girls "hang low" and "wobble to and fro". Well, the underwire will keep them in place and they will stay lifted up. However, the cups are also very soft and comfortable because they are slightly padded. Everything sounds great so far - right? What really makes this outfit rock though - is the corset-style back which laces up. That's right - it LACES UP and looks so sexy and seductive. You may not have it on too long before he's playing with those laces and trying to get it off you. The neat thing about the laces, and if you watch the review that I linked you to in the beginning, you'll hear more about it - is that you can use them to expand the outfit if you have wider hips or a wider waist. In addition, it has comfortable straps that adjust from to .
Another nice thing is that while he's gonna want to get it off you - you're going to feel comfortable in it the whole time you're wearing it. Everything is very comfortable - the lace included. I know the label stated that this was made of 100% polyester, but it felt like it had spandex in it because it literally became like a second skin - and one that was comfortable at that.
Experience
As many of you may know from my prior lingerie reviews, I will often have my daughter model the outfits too. She is slightly smaller than I am and can show off their features a bit better.
You will not be seeing her model this for you. The reason is simple - I am not going to let her near it or she'll steal it from me. So you're stuck with seeing pictures of only me.
As you look at the photos, I'd like to point out that I probably could have gone one size down and still looked as good but had a bit more flesh showing in the back. I was just so scared that I couldn't make this work that I went with the largest size possible. If this comes out in another color, I will definitely go one size smaller. I also want to point out that I am 5'4". I will be measuring my torso later today and put all of my measurements in my profile so you can see them there whenever you want a reference.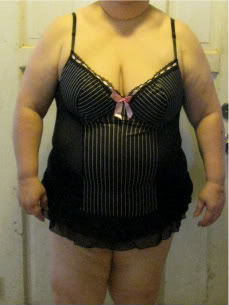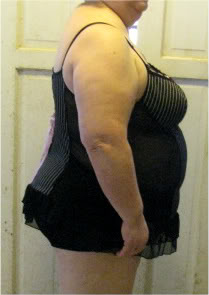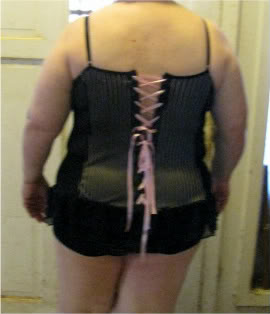 Close ups of pinstripes and corset back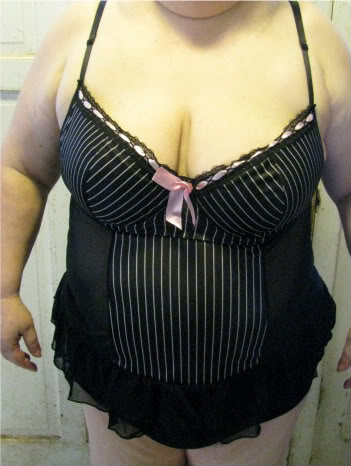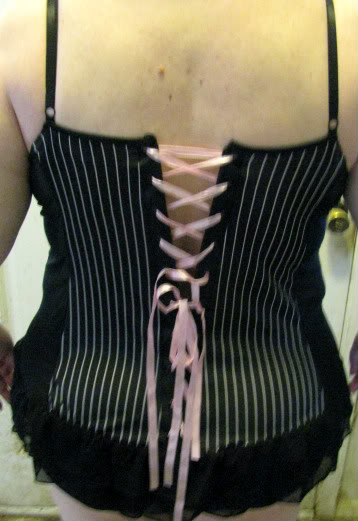 I would like to remind you that you are looking at a woman who is 5'4" and weighs 265 pounds. Also, I am not "taking one for the team" by wearing the minimal thong - I am wearing some black boyshorts. There is only so much I'll do for y'all - know what I mean? My husband may say I'm a cheeky thing - but no need to flaunt it here.
Before I close this, I'd like to share one way to use this item. If you haven't been getting any "action" lately because he's been wrapped up in sports or the computer or whatever - I'd untie the laces in the back (or tie them very loosely) and then get in front of him (during half-time if it is a football game) and sweetly say, "Honey, can you help me with my laces?" perhaps with a bit of perfume on and some sexiness in your voice. Who knows - maybe you'll be the next one to score - and he might even leave the recliner and forget the game!
This content is the opinion of the submitting contributor and is not endorsed by EdenFantasys.com

Thank you for viewing
Lace back babydoll and thong
– babydoll and panty set review page!