(3x) I was going to send this back...then He saw it on me!
I was going to send it back to Eden Fantasys because it was just too tight for me. Yes, I am trying to lose weight but I would probably need to lose about 25 pounds to really make this outfit rock.

Then my husband walked in and saw it. I said, "I'm returning it to Eden" and he almost whined "WHY?"

Turns out - the man who never cared about lingerie before - LOVES it on me.

I guess it's staying!
Published:
Pros:
Stretches some
Comfortable spandex mesh
Cons:
G-String is a joke
Polyester is "ok" for comfort - not great
My favorite brand for plus-size gals is quickly becoming DreamGirls because their lingerie is usually (but not always) a near-perfect design for my plus-size curves. Its like they have studied us to see how they can give us something that fits correctly all over. My second favorite company is Coquette which makes wonderful quality but it feels like their idea of plus-size means that you must have large breasts. Its almost like in order to wear something that is large enough for my hips, I wind up with an item that is too large in the breast area. Don't get me wrong, I love their products because the quality is great and the material feels comfortable, etc. But their concept of a plus size woman seems a bit off.
Ordering an item from Fantasy Lingerie was very VERY scary. I liked some of their designs but was concerned about the fit and the fabric. I really figured I would probably stay away.
But they HAD to tempt me with purple - my favorite color. In addition, it was in a style that I know tends to look good on me. I was reeled in - hook, line, and sinker.
What this is...How to wear it
For this item, I decided to google "chemise" to make sure I understood exactly what it was. Why? Because this chemise is definitely a longer length and I imagined that maybe I could see someone who was young and hot wearing this out in public. Maybe.
Honestly though, I think this is best as an undergarment or for lingerie.
This is currently available on Eden in S,M,L,1X,2X and 3x. I would suggest you stick more to your measurements for waist and hip on this one when it comes to picking your size.
Material & Care
This is made of 92% polyester and 8% spandex. The tag states that it can be machine washed with warm water on the gentle cycle. It needs to be tumble dried on low and removed promptly. Do not twist or wring it.
Design
This is a longer chemise with underwire lace cups, slip style adjustable straps, and attached garters that can not be removed. There is an almost 8" wide portion of black lace down the front middle of the chemise with 8.5" wide purple polyester sides and 11.5" wide black stretchy mesh on the other side of the purple. The TOTAL width of this item when laid out on a bed or table is 48". The length is 23" in the back and 26" from the top of the cup of the hem. There are 31 hook and eye closures on the back with two settings which are 1/2" apart.
The garters are a maximum of 6.5" of which 5.5" is adjustable and can be shortened.
The underwear that comes with it is a joke and you might be able to use it as an eye patch if you hate G-string (aka "butt floss") as much as I do. It is a matching lace triangle that is 8" wide and 7" long.
The straps are a total of 18" long but only 16" is adjustable because the first 2" are split to look more sexy. They were comfortable for me to wear.
Sizing
According to Fantasy Lingerie's size chart, this is designed for women who wear sizes 22-26, with a 51'-54" bust, 40.5"-43" waist, and 51"-54" hip. My 44D breasts fit into this easily and when my daughter started to help me with it, she said, "You should have gone down a size". Then we hit my 49" waist and my 57" hips and kept saying, "You can do it...you can get it fastened".
In other words, I bought it knowing that my waist and my hips would be too large. But I felt like this might stretch since it was partially spandex and I've had great luck with that.
For this chemise, I want to mention that my torso is about 18-19" long.
Close-ups
Laying on table - it came wrapped in the pink paper: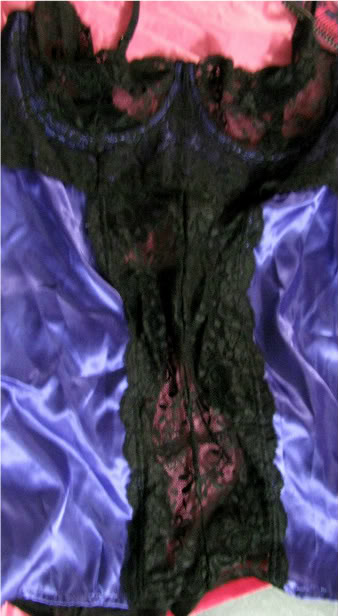 Front: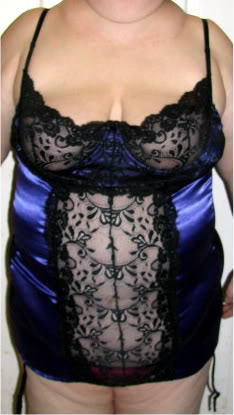 Side: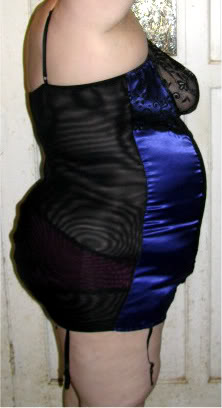 Back: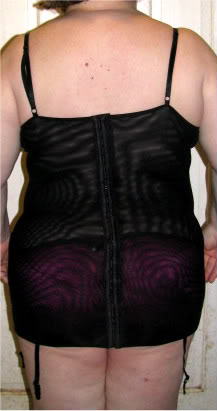 Breast Support: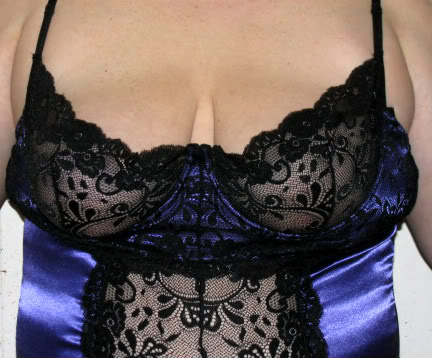 Experience
I may have my daughter model this for you and put her photos here later this weekend but I wanted to get this review posted since this item is on sale right now.

I'm giving it four stars only because the polyester isn't the most comfortable and I'm not sure I totally feel its worth the original price.

But my husband loves it and his eyes light up. He doesn't want me to return it. So apparently, it did what it was supposed to do.

Now if I can just learn to breathe in it - I'll be all set!
This content is the opinion of the submitting contributor and is not endorsed by EdenFantasys.com

Thank you for viewing
Garter chemise & g-string purple
review page!