(3x) Short & Skimpy & Yet So Comfortable and Cute
I have to give this chemise 5 stars - there is no choice about it. It is so soft and comfortable and yet sexy and I don't have to wash it by hand! The lace even feels comfortable.

As long as your hips and waist fit Fantasy Lingerie's chart, I highly recommend this.
Published:
Pros:
Extremely comfortable
Flattering IF your waist/hips are small enough
Easy to clean
Cons:
Wish it came in larger hip/waist sizes
Skimpy G-string
Ever wanted something that wasn't quite right for you? It could've been a small thing like a candy bar or ice cream cone. It could've been a large thing like that "house I can't quite afford but I want to live in THAT neighborhood". Or, like me, it could be something that isn't that expensive but still not the wisest choice.

I lusted and I do mean LUSTED after this outfit for weeks. I looked at it daily and I would put it on my wishlist and then take it back off the next day only to wishlist it a few hours later.

Why wasn't it the wisest choice? I mean - look at the design! Its very forgiving of figure flaws and the lace is so attractive. Its sexy and yet not so see-through that it would turn my man off due to my scars and stretch marks showing through.

But here is the problem. According to Fantasy Lingerie, in order to wear this in the 3X size, I needed to wear size 22-26 clothes, have a 51" - 54" bust, a waist of 40.5"-43" and hips that were 51.5"-54.5". Unfortunately, my waist is 49" and my hips are 57" even though my bust is 44D. Since I'm in the process of losing weight, there was hope that if it didn't fit me right now - it could fit me later on.

So I finally broke down and ordered this chemise and then waited and waited and waited thanks to problems with the US Postal Service. While I was waiting, I went back to look at my order and gasped when I realized - I ORDERED THIS IN WHITE!

Let me simply state that yes, I did sit down and cry over this because I never ever wear white. It doesn't look good on me with my skin coloring. In addition, I once tried to impress my newlywed husband by wearing a slinky sexy white dress only to hear him say that it wasn't right for me because I was a "big girl" and "built like an ox". Now ladies - that's ok - my dad set him straight on how to speak tactfully and he's much better now. But that memory haunts me whenever I see a white dress or nightgown and I stay away from them.

However, when the chemise arrived and I took out of the pink tissue paper it was wrapped in, I could not help but hold it close to me to see how it would look and admire the cut and feel of the fabric. My husband watched me and encouraged me "just try it on and see how it looks". I explained that I never wore white and was going to send it back, but he pushed me to try it on anyway. As I tried it on and looked at myself, a huge smile came across his face. I couldn't help but do a little dance in it because the skirt sorta twirled even though it came up in the back. The more I wore it, the more I liked it in spite of the fact that white looks hideous on me. Tears started to fill my eyes - both good tears and bad tears. I was happy because I did like the design and from the front it was pretty. However, I was very upset because I know that white simply does nothing for me.

After a few minutes, I took it off and started to fold it back up and rewrap it to return it. My husband asked what I was doing and I explained that I was not going to keep it. I mentioned how it came up in the back and how it wasn't my color. He asked how much it cost and I explained that after my discount it was $19 and he said something that surprised me. He said,"Why don't you 'take one for the team' and review this one for the site and we'll buy the red and black ones next payday?"

I was in total shock. I mean - even he agreed that white was not my best color. But he still liked the way it looked on me and how it made me feel about myself. So, it looks like I am keeping it and I have a special use for it which I'll share at the end of this review. For now, let me show you some pictures of it and then talk about the material and how to care for it.
Experience
So how do I look in this chemise? Well, here are some photos for you.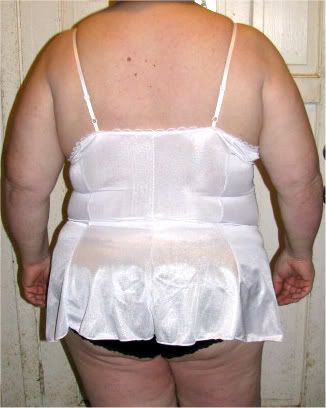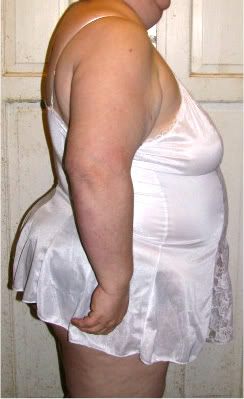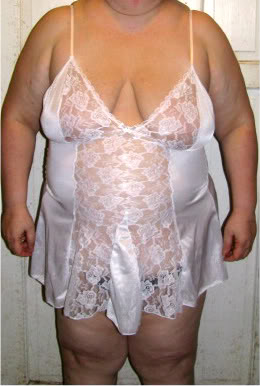 This is one of the most comfortable chemise that I own. In spite of the fact that it is made of 100% polyester, I find that it does not wrinkle easily. My experience with 100% polyester items has not been great with other companies. I sometimes find the polyester to be cheap, shiny, uncomfortable and easily wrinkled. But I adore both the fabric and the lace in this chemise. They are soft and they don't itch at all. Although the straps are only 1/4" ribbon, they feel sturdy and should last a long time. The straps adjust from approximately 9" - 18" which gives you room to play if you want to make this look a little longer even though it might mean losing some support in the breast area.
There is no padding or support in the cups and I'm not sure I would recommend it to someone with a cup that is larger than D, however, as a D cup, I will let myself sag a bit to wear this because it is so comfortable.
The only thing I do not like about this is the G-string that comes with the set. I'm not a big fan of G-strings but I felt like this was way too small for me. The fabric triangle was 6" wide at the top and 8" long. I did not even try it on.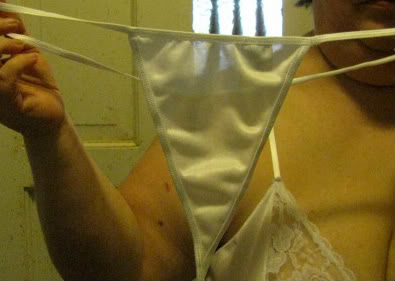 My husband and I talked about the possibility of dying this another color but decided against that. The tag states that it is machine washable for a warm, gentle wash. They state you should wash darks separately. This can be tumble dried on low if you remove it promptly and do not twist or wring it.
If you like short chemise and your waist and hips fall within the range that Fantasy Lingerie uses for their size chart, I highly recommend this to you. You can see in the photos where it falls on me and I am 5'4". From the top of the cups to the hemline, this chemise measures 30" long.
So what do I plan to use this chemise for since I know my hips and waist are too large for it? Well, laugh if you wish, but I am going to wear it when I ride my exercise bike every day to lose weight and hopefully size also. It is so soft and so comfortable and it is a reminder of what I am striving to fit into. Needless to say, I will NOT be wearing the G-string when I ride the bike (ouch).
I am making the red and black versions of this my gift to myself for when I lose first 10 and then 20 pounds. I just have to decide which color to get first when I reach those milestones.
This content is the opinion of the submitting contributor and is not endorsed by EdenFantasys.com

Thank you for viewing
Lace panel chemise & g-string white
– chemise and panty set review page!