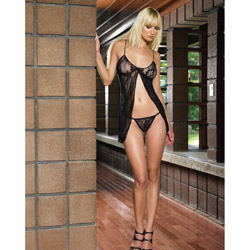 Romantic lace babydoll
Babydoll and panty set
by Leg Avenue
A Comfortable, Slinky, Sexy Way To Excite Your Partner!
This item is worth it because it's not an intimidating, complicated piece of lingerie. It's simple, sexy, and does the trick of seducing.
Published:
Pros:
Soft and comfortable. Sexy, "classic" style & design.
Cons:
Easily torn. Can be a little chilly after a while.
When I first found out that contributors were allowed to review lingerie, I was so excited, because I love the huge selection this website has to offer. My first pick was this
lace babydoll
. I felt that it was simple but extremely sexy, and I generally like my lingerie to be simple but sexy. I feel that if lingerie is too complicated or too "show-y" it can cause the lingerie to take over the seduction, and the woman is no longer doing it. Also, I wanted something a little more simple for my first lingerie review.
When I first opened the package, I was slightly disappointed at first because of how small the package with the lingerie in it was. Later, though, I began to understand the phrase "Don't judge a book by it's cover." I immediately went to try it on.
The first thing I noticed was how comfortable it was. No itching like some lace can cause. It was soft and felt GREAT against my skin. The material is also stretchy for those women who are a little curvier or have bigger hips. So if you accidentally order a medium but later thought you needed a large, don't panic. The babydoll will probably fit you anyway.
The
g-string panty
was soft too, but I personally haven't quite gotten used to thongs and g-strings since I decided to try and wear some more often for my boyfriend. One thing I like about this little getup is that you can change the panty if you like, say, another
black lace panty
or black silk panty or whatever is most comfortable. Even if you change the panty, it will still look good with the babydoll. You can also wear a black bra under the babydoll and it won't look tacky or anything, or you can just go commando. The outfit is damn sexy either way. Also, the design is a "classic" so this style will never go out of fashion, so you can wear it over and over.
I think this
babydoll & g-string
is a good outfit for lingerie "beginners" or women who are slightly more modest or conservative when it comes to lingerie, or for women who just want to keep it simple, like me. This babydoll is also
available in red
, I believe, and you can't go wrong with red, either. Both colors are sexy and sure to turn your partner (and yourself!) on.
So when I finally tried it on for my boyfriend, he went NUTS. This style (the open front) is one of his favorites. He loved the feel of the lace on his skin and penis, and he was torn between ripping it off of me and wanting me to keep it on during sex. He really enjoyed this outfit too, for both the feel and the look *wink*. He liked that it was relatively simple, too. He didn't feel intimidated or unsure about taking it off of me. Some lingerie is so complicated it takes twice as long for the guy to undress you! The g-string is stretchy too so it's easy to pull aside for him to enter if you're in a real hurry, hee hee.
On another note, you could use the
babydoll and g-string
as a way to tie him to the bed or cover his eyes, or whatever... use your imagination.
Overall, I really enjoyed this piece of lingerie. I know I'll be putting it on again really soon!
This product was provided free of charge to the reviewer. This review is in compliance with the FTC guidelines.
Thank you for viewing
Romantic lace babydoll
– babydoll and panty set review page!