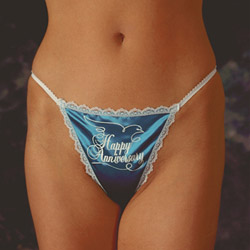 Happy anniversary g-string
Sexy panty
by Fantasy Lingerie
A Cute Panty for a Cute Encounter
This is a cute novelty or gag gift and is worth the price tag for a good laugh and memory. It's pretty retro, and kind of corny, but you can still get some (probably not sexy) fun out of it.
Published:
Pros:
Cute
Novelty
Cons:
Doesn't fit quite right
Waist part twists a bit
So, is it safe to say you had an anniversary coming up, Mwar?
How'd you know? I decided to purchase this G-string about a week or so before my anniversary with my partner. My intent wasn't to be sexy as much as fun. While the Happy Anniversary G-string is, well, a G-string, it isn't sexy in itself. The shape may show off your bum, but the front is to be more fun than anything. It's an affordable price. If you like being playful with lingerie, this G-string is well worth the price tag.
Okay, tell me about it. How does it look?
The Anniversary G-string comes in one color, a medium light blue color. The front has cursive letters saying "Happy Anniversary." The lettering is quite embellished and swirly, but I think among that embellishment is the likeness of a dove. You can tell me if you see the dove or not, or if I'm just crazy. The fabric has a sheen to it, especially in the light. The tag for this panty is located behind the front. It's large and a bit obnoxious, so it can be cut off easily enough. The blue triangle of fabric is framed by white lace that also serves as the back of the G-string.
The lace itself is nothing special. It doesn't scream sex appeal. If anything, the pattern on the lace feels a bit old to me. The back of the G-string just has the lacy, elastic string going from the bottom of the triangle and between the legs and behind. The middle string has a little loop at the top that allows the string around the waist to go through it (I'll show pictures). Here are the front and back of the G-string: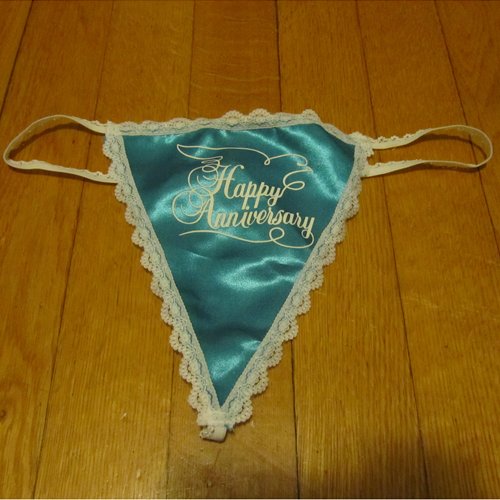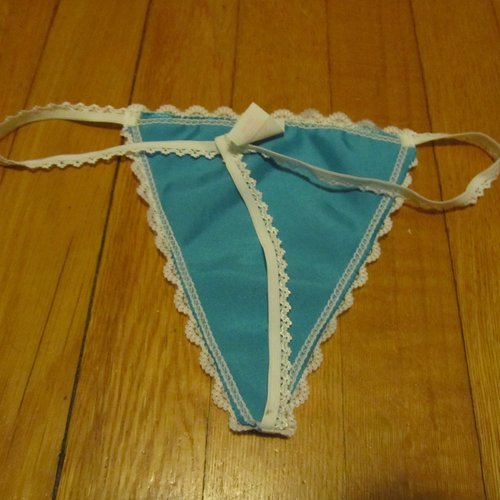 So how did it fit?
The G-string is designed as one size fits most. The elastic does help this lingerie accommodate a variety of body types. I have a 28 inch waist, a latina behind, am 5' 5" (give or take half an inch) and weigh about 137 pounds. This G string fits, but not well. It is baggy in the front. I looks like I should have a mini penis to fill the space that shows in front of my crotch. At least there is enough fabric to cover the front, though.
If you wear jeans or something form fitting, you probably wont notice the bagginess in the front as much. Also, when putting on the G-string, the elastic band twists a lot and makes it hard to straighten it on your hips. It can make the G-string a little itchy around the sides. Again, this panty is more designed for the bedroom, and specifically for a day or weekend event. You can rock it during the day if you need to do laundry and this is the only underwear you have left. It won't be the most comfortable, but it's manageable.
How do I take care of it?
You can hand wash this if you want it to last longer, but you can throw it in the wash with no issues. I have thrown my in the dryer on low and it does just fine. It is a poly/spandex blend, so it is pretty hardy for lingerie.
Experience
Anything else you want to share?

Our anniversary was coming up, so I decided to be cute and get this Anniversary G-string. My partner and I are both jokers and love making the other laugh. When the morning of our anniversary came, I threw on these babies along with some yoga pants. When he woke up, I flashed him the front of the G-string and sang "Happy Anniversary!" while dancing with my pants half off.

He laughed and smiled and checked out my underwear. Because I get so many packages from Eden, he didn't even remember me getting this one. He thought it was cute and fun. Throughout the day, when home, I would flash him and sing. It made for a playful day. I probably won't wear this until, possibly, our next anniversary. The novelty is the main factory of this lingerie. Still, the smile on my partner's face was more than worth the small price tag!
This content is the opinion of the submitting contributor and is not endorsed by EdenFantasys.com

Thank you for viewing
Happy anniversary g-string
– sexy panty review page!