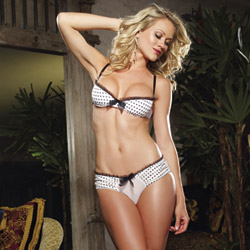 Oh so sweet polka dot bra set
Bra and panty set by DreamGirl
A Little BitterSweet
I bought this set, hoping I could wear it on a daily basis. The bra is comfortable enough that I can do so but you should probably only buy this set if you're a C-cup and don't require a lot of support. Additionally, the cut of the panties is a bit strange, on top of a lot of ruffles, so I wouldn't recommend that piece for daily wear. Luckily, you can find matching panties easily.
Published:
Pros:
Comfortable bra, cute pattern, affordable, underwire, adjustable straps, feminine
Cons:
Weird hybrid panty design, no lining in cups, bra offers little support, hand wash only
There are some things that I really like about this set and some things that mean some consumers should really stay away.

The black and white polka dot style is really classic and it's super easy to pair either piece with lingerie or undergarments from other companies. The front and back of the panty and the and of the bra are just a soft white mesh, however. The down side, is that black and white prints are sometimes difficult to keep bright and dark. This may be easier if you hand wash this with a brightening detergent and the tag does instruct that you should hand wash this.

The ruffles are cuter than expected and work well with the demi-cups. You can push the ruffles up or down, and they're not as visible under clothing as you would expect. The bra also fits my C-cups perfectly. However, I have tried on both the size XL and large. I ultimately send the XL back for being too loose around the band but both are really designed for breasts no larger than a C-cup. The comments on the product page are right on. Women with D-cups or large will have to step away. With my breasts, the demi-cups cover my nipples and looks quite cute. I don't think this is the bra for smaller than B-cups, however.

The bra is really comfortable. The satin and elastic are sewn well and it's comfortable to wear as lingerie or outside of the house, like I have done. However, it's not the most supportive or shaping bra. The cups are one layer of satin, on the outside, and a thin layer of mesh on the inside. This bra does have underwire and it's comfortably wrapped in a soft encasing, but the thin cups don't offer any push-up properties or shaping, really. If you don't really like the way your breasts are shaped, this bra may not be your favorite. I enjoy the curve of my breasts when wearing the bra without clothes; under a top, my boobs look a little lackluster.

It's comfy but the mesh isn't going to soak up any sweat. While you can wear this outside the house, I wouldn't wear it on a super hot day. Also, nipples will show through, so there's some modesty issues. However, the biggest issue of the bra is that the band is pretty loose. Even the large is a little loose on me, on the tightest hooks. I typically wear a 38, or sometimes 40 bra, so it seems like these sizes are a little large for the bra in this set. Overall, the support isn't there. It's okay, because the cups aren't mean for it. The bra does have elastic, adjustable straps, which work well.

The panties.. are cuter on the model than they are on me. I'm only 5'2" so I don't have a high rise around my hips and these want to sit well above my hips in a way that isn't entirely flattering. There are a lot of ruffles and a big bow in the front, which will certainly make these more suitable for the bedroom, especially if you wear low-rise jeans.

The back is full cut toward the top but cheeky toward the bottom in sort of a pseudo-thong. It's odd. I feel like it doesn't know what it wants to be and my build isn't long enough for the hybridization. There is a cotton lining in the thong but it seems to be placed too far forward. For me, the panties are best only as lingerie, while I will likely wear the bra during the day.

Dreamgirl has changed the packaging for this item as well. My size large replacement came on a hanger, so the hanging straps are sewn into the panties. You'll want to cut these off, of course. The first set did not have a hanger, and I was happy enough with that, too. I think the strings are a bit unnecessary.
This product was provided at a discounted price in exchange for an unbiased review. This review is in compliance with the FTC guidelines.

Thank you for viewing
Oh so sweet polka dot bra set
– bra and panty set review page!