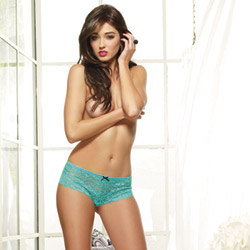 Turquoise stretch lace open crotch boyshort
Shorts by DreamGirl
A little Lace for my Special Place!
These panties are not only absolutely beautiful to look at, but they are super soft, lightweight, and very comfortable to wear. Since the crotch is made from two separate panels, there's no need to worry about whether or not the size and location of the hole will work for you. The cut at the top of the crotch is a little funny to look at, but it doesn't feel odd and isn't a deal breaker when it comes to these panties!
Published:
Pros:
Beautiful Lace Pattern
Vibrant Colors
Soft Material
Stretchy
Covers Belly
Open Crotch
Cons:
Odd Cut At Top Of Crotch
Hand Wash only
Use
These super cute open crotch boyshorts are an excellent addition to anyone's wardrobe! Not only are they beautiful and super soft, but they're functional too. Treat your man to a super sexy surprise, and skip a few steps when the clothes can't be torn off fast enough! No need to remove these sexy panties! They can be left on during your quick moments of passion!
These are simple enough that they can be worn under clothes or can be saved for special occasions in the bedroom.
Material / Texture
These open crotch boyshorts are made from 90% Nylon and 10% Spandex, making these super soft, while still having a nice stretch to it. The material is very thin and breathable and nicely lightweight, which makes them very comfortable to wear. These stretch side to side, but the lace pattern has no stretch when pulling on the waist band vertically.
The lace has a really beautiful flower pattern throughout the panties that truly make this a lovely piece to look at.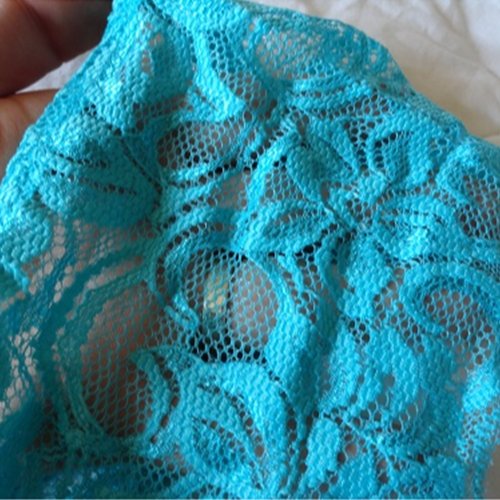 Design / Shape / Size
These beautiful, lacey panties have a small black satin bow on the front, and a larger black satin bow on the back. The bows really help the panties match a wide variety of tops to go along with them.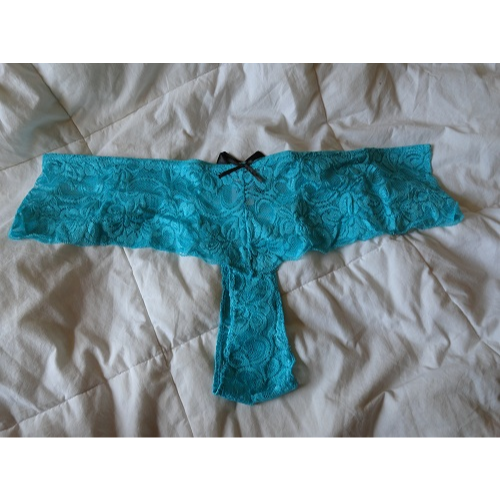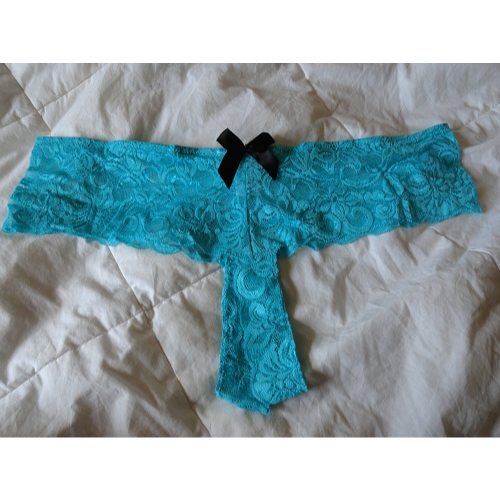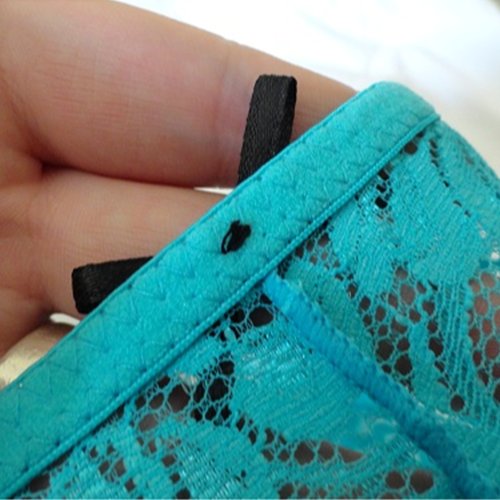 They are made with two panels that go over your crotch. They overlap each other when you're wearing them, but are easily spread apart. There's no worry about whether or not the hole is large enough or in the right place due to the two completely separate pieces.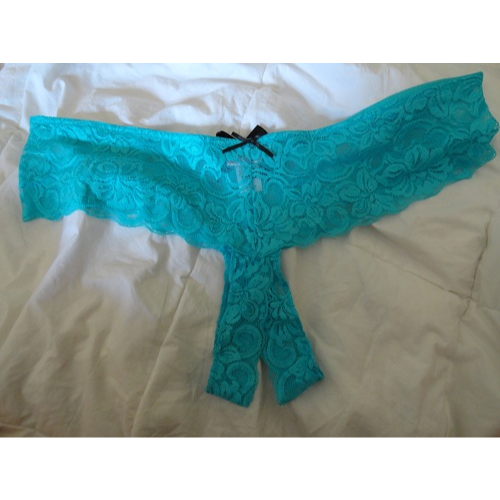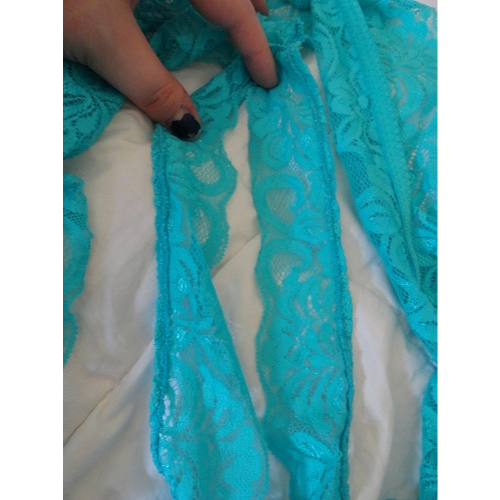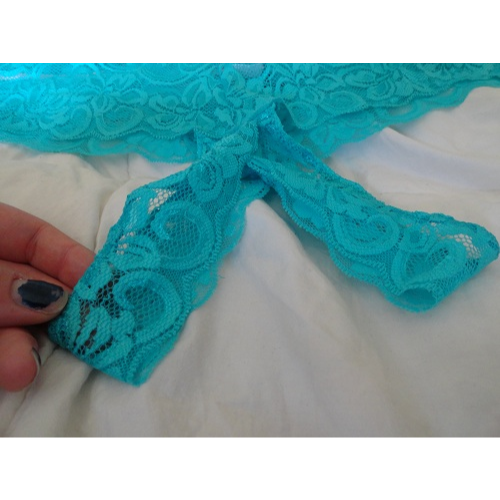 The top of the band is totally straight, but the bottom on the band has a very slight scalloped design to it. The inside of the crotch panels do as well. This adds a very nice, feminine touch. The waist panel doesn't curve much when it changes into the crotch panels, it's very straight and almost gives the panties a 'T' shape when you lay them flat.
There's no panty liner on the inside of the crotch since they are two different pieces. The entire panties are made from the same lace pattern.
These panties come in Turquoise, Hot pink, Iris (purple), Coral, and Lime. They come in sizes small, medium, large, 1x/2x, and 3x/4x.
The size I'm reviewing is a 3x/4x which is supposed to fit someone who is a size 18-20 and weighs between 225-275. I usually wear a size 22 and am 270lbs, and these fit me perfectly!
Dreamgirl
Size 3x/4x
Flat Unstretched Band (one side): 19 3/4"
Width of Waist Panel: 4 3/4"
Length of Crotch: 11 1/2"
Width of Crotch Panels: 1 3/4" (each)
Performance
Though I don't look amazing in these, I'm still very impressed with the fit of them. I'm a larger girl, I have a lot of belly left from having my three children. Though you can see it slightly through the lace, it isn't obvious and I feel very covered by them.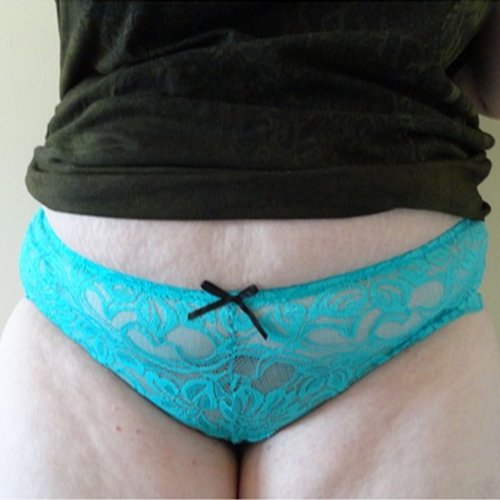 These are the first panties I've tried in a long time that actually made me feel confident and sexy in front of my husband! I love the way these feel against my skin, and they work very well for their designed purpose. The panels are easily spread apart, revealing your beautiful lady parts, but easily overlap each other again.
My only complaint is the way that they're cut in the front. Because the waist panel doesn't gradually curve into the crotch pieces, it leaves a slight bit of your sweet spot exposed. It's not a huge deal, but it would have been nicer had it covered a little more in the front.
Care and Maintenance
Because these are a lacey pattern, they can easily be snagged and should be washed with care to avoid damaging your panties. The tag recommends that you hand wash in cold water and line dry. I imagine if you have a lingerie bag and put your washing machine on the gentle cycle you could probably get around it, but you would be taking a chance.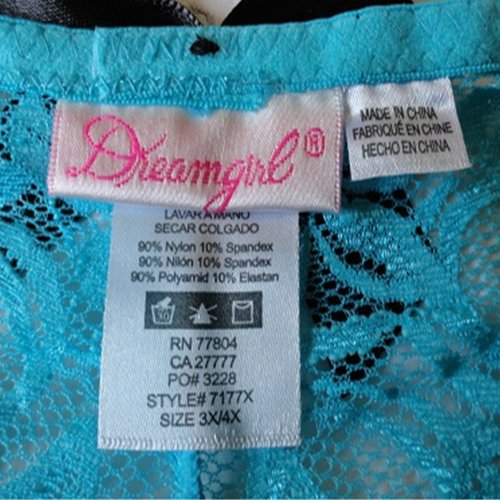 Packaging
These panties come in a small package similar to the ones in a department store that contain pantyhose. The front of the outside of the package says Dreamgirl on the side, tells you what size the package contains, the style number and color, and shows a woman wearing the undies from the back. The backside of the package shows the same woman from the front. Though her breasts are covered, the photos are not discreet. The back gives a short description of what the package contains.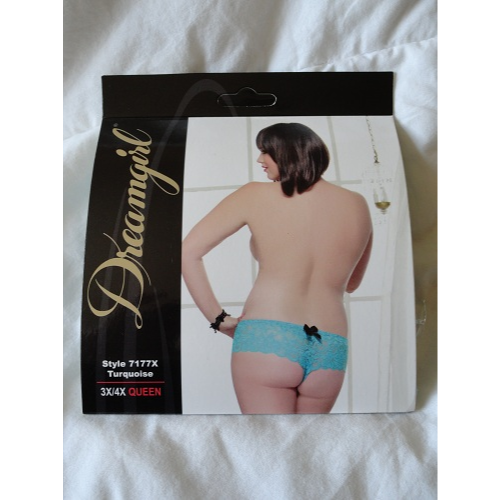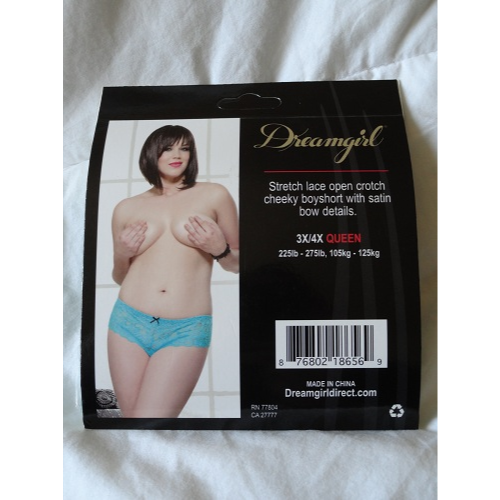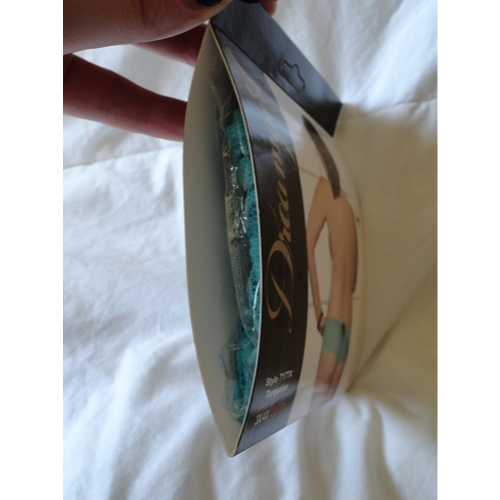 Once you tear away the outside, your panties are protected in a small, plastic bag.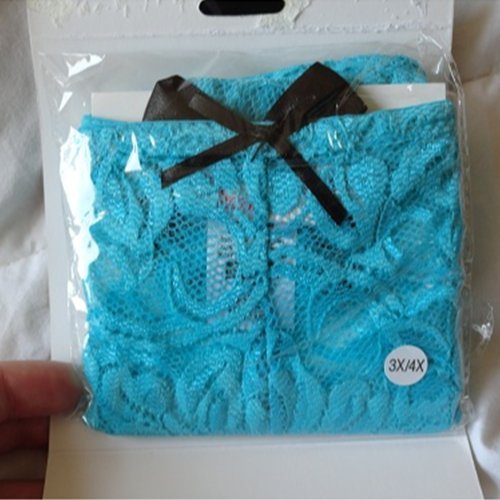 Follow-up commentary
2 months after original review
I've washed these panties a few times on the delicate cycle of my washing machine and they've remained soft and strong. Earlier this week, I accidentally tossed it in with a bunch of my other laundry and didn't notice until I was changing my load to the dryer. The edge of the lace was slightly worn, but was okay. These weren't ruined and that was the important thing. If you don't make the mistake I made, I don't think they'll be a problem with your panties, just make sure to always wash on the delicate cycle!!!
This product was provided free of charge to the reviewer. This review is in compliance with the FTC guidelines.

Thank you for viewing
Turquoise stretch lace open crotch boyshort
– sexy panties review page!