A Lopsided, Sagging Pair of Beautiful Crotchless Panties
For the price of these, I expected nice, soft and flattering crotchless panties. The stitching is fine, but the lace is as cheap as possible, the bow is lopsided and one of the crotch "strips" sag! My $2 lace panties are more comfortable than this. They're so beautiful and perfect looking until I put them on and see how they constrict the middle of my bum and let the cheeks bulge. Despite my tugging and pulling, there's just no way these are sexy on me. One star for these.
Published:
Pros:
Beautiful until I put them on.
Cons:
Not flattering.
Cheap, itchy lace.
Butt looks awkward.
Saggy crotch.
These pastel pink lacy panties have such a sweet & precious look with a naughty crotchless surprise. They're made fully of a see-through lace and details consist of a lopsided, satiny patel pink bow on the butt & 3 layers of ruffle on the middle of the rear.
Let's talk about the butt for a minute. The 3 lacey ruffles on the rear is what really convinced me to go ahead and pay $12 for these. These layers of lace are only in the middle of the rear, are sewn on as a panel. It's just 3 layers of 3 1 1/2" lace strips on top of one another, creating a ruffle appearance. Since this is done as a panel instead of simply attached lace strips, it causes some constriction of the middle of my butt. The lace that makes up the ruffle is very rough, which resulted in me scratching the hell out of my butt cheeks while in the mall tonight. The lace was literally causing my ass to itch that badly. Excuse my language, but this is serious here! Below you see the back & inside of the panty, showing you the seams of the panel that cause the itching.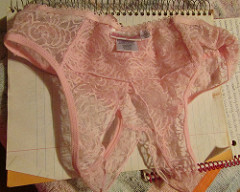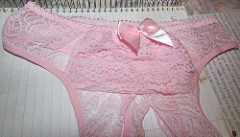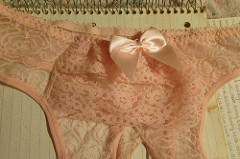 Despite the lopsided satin bow on the back, which is sewed more on the right side than in the middle, there's also a crotch "strip" longer than the other, which results in not only an itchy behind, but a strip of pink lace dangling from my crotch!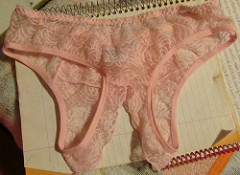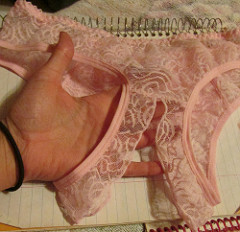 The front of the panty is shown above.
These are more of a brief-style cut, not boyshorts. They're not boyshorts. Besides being crotchless, they provide a decent amount of coverage in front & back.
The legs are trimmed in a soft, pink elastic and the waist is trimmed in a decorative elastic as well. These don't dig in where the elastic is and the waist band fits comfortably without giving me lines. The back lacey panel causes my booty to smush in the middle, like I said it constricts it, and my behind is small! That is the only place that digs in, and this panel makes my butt look really awkward shaped.
Now let's talk about the crotch, or lack thereof.
I love a sexy, well fitting crotchless panty, and I truly thought these would be a big hit for me. I usually have the issue of the fabric that lies on either side of the crotch being too long. I thought these looked like a perfect fit, but to be real honest, they're a piece of overpriced lace with a satin bow and cut crotch.
While the crotch strips that lie on either side of the crotch are not saggy, the right side hangs down! It's ugly and there's no way to re-position them so that it doesn't do this.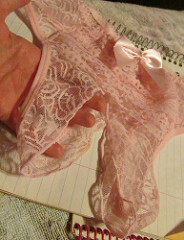 The crotch is basically a very large open split that leaves from about the middle of my butt crack all the way to the top of my labia exposed. I like that the crotch is comfortable, but the lace strips of fabric that lie on either side of the crotch are more like a wavy trim you see on the hem of a flowy babydoll or dress! Maybe my photos will explain better. Thess wavy, non-form fitting strips mean they don't securely fit the sides of my crotch, but kind of hang around instead. This is also probably the reason for the right strip sagging.
A good feature of these panties is directly under the ruffle, where the two strips of lace begin to trail down the butt, they are 3" wide, so they lie on the sides of my butt rather than gathering up in the middle of my crack. Good thinking there, Dream Girl.
Here are the panties' measurements
Strips measure 9" long each, from butt to front. They're a little over 1" wide everywhere except the butt, where they measure 3" wide, as I previously explained.
Panty front from waist to crotch opening measures 4" long. The length from top of butt to opening in the back also gives you 4" long of butt coverage.
Waist is 11 1/2," but will stretch in the waist to comfortably fit a few inches wider than me (see my measurements.) But the bum will dig in if your's is larger than mine.
Butt (across): 9".
The ruffle lacey panel that I've been complaining about is 4" long & 6" wide.
The width of open space between strips (crotchless area) measures 3" wide while lying flat.
Here are mine
Bust: Right: between a B and C cup. Left: 34B
Jean/shorts/size: Zero
Weight: 93lbs
Height: 5 2"
Waist: 26" Lower waist. Where I'm a bit wider, the love handle area: 29"
Experience
Made in China.

Material & Care
92% Polyester, 8% Spandex.
Handwash in cold water, line dry.

Packaging

These came packaged in the typical, trashy, useless & small envelope type paper box. Of course there's a shirtless person on the front & back wearing the panties, which makes no sense to me. I wouldn't recommend gifting these, but inside the box, they're sealed in clear plastic, so they can be removed & included in a gift basket if you wanted to give them to someone.

If you've read my review, you already know the qualms I have with these panties, but I'll go ahead and share my experience with these. When I first felt of these, my very first thought was "yikes, these are rough." The lace feels rough. I have never actually itched from a pair of panties before except for once (Cal Exotics' Little Black Panty), but these actually had me hiding behind my partner in the mall to scratch my ass. I'm not kidding. My cheeks were itching like a pig with poison oak. I endured though because they were cute and I've been determined to find a pair of crotchless panties that fit without sagging in the crotch. Finally, when I was trying on jeans and saw a glimpse of my smushed-in-the-middle and bulging-on-the-sides butt, I decided I wasn't trying anymore. They look awful on me and I came to accept this while in the dressing room. A smushed and bulging ass all at once isn't flattering, but I'd have been a lot more accepting of that had the right crotch strip not sagged. It just looks stupid. You can see the strip sagging from behind and in the front, so these are just a bust & now I'm probably on camera scratching my ass.

These were so close to perfect! Dream Girl had the cut right, they had a gorgeous design with perfect detail -- everything! But they chose to use itchy lace & didn't think much about the crotch strips. These could've been one heck of a flattering pair of panties.

I would tell you who I think these would look better on, but I don't know. They're the most precious looking panties until they're on me. I have a tiny hiney, so I was shocked that these were actually smushing and bulging my butt! I honestly just cannot recommend them.
This content is the opinion of the submitting contributor and is not endorsed by EdenFantasys.com

Thank you for viewing
Ruffle boy short pink
– crotchless panty review page!