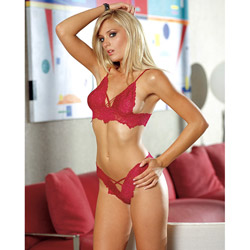 Lace halter top with thong
Bra and panty set by DreamGirl
A lovely set, even though it was not quite perfect on me.
This number didn't fit me well, but I'm hoping to fix it. It's so sexual-feeling, so comfortable, and so flattering, I don't want to set it aside forever just because the top is a little too big.
Published:
Pros:
Sexy, sensual, beautiful, and playful: I love the lines and the color.
Cons:
Large on top and large on bottom probably works well for most ladies, just not for me!
First, the floral lace halter top with matching thong is a beautiful shade of deep raspberry red. It's a very sexy, sultry color. Second, it feels wonderful! The lace is soft to the touch, light and airy. When I wear it, it feels as though I'm wearing nothing at all. Third, the design is lovely. The little lacy bits that hang down all over have a sexual, playful quality that just begs the flesh to be caressed. Also, there are no tight spots; no elastic or strings. The material is simply a delicate stretchy lace, which pulls on and off. Even the top pulls on over the head like a tiny t-shirt.

There were a couple of drawbacks. Mainly, the sizing was not right for me. I have wide hips, and a round bum, so I order the size large. The bottom fit quite nicely. The back frames the bum nicely. It shows the bottom curve of cheeks that men like to see. Unlike many thongs which leave me feeling over-exposed and uncomfortable with the fit, it felt comfortable, sexy, and flattering.

The front too was a pleasing, sexual cut. It contained the second drawback, in that the ribbons holding the front together are uneven. I thought at first that it was a manufacturing irregularity, but it is visible in the photo online too. I think now that it is intentional, though it made me wonder. Again on the positive side, the lacy bits in the front tickle lightly while you walk, and the low cut is incredibly sexual while still affording a wisp of modesty.

One last thing, if you did not know they were open-crotch, you wouldn't know. They don't hang open or gap. It is very subtle. Then, while love-making, you keep them on. They are comfortable. They do not pinch your partner's johnson, and you don't have to tug at them to line them up.

The top, however, was simply not a good fit for me. As noted it pulls on which is nice, but at the circumference it is for me it was just too big. My chest is 38", and the top hangs down in the back. When I get the time, I think I will sew a tuck into it so that it fits me better, and I will repost to say if it fixed the issue. I think it may be the fact that the top was too loose that kept the front from looking as nice as I had hoped it would.

The mannequin online had a small top and looked nice, but it did not fit me well. There is no support, and support is important for a woman with a few children. The top curves in over the breasts, for a slightly princess-leia's-gold-bikini cut, which is quite sexual. But without support to hold the girls up and show some side-curve, it was not flattering.

The top's ribbons tie behind the neck so they can add or give a bit of length, but without support under the breasts they do not actually fix the issue. It is a very sexy cut, and very sensual material. It is worth the effort, that when I have time I'll see if I can fix it with a few stitches. Unless you have no children, or are at least a good full B, the top isn't as flattering as it could be; and without at least a 40" or 42" chest, the size large top will be loose.

As for the basics, the material is 90/10 polyester/spandex and it should be hand washed in cold water and line-dried. And for those of you looking to support your national economy, it is made in the USA which is always a big plus in my book!
Experience
Even if the top does not fit quite right, I love the panties and plan to wear them often. They're even comfy enough to wear out of the house. Sometimes a lady wants to have sexy panties under a skirt to flash before going out to dinner, and to give her partner something to think about. Sometimes a lady just wants something different under her work clothes: a sexy secret. I don't think I'll keep these in the closet waiting for nighttime.
This product was provided free of charge to the reviewer. This review is in compliance with the FTC guidelines.

Thank you for viewing
Lace halter top with thong
– bra and panty set review page!