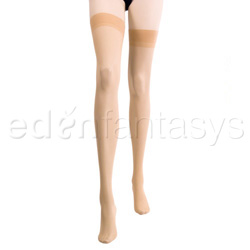 Sheer backseam stockings
Stockings
by Leg Avenue
A nice basic backseam stocking, for work, play or a special night out
These beautiful, traditional backseam stockings, which require a garter belt or gartered corset to hold up, make a statement no matter where they are worn. The nylon is good quality, the backseam is sexy, and they look great with a simple denim skirt or a slinky evening gown OR on their own with nothing else but the garter belt or corset. For every day wear or special occasions. The seam on these will catch eyes and you will feel sexy and airy wearing such traditionally feminine hosiery.
Published:
Pros:
Good quality nylon, hard to run, NO silicone strip to dig in, sexy backseam, neutral color
Cons:
Needs a garter belt. This may be a Con for some, but is actually a "Pro" for me.
Nylon stockings, held up by a garter belt are staples in my wardrobe. I rarely wear pantyhose. Pantyhose make me feel like I am devoid of air and encased, closed in and often make me feel sticky. Real nylons, worn with a garter belt allows air to get to one's nether regions, keeping them healthier as well as looking much sexier than pantyhose.

A good pair good old fashioned "nylons" are just the thing for me. Leg Avenue manufactures and sells fairly well made backseam stockings at a reasonable price. The price is actually less than a pair of mid priced pantyhose, and are much friendlier for sex and much healthier. Even with a cotton "panel" many pantyhose still keep your body airless and sealed. That isn't a problem with stockings and a garter belt.

A good pair of stockings, should fit well, have adequate room in the thigh area for stretch, match up well and stay fastened with a good metal clasp garter holder and look good, too.

Leg Avenue Sheer Backseam stockings do all of the above. They also have a "nude toe" so you can wear them with peek toes or sandals.

The seam in back of the stocking, the main selling point of these stockings, looks so sexy and makes even short legs, like mine look longer and more appealing. The tops of these stockings are well enforced with a double layer of nylon, so you can attach them to your garter belt, but they won't rip or run. These also have NO silicon or nylon "band" of sticky material, often found in "Stay Up Thigh Highs." These bands often constrict circulation, and make it nearly impossible to attach to a garter belt. Leg Avenue Sheer Backseam Stockings have nothing but nylon on the tops and they fasten to your garter belt without any problem.

The "seam" in these stockings is not an actual seam where a one piece nylon fabric was sewn together. These stockings are obviously made in the modern process, in which a tube of nylon can be made, and the "seam" is just there for show. More expensive stockings are made with a flat piece of nylon, which is then sewn together at the back seam.

To be honest, these "sealed" seam stockings, while beautiful, good looking and genuinely like the ones our mothers and grandmothers wore (often without realizing how sexualized they would become in later years) are often expensive and I find them nice, but don't necessarily wear or look any better than the Leg Avenue "faux" seam stockings. The seam looks just as good and genuine.

These stockings give just enough stretch and snap to fit well. If put on properly and washed carefully, you may have these in your lingerie drawer for a lot longer than most of your pantyhose.

Also, if one happens to run (and these do not run easily) you can buy an other pair, and only replace the one stocking that ran. You always have an extra stocking, to replace a run stocking, or for a spontaneous game of light bondage.


A garter belt with good clasps is needed to wear these. (preferably a metal clasp, with a silicone or rubber button for the eye to hook over the stocking.) These do NOT stay up by themselves. And as a result fit and actually stay up much better than "stay up" stockings.

These come packaged in a nice cardboard flat package, sealed with plastic, with a picture of the stockings and a garter belt on a woman's legs on them, with the Leg Avenue logo. The stockings are folded over a piece of cardboard. I always have a spare pair on hand, although they don't run easily, I wear them frequently enough that I need a pair on hand to either replace a stocking which ran or ripped, or to simply have a fresh pair for a special event. They are ready to wear out of the package.

They say "one size fits most." I think that would depend on your size. The stockings are quite stretchy and fit short zaftig women, like me, but could stretch to fit a much taller woman. The thigh band is also stretchy, and would probably fit much trimmer as well as much more thigh endowed women than myself. The package say "fits 90 to 160 lbs" and this is probably about close to what they will fit. Depending on shape of your thighs. These do not bind like many heavy banded or "Stay Up Thigh Highs" do, so even Big Beautiful Women may find these fit well without binding their legs.
Experience
My Man and I both love these stockings. I get compliments on them wherever I go. Older women often comment on them and say things like, "Those are like the ones I wore when I was young. You don't have a garter belt to keep those up do you?" Then I discreetly show them that, yes, I do wear "real nylons" with a garter belt, and I have made a new friend! :)

My Man knows if I am wearing these to a party, to see a client or just with a dress or skirt, there is going to be a garter belt and usually side tie, easy to take off panties underneath them. This gets him going hours before we ever make it to the bedroom.

The Leg Avenue Sheer Backseam Stockings are sturdy enough to stand up to every day wear, and sturdy enough to stand up to wear during sex. Many lovers find nothing more sexy than a woman in nothing but a bra, bustier or cami and garters with a pair of real stockings.

These will fit most garter belts, as well as Bustiers, corsets or any lingerie with garters.

I wash these in the sink after every wearing with either Woolite or simply diluted Bath and Body Works liquid shower gel. I gently press the water out of them after rinsing. I then roll them into a towel to absorb the rest of the water and lay them to dry either on a lingerie dryer or over a stand dryer for "delicate" fabrics or silk lingerie. I also sometimes simply use a regular towel bar, making sure to move the stockings during the drying process, so there is no line where they folded over the bar.

I have been wearing these for years. I do have more expensive stockings, but these hold up well, look good and are great for every day, or for special events.
Follow-up commentary
8 months after original review
These are the Work Horse of my wardrobe. I only wear stockings, almost never pantyhose and these are the perfect stocking for either every day wear or formal, when a nude stocking is required.

I find these run less frequently than pantyhose and I use them very often.

I have probably 4 or 5 pairs of these, perhaps more, and they are worn on most occasions when fish or Industrial nets are simply not going to work and I need a nice low impact stocking.

Still, they are great to wear with a garter belt during sex and I always feel sexy in these and people often ask where I got them, as backseam stockings are not the norm. I love these stockings.
This content is the opinion of the submitting contributor and is not endorsed by EdenFantasys.com

Thank you for viewing
Sheer backseam stockings
review page!