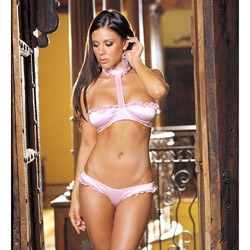 Satin bra and thong set
Bra and panty set
by DreamGirl
A Not-So-Dreamy "Satin" Set
Dreamgirl's Satin bra and thong set has delicate lace details, beautiful coloring, and an attractive design. Unfortunately, the quality of the material and the craftsmanship is quite horrible. For those whose build is smaller or larger than average, this set will NOT flatter you. Those of average build may have more luck.
Published:
Pros:
Beautiful, soft pink color. Unique and cute design. Could work for those of average build.
Cons:
Does not live up to "One Size Fits Most" claim. Ill-fitting. Cheap look/feel. Poorly constructed.
I) Overview

Dreamgirl's satin bra and thong set is definitely cute on the model, but less than dreamy once in your hands and on your body. The lingerie is a beautiful, soft pink color with delicate lace trim which lines the thong and the choker/cups of the bra.

The main part of the bra (the area which fits around the chest) is like a tube-top with very little elasticity, which is problematic (see Design/Quality). Attached to the bra is a strip of material which connects to a satin, lace-lined choker that has a clear plastic clasp (also a problem; see Experience section for more details). The thong is also treated with lace and has two chap-like strings of elastic which supposedly stretch out over your behind.

II) Material:

Both bra and thong are made of 88% Nylon and 12% Spandex. The result is a material that is satin-like: not 100% soft or smooth, a bit scratchy (but not overly so). The lace is also relatively scratchy and can be a bit uncomfortable if it rubs on the body too much.

The set feels (and looks) slightly cheap; this is not the set to wear on, say, your honeymoon or anniversary, but for a casual setting, it will do.

III) Design & Quality

This is where I have the most complaints with this Dreamgirl product.

Design:
For starters, the "One Size Fits Most" claim... The package asserts that people in the range of 90-160 lb will "fit" into the set. CHALLENGE! As a very petite person (I currently weigh 103 lbs, wear a size 0 or 2, and am an A cup), I was very happy to see lingerie that would supposedly "fit." Unfortunately, this product very much let me down in that regard. Because there is no adjustable clasp on the bra and because the elastic has *very* little stretch to it, the top just didn't work. It was way too big, and my girls kept falling out. As far as the thong goes, my behind is significantly larger than my chest; while the fit was better down below, it still wasn't right. Let me also note that just a few months ago I weighed 90 lbs (I somehow got mono and lost a scary amount of weight) and I can't even IMAGINE this staying on my body as a 90 lb-er. Just no way. It's clear: this set is not for the petite. By the same token, I'm not sure that this would fit very well on the opposite side of the "90-160 lb" spectrum. Like I said, the elastic doesn't have very much give, and I imagine that this would be very difficult to feel comfortable in. However, I imagine that this would probably work for someone who is of an average/medium build (say, 120-140 lbs).

The material which connected the choker to the bra was also problematic. I suppose because I do not have an average-sized (and by that I mean long) upper-body, the material did not stretch enough and, instead, sagged.

Lastly, the bra's cups have no underwire. Provided is only a seam of added fabric to *look* like underwire. For those that require more support, this bra will not offer you what you need. In addition, because this bra is constructed like a tube-top, those with large chests will not be able to fit into the cups and will, unfortunately, wind up with the dreaded mono-boob instead.

Quality:
The polyester-spandex combination makes this set feel/look relatively cheap. But worse than the visual aspect is the craftsmanship. I have used my set no more than 3 times and have made it a point to take very good care of it. But already the material has several pulls (snags). Furthermore, the lace is simply cut; no measures were taken to make sure that the lace does not fray. The result? Well, the lace is fraying. To boot, the stitching is coming undone on more than one area. Although there aren't any "unfinished" edges of the material, I still find this sloppy sewing unacceptable.

IV) Care Instructions

The packaging calls for the bra and thong to be hand-washed in cold water. A gentle detergent can be used, and bleach is, obviously, not a good idea. The need for handwashing is probably to protect the (already fraying) lace.

After a delicate wash, the lingerie must be hung to dry. Unfortunately, this means that taking care of your Dreamgirl product is not very discreet.

Both bra and thong hold up well to washing. The problem is, unfortunately, the product itself.
Experience
My experience? Heh.

I felt uncomfortable in the clearly over-sized pieces. I struggled to keep the bra on, my girls in, my thong up. The material was a bit irritating (especially the lace). The material connecting the choker to the bra sagged. The elastic chaps didn't fit over my behind and, instead, just hung rather pathetically.

But the MOST aggravating part of all was the crappy plastic clasp on the choker. Because the material is somewhat "slippery" and the also slippery plastic clasp is more like a hook, the choker kept coming undone... causing the entire bra to fall off... time and time again. It. was. horrible!

Not sexy. Not sexy AT ALL. I felt like a sad, frilly clown *<:-(

Conclusion:
I am rating this product 2 out of 5 stars. Based on my personal experience, I'd rate it as a 1, but I do think that this could potentially work for (and look very cute on) people of a more "average" build. The poor craftsmanship doesn't let this product climb any higher than a 2.
Follow-up commentary
4 months after original review
Oh, DreamGirl Satin bra and thong set! How you continue to disappoint me! After having given this set a few more tries, I still can't bring myself to like it... or even want to wear it. As lingerie, this set does not make me feel sexy. And that is the point of lingerie, no? I also continue to have problems with the fit. I haven't found a way to make the bra stay on without coming unclasped. And the lack of breast support never ceases to be a let-down. The "One size fits most" label doesn't live up to it's name. The cherry on top is the poor craftsmanship. I really have not had a good experience with this set and, thus, can't bring myself to recommend the Satin bra and thong set.
This product was provided free of charge to the reviewer. This review is in compliance with the FTC guidelines.
Thank you for viewing
Satin bra and thong set
– bra and panty set review page!