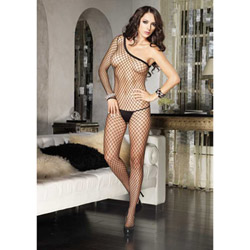 Asymmetrical diamond net bodystocking
Bodystockings
by Leg Avenue
A Perfect Fit and Cut
Another lovely and inexpensive find! This bodystocking wonderfully hugs the body and has a crotchless area for easy access. It's comfortable to wear and easy to put on too. Thankfully, for an OS it's not bad either!
Published:
Pros:
Fits well, Stretches appropriately, Crotchless area, Comfortable, $, Good for taller gals too
Cons:
No chest support for those who need it
I've had such great luck with body stockings lately, that I couldn't pass this one up either. At such an affordable price, it's an excellent buy! As a one size fits most item, it's actually pretty good! It can smash down large busts, but it fit me well and the material isn't so delicate that I'm afraid to tug at it a bit for adjustments. It's also not too tough that it can't be ripped off of me which is what I intend to be the end of this piece. I want it ripped off my body!
*Contents/overview:
One piece
This unique body stocking is from Leg Avenue. It's unique in that is is off the shoulder and has one long sleeve. The feet are closed and somewhat reinforced. It's comfortable enough to be worn under other clothing and is plenty stretchy too. As a one size, it will fit many sizes decently. The pattern is somewhere between fencenet and industrial. The package says diamond netting, but it's far too small gauge to be that.
MY net scale (largest to smallest): Diamond,
Fencenet, Industrial
, Fishnet, Macronet, Micronet, Mesh, Solid/sheer (no holes)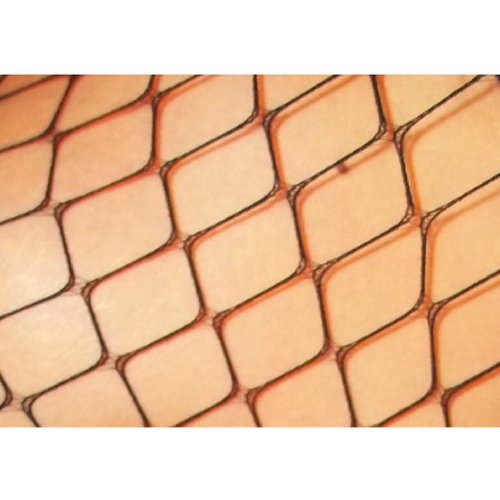 *Material:
Excellent
It's made of 85% nylon and 15% spandex. The fencenet (as we will call it for this review) is durable and does stretch, but there is a clear limit. It returns to its original shape well and doesn't well like it will snag all that easily. I'm able to pull at it for adjustments without fear it's going to snap on me. The material is soft and not at all scratchy.
*Design/craftsmanship:
No issues for me!
The bodystocking is traditional in shape but with one special change. It is off one shoulder which gives it a cute sexiness. The front cuts across the chest and the same goes for the back. You can choose to wear the bodystocking with the one long sleeve covering the left or right arm, but I found that the open crotch was a little better aligned when it was covering my right arm. Speaking of the crotchless area. It is actually pretty small, but it is circular which helps to prevent rubbing during sex. When stretched fully it is about 4" x 4". It doesn't seem like much, but it worked perfectly for me and was not at all uncomfortable. I actually prefer the smaller size. It can feel awkward and look silly if it is cut too big, but you can always rip it open further!
The opening for the top is generous and should many people without cutting it. The arm is also large and fit me really well without twisting or being too tight anywhere. The opening at the top has a soft 3/4" band. An even smaller band is at the very bottom of the sleeve. Both create a more polished look and prevent the ends from rolling or ripping easily.
The legs are unformed, but they gradually get thinner. The ends of the feet are reinforced by having the last 1 1/2" be macronetting so the toes don't slip through and rip the material.
There is a ridiculously large tag on the shoulder, but it can be cut off.
*Cleaning/care/storage: Hand wash/Slim box
This comes in a cardboard box that is reusable if you are careful. The body stocking comes molded around a cardboard rectangle that is annoyingly shoved down one of the legs. The box is inside a plastic bag with seal. The box has pictures of the model wearing the item on the front and back. Hand wash this bodystocking and hang to dry or lay flat. You can store it in a ziplock bag to prevent ripping on other things.
Experience
*Sizing/fit:
Excellent! Pretty great for an OS
I'm always pleased when an OS size fits me really well, but I'm shocked when it fits so well and is so cheap. It seems like the cheaper the OS item, the smaller the item, typically. This hugs me in all the right places and isn't too tight anywhere!
The OS says it should fit sizes 6-11, cup A-C, 32-38" band, 23-29" waist, 34-40" hips, and 90-160 pounds.
I weigh ~145 pounds (size ~8); curvy but fit, with size D breasts. My waist is about 30", hips 38.5", and band is about 34.5". I wear either a 34 or 36 band bra.
The bodystocking is easy to put on. Roll one leg up like a regular thigh high and pull it about half way up the leg, then do the same for the other. Pull both sides up to the waist, straightening as you go. Bring the crotch up to where it needs to be and them slide you arm in the sleeve. From there you can pull the rest up and slide the one shoulder into place. It's not difficult to get into at all. I am very thankful of that! Bodystockings can sometimes feel like they are strangling you!
The bust may be the most troublesome out of all the parts of the piece. Even though it isn't tight, it might smash down those with larger chests. I was fine, but those larger than D, might find that it creates a cottage cheese look, if you are venturing into the DDD realm, especially.
The body of the stocking and the legs fit perfectly. In some lower quality stockings, the material stretches well but it doesn't hug the body, it just hangs there. This is not the case here. It hugs perfectly. It doesn't create cankles if you know what I mean!
My BEST fit re-done chart:
Dress: 4-14
Cup: B-D (Small chests will loose dimension)
Band: 32-40"
Waist: 24-34"
Hips: 34-42"
Height: 5'2"-6" (Go for it tall gals!)
*Possible accessories:
This body stocking doesn't need much else, except maybe a pair of patent leather heels. I prefer my Jessica Simpson ones.
fwefe
*Conclusion:
5 stars - ★★★★★
The Asymmetrical Diamond Net Bodystocking is unfortunately discontinued. I hate writing reviews on discontinued stuff, especially when it's awesome. But maybe for those who are looking into other similar bodystockings, you'll have more confidence to buy one. It's made well enough, especially for the price and fits many sizes well. If you have the confidence to show this much skin, go for it! It's also cheap enough that you can buy a few and have your partner rip them off your ass to get at cha'.
P.S. Sorry about the lack of pictures. Hosting sites are pissing me off today. They deleted a picture of this waist up from the back!
Follow-up commentary
2 months after original review
This is one of the best cheap bodystockings I have bought. I've worn it a few times alone and another few times under a corset or some other piece of lingerie. It hasn't tattered much. The only signs of wear are at the feet!
This content is the opinion of the submitting contributor and is not endorsed by EdenFantasys.com
Thank you for viewing
Asymmetrical diamond net bodystocking
– bodystockings review page!