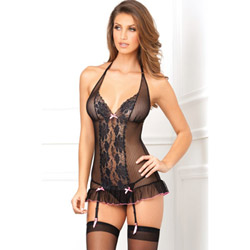 Sexy charm
Chemise by Charm Wear
A Real Charmer
Finding ways to spice things up when you're not comfortable bearing everything can be difficult, and sets like this one help a lot. The see through lace adds a sexy element without being too over the top, and the overall set is comfortable.
Published:
Pros:
Comfortable, modest while also being sexy
Cons:
May not fit whole size chart
As a note, the included measurements are so that you can compare actual measurements of the item I received and am reviewing to items that you have at home and already know how they fit you.

The packaging itself was a simple plastic bag. Inside you'll find a single chemise and a thong.
The product page lists the one that I received as an S-M, but the chemise itself doesn't have a size listed anywhere that I can see, and the sizing chart lists sizes for S and for M. Keeping that in mind and combining the two since they're relatively close, you're looking at between a size 2-4(S) or 6-8(M), with a bust of 35-37"(S) or 37-39"(M), waist of 26.5-28.5"(S) or 28 1/2-30 1/2"(M), and hips of 37.5-39.5"(S) or 39.5"-42.5"(M). I'm usually around a size 4 right now, bra size of 32B, about 27" around my waist at my belly button, 33" at the top of my hip bones, 38" around the widest part of my hips around my butt, with a 29" inseam, and I weigh around 115 pounds. This sat comfortably on me without any extra sagging or tight spots, although it will likely be pretty tight on the upper end of the chart.

The chemise itself is completely translucent with varying patterns. There's a solid panel in the center back, the side panels are a striped pattern, and the center front is a floral lace pattern. The strap is a halter designed to be worn around the neck, and at its longest length measures about 8.5". The cups have a band sewn just underneath them (the band that actually runs around the back, the cups just attach to the top of it) although they don't offer any support aside from what the halter strap provides. Pierced nipples won't need to worry about being caught on anything. There's another band that runs around the bottom that has a frilly striped panel attached to that. The side seam from the bottom of the cup to the bottom of the frill is about 16" long. There are also a total of 3 small pink bows on this set. The one in between the cups is just decoration to draw attention to your cleavage. The two at the bottom are where the garter clips are attached. They're your basic adjustable strap with the type of closer that resembles a chain lock on a door. They hold up well in use, working better with fishnets or some other material you can sort of weave through. If you decide they're just not your cup of tea, you can easily remove them with a sharp pair of scissors.

The thong is a very basic design; good for use with this (or another outfit of your choosing), but probably not something you're going to wear all day long. The front triangle is 5" across by 6" tall, turning into a 4.5" string that matches the waistband before becoming another small triangle. Laid flat it measures about 11" across and stretches up to about 15", although at that point it probably isn't going to fit comfortably. It fit me pretty well, no visible digging in or anything, and stayed out of the way nicely while we were having sex.

There's a small tag on an inside seam towards the bottom of the chemise that's got the usual symbols on it and tells you that it's 88% Nylon and 12% Spandex. I usually machine wash most of my things, but if you're feeling extra conservative, you can hand wash and line dry.
Experience
I received this one at the same time as another set. Pulling them both out of their packaging and only looking at them, this is the one I would have bet would have been more comfortable. I do like this one a fair amount, even if I like the other one just a bit better. It was comfortable, and I could totally sleep in it. Well, minus the thong. That part I'm just never really a big fan of personally. But the rest of it I actually really like and would definitely wear again.
This product was provided free of charge to the reviewer. This review is in compliance with the FTC guidelines.

Thank you for viewing
Sexy charm
– chemise review page!